If Every Child is Gifted, Then…..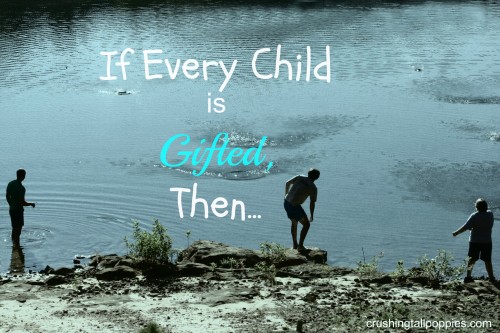 Correct me if you think I'm wrong, but I would venture that every parent of a gifted child has heard the sentiment, I think every child is gifted. I would also venture that, as a parent of a truly gifted child, we know that our child is too different to be every child. I say truly gifted because often, in school,  giftedness is confused with high academic performance.  Surprisingly, many gifted children DO NOT excel in school.
Shocking?  I know.  But I'll stop there because gifted children underachieving in school is another topic for another day.
I do believe, however, that all individuals possess strengths, interests, passions and unique abilities that can set them apart from others. These strengths and passions, such as artistic ability, athleticism, mathematical ability, social skills and others can bring fulfillment, success and happiness to these individuals. Yes, we all have our strengths and special abilities, and when we identify them in our children, we should help our children focus on their unique strengths. Unique strengths and abilities can be considered gifts, but should not be confused with giftedness. On the other hand, a truly gifted individual, who also possesses special strengths and passions, has a different sort of brain-wiring. Gifted individuals' thought processes are so distinctive and different from those who are not gifted–not necessarily better, just so very outside-the-box.
There are many characteristics and traits that most gifted individuals possess that sets them apart from non-gifted people.  Just for a little tongue-in-cheek humor, with no disrespect, I'm going to give you my version of what would happen if every child was really gifted–
1. Gifted children commonly teach themselves to read early, most often before entering school.
If every child was gifted and taught themselves to read before entering school, then reading instruction in Kindergarten and first grade would be totally unnecessary. If every child were gifted, learning to read, much like learning to walk, would not need to be taught at all.
2. Gifted children tend to relate to older children and adults better than they do same-age peers.
If every child was gifted and related better to adults and older children, what would this do to the age-old, lockstep organization of our current school system which uses same-age grouping? Multi-age classroom grouping would seem a mathematical impossibility if we needed to ensure that every gifted child in the classroom had adults or older children to relate to.
3. Gifted children often question authority and challenge adults when they see inconsistencies. 
If every child was gifted and challenged authority–oh well–wow–we would have chaos on this Earth!  Whose authority would reign?
4. Gifted children most often develop asynchronously. 
If every child was gifted and developed asynchronously, then all the currently-accepted childhood developmental benchmarks from birth would then be inaccurate. Pediatricians and experts on child development would all need to change the ages and stages of child development commonly used today. But change it to what?
5. Gifted children are emotionally intense and extremely sensitive.
If every child was gifted and emotionally intense, teacher turn-over rates would be outrageous. Every classroom would be filled with emotionally-intense kids who would also be regularly challenging the teacher. Classroom management?  I'm stressed just thinking about trying to manage a classroom full of emotionally-intense, multi-age dissidents!
As parents and teachers of gifted children, we know that not all children are really gifted. Gifted children are just wired differently. They are not superior to their same-age peers, and do not have a greater ability to fulfill their potential and be successful in life; they just require a different path than most in order to be successful.