The Alienation of Gifted Families by Our Public Schools: Working the System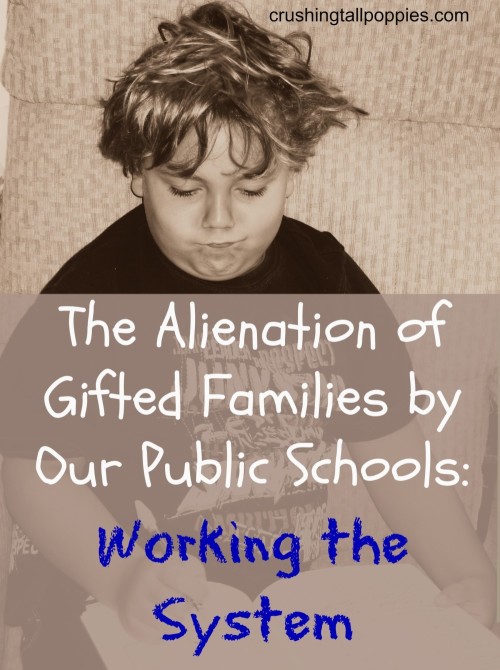 PART ONE
Public schools are failing our gifted learners and this is an undeniable, well-documented  and widely-proclaimed fact. Gifted advocacy is critical to improving the educational, social and emotional lives of our gifted children.
November 2012 was my turning point: in the midst of my family's own battle with our gifted son's public school to try to get the appropriate education he needed, I turned to gifted advocacy to do my part to help change the increasing failure of our public schools to adequately educate our gifted learners. A sleepless night and my growing frustration with the school's incomprehension of our gifted son's unique learning needs led me to create a Facebook page for parents of gifted children in my city in Alabama. My intent was to find a local group of parents of gifted children for support and commiseration–misery loves company, right? This directly led to the establishment of an active, parent-led gifted advocacy group, the North Alabama Association for Gifted Children. It was full of dissatisfied but motivated parents like me. And now, I will forever be a passionate advocate for all gifted children.
Keeping up with all that is happening in the world of gifted learners is paramount to me and I have heard, over and over, about the struggle parents of gifted learners have trying to get their child's school to recognize, acknowledge and teach to their child's giftedness. Parent after parent, on blogs, on Twitter, in person, in advocacy group meetings–all tell the same tale: our public schools are neglecting our gifted learners and alienating parents by refusing to provide the necessary education our gifted learners need and deserve.
This is a monumental problem across the U. S. as demonstrated by the backlash from parents, mental health professionals, and gifted education professionals. Blogs from disgruntled parents, articles written by world and national gifted organizations, the growing number of gifted advocacy groups and the exploding number of gifted students turning to homeschooling all reveal the dissatisfaction with the education gifted children are receiving in our public schools. But this problem is, of course, complex.
My next two posts will each be discussing one of two key factors responsible for the alienation of the families of our gifted learners by our public schools. This first post will discuss the strained relationship between parents and schools.
Part One: Working the System with Honey
The following is a quote from a recent lengthy forum thread posted on a parent advocacy group website in regard to how to work with your school to get the necessary education for your gifted child:
 "As many people pointed here on the forum, we need to go thru the correct channels (subject teacher, gifted specialist, principal , and so on….) and request for correct procedure / testing… All this using correct language. And it doesn't end here… Make sure you come out with correct plans for your child at the end of the meeting. I have experienced that just asking the teacher or principal for more challenging work or enrichment for your child is not enough, ask for specific differentiation, subject or grade acceleration 'formally'. Fill out the forms (if any) or requests and send them to specific people as mentioned in the 'Acceleration Procedure' document. Provide all the material and test scores that you think are important to earn the acceleration for your child. Remember, if you are new to the system, you won't have teachers who can support your claim. Follow up respectfully and diligently, because everyone is busy and have 'other' more important priorities. Keep asking for replies and meetings to discuss further. Ask for specific dates and follow up on those dates. To earn something, you always need to work hard for it! That is the truth."
Whoa!  Back up the train!  Must we really have to work to earn our child's education?
After reading this, I was angry and saddened by the reality that a parent truly feels that in order to make sure her gifted child receives the education that he needs and deserves, she has to be careful to work the school system and chain of command properly so she doesn't risk losing her child's needed and already-earned education. This following response was by a gifted teacher who was also posting in this thread:
"Sue, if you have spoken with the GT specialist and the classroom teacher about accelerating your child and they aren't following the acceleration plan, I would suggest scheduling a conference with all of the stakeholders and bring a copy of it (acceleration plan) with you. Like I've stated before, make sure you coat your comments with "honey," but make sure they understand that you want what's best for your child and expect the proper method of acceleration to be followed. You might even discover that more has been attempted than you realize. Of course, you might not, but there's always hope!"
 "Make sure you coat your comments with honey"? Yes, we need to be nice and polite and considerate in all of our social interactions. But, as parents of gifted learners, are we now resigned to having to sugar-coat our words or else the school will deny our children the education they NEED and DESERVE?
Another gifted parent posted this as her Facebook status recently: "Yesterday and today were overwhelming (in good ways)… so much relief. We've spent the last year advocating for our 2E daughter at school and now have a great plan in place, and an excellent support team." 
Should your gifted child, a 2E child at that, be expected to wait a year to receive the education they need? Is this what we as parents expect and accept from our public school system? We all know that funding is always an issue for gifted programs in public schools as these programs are the first to get cut when budgets need trimming. However, some strategies such as subject acceleration, grade acceleration and differentiation within the classroom do not always require extra funding. So, why are parents having to use "honey" to nicely prod schools to provide these to our gifted students?
The topic of how to work the system in the examples above are not unique–not at all. I see, hear, talk and read about this very issue everyday–parents who complain that they can't get their school system to provide the appropriate education for their gifted child, parents who are asking each other for advice on how to work the system properly to ensure their gifted child receives the education he needs, and parents complaining because they are tired of having to repeatedly ask and beg the school system for the appropriate education for their child. The result: gifted families are turning to homeschooling, alternative schools, and private schools. This is demonstrated by evidence that gifted learners seem to be the single fastest-growing student population turning to homeschooling.
How do you feel about having to properly work the chain of command and beg your child's school with sugar-coated words in order to make sure your child gets the education he needs? Want to know what I think about having to work the system with sugar-coated words? Want to know what my response is?
Here's my own post on the lengthy forum thread on the parent advocacy group website mentioned previously:
"We need to all work together to try to overcome all the various issues. The one unfortunate fact that remains is that there are a record number of parents who are tired of having to "nicely" work the chain of command in the system and still are unable to get the challenging education their gifted child needs; these parents are, in growing numbers, turning to homeschooling and private schools with successful results. We need to work together to make changes, and changes can happen. But if parents have to continue to work, earn, use "gentle reminders" and "honey" to get the education their gifted child needs and deserves, our public schools will soon be the last place to find gifted students."
Advocacy is essential to help improve the educational, social and emotional lives of our gifted children, and to help reverse the alienation of our gifted families by our public schools BECAUSE if public schools don't change, public schools will soon be the last place to find gifted students.
RELATED POST:
Part Two: Myths and Misunderstanding: Teachers Who Don't. Get. Gifted!