Myths and Misunderstanding: Teachers Who Don't. Get. Gifted!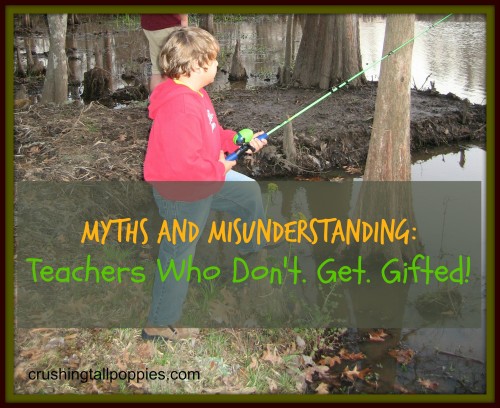 PART TWO
First things first: I am a dyed-in-the-wool public school teacher at heart. I have my MEd, I've taught in many schools, and I was a also a mentor teacher. I understand and support the public schools.
When I say that myths and misunderstandings about giftedness abound in our school systems, I know this fact first-hand–there are schools, administrators and teachers who really don't understand giftedness. Of course, this is not true of all teachers, but it is true of many who received little to no information about giftedness in their college education curriculum.  Now, with gifted children of my own, I was again made aware of this fact, very painfully, as I tried to advocate for my youngest gifted son at his last public school.
In the past, through many, many conversations, online and in person, with parents of gifted kids, I kept hearing a catch phrase used over and over by these parents when talking about their child's experience with their regular classroom teacher. The phrase? They. just. don't. get. gifted!  
Parents, teachers, and educational and mental health professionals who do get gifted, know and understand that our gifted children are creative thinkers and complex learners, they are intense and passionate, they have a strong sense of fairness and morality, they are very sensitive emotionally, and they have unique educational needs that must be met in order to be successful in the classroom. But when the adults who are in charge of your child's education don't get gifted,  the damaging effects on a gifted child can be long-lasting and even permanent.
I would like to believe that my youngest gifted son's unfortunate experiences during his last year in public school were terrible, isolated examples of what can happen when schools don't get gifted. Unfortunately, I have read and listened to story after story of what happens to a gifted child at school when teachers don't understand her unique characteristics and learning needs. My youngest gifted son had teachers who believed all gifted students to be smart, responsible and earn good grades. During his last year in public school,  I called for teacher conferences, emailed teachers and tried to explain to his teachers and the administration that my son's other-than-perfect grades were due to factors related to his giftedness –visual spatial learning style and perfectionism. We sought the opinion of a gifted consultant who specialized in gifted children. She also tried to advocate for our son. Nope, his school would have none of that.  He was gifted and he should be making excellent grades; his teachers believed his less-than-superior performance in the classroom was due to his poor work ethic, not his giftedness.
The last straw came when my son came home and told me two of his teachers had stopped him in the hall as he was running an errand for another teacher. They both scolded him, in the hallway, for his math grade. The teachers told him, "You're smart, you should be making all A's."  And there you go, a shining example of the belief in the myth that all gifted kids excel in the classroom. Traumatic, damaging and emotionally scarring? Yes, telling any gifted child you expect them to make perfect scores because they are gifted can be emotionally damaging.
What is the solution to making sure all teachers get gifted? Training. I believe all teachers who have gifted students in their classroom should be thoroughly trained to understand the unique educational, social and emotional needs of gifted children. Training should focus on dispelling the myths and misunderstandings that many teachers have about giftedness.  Teachers should learn how to recognize in gifted children the common symptoms of underachievement, depression, perfectionism and anxiety. Challenging the teacher, bringing up inequities and unfairness, unexpected failing grades and disruptive behavior brought on by boredom in the classroom should all be recognized by teachers to  be common issues of gifted children without an appropriate education. Training teachers to understand giftedness is an ideal way for cash-strapped school districts with little to no gifted programming to begin to implement much-needed acceleration and differentiation in the regular classroom. With concise, effective training that is also cost-effective, we can increase understanding of gifted children, dispel the myths about giftedness, and all teachers can then get gifted!