"Gifted" is Just a Word….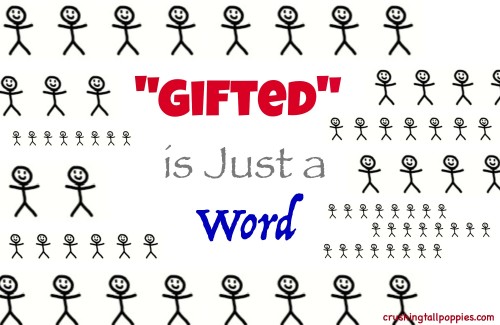 Every child is gifted
It is a contentious statement to some, to say the least.  But, of course, it all depends on your definition of "gifted" and what "gifted" means to you.

I wrote a post a while back titled, 
"If Every Child is Gifted, Then…" 
  Recently, it has gotten a lot of attention and some compelling comments revolving around the use of the word "gifted" and the air of elitism it evokes.
I have a dear friend who has three highly-gifted boys, and she and I share our triumphs and our lowest moments in raising our gifted sons.  My friend was a very successful advocate for disabled Americans having lobbied for the disabled in Washington D. C.  While advocating for the rights of the disabled, she recalled a time when the word "handicapped" was objected to because of its derivation from the term "cap in hand."  She relayed this about the debate over which term to use:    "At the same time, the semantics can become all consuming and divert the discussion." (the discussion  for the rights of the disabled)
The use of the word "gifted" can be objectionable to many, but regardless of the meaning, derivation or perception of the word "gifted", we are still talking about a group of highly intelligent children who are the most misunderstood, neglected and underserved student population in our schools today.

That is my opinion, but I want to know yours….

One reader, Lacy, posted this comment on my post in which she expresses her disdain for the word "gifted" and the "exceptionalism" it denotes:

"Maybe its the word gifted that is the problem. It denotes exceptionalism that is exclusive and a special benefit to society which is defined differently by everyone. One can learn differently or faster but doesn't necessarily mean that they are exceptional. Learning faster or differently doesn't provide a benefit to society. Now if that person who learns differently or faster comes to conclusion that provides a benefit to society this would certainly be considered exceptional by many. There are plenty of people who learn differently. There are plenty of people who learn slow or fast, but none are indicative of whether those people would provide an exceptional benefit to society. Look I have nothing against you wanting to use the word gifted for your child, but I also have nothing against another person wanting to identify all children as gifted either. I do have a problem with the large undertone that gifted denotes an exclusive exceptionalism and a special benefit to society when in fact there is no significant difference in benefit to society between the "gifted" (as you define it) and the average (as you define it). I also don't think people hate or think less of gifted children. I think they dislike the undertone that is implied towards everyone else that is not "gifted." You can assume that my tones are out of anger and dislike, but I merely just trying to observe this from another perspective. I don't have any ill will towards the "gifted" community. I don't think you have an ill will towards the rest of the world. I think you are just frustrated like most parents with the public school system's failure to cater to the individual. Who could be mad at that?"

I understand the negative feelings many people have towards gifted children and their parents because of the perception of elitism associated with this group.  I understand, but I don't agree. This is my reply:

"Lacy,
I understand completely what you are saying and many people feel the same way you do about gifted children, or the use of the word "gifted".  Many educators and parents would love to be able to use a more accurate or less controversial word than "gifted" when referencing our intellectually bright kids.  You are right, the word "gifted" does have an undertone of elitism or exceptionality.  It is an unfortunate choice of a word to use to label those people in society who have above-average intelligence.  That is all about semantics though…
No matter which word we use to label or reference our children – "high-ability", "exceptional", "bright" or "talented" – they all can clearly evoke an air of elitism, and this in turn can bring out negative feelings in those who do not truly understand our gifted children.  Some even say that all of this is because we have a strong sense of anti-intellectualism in our country and in our world.  Many believe intellectual discrimination exists.
I know you do not have any ill-will towards the gifted community, just as I don't have any ill-will towards highly-successful athletes or extraordinary leaders or people who have exceptional beauty or those who are musically gifted.  Personally, I'm musically illiterate, overweight and of average beauty, way-below-average athletic ability and I'm probably an average leader.  So, my gifts don't lie in those domains, and I am not jealous of those who were born with above-average abilities in those domains; I applaud them.  My gift and my sons' gift lie in the intellectual domain, and for fear of ill-will by others, we very much hesitate to publicly use the word "gifted" when we refer to our gift of above-average intellect.   But this is the word or label that has been in use for many, many years.  
I truly believe every child has talents or exceptionalities or strengths – exceptional athletes, extraordinary beauty, mature communication skills, above-average artistic ability, or intuitive leadership skills – all of which, if nurtured appropriately, can benefit society.  If parents and teachers don't nurture and educate towards developing these skills, these children may not grow up to fulfill their potential and become a benefit to society in any capacity.  
Our children who have intellectual strengths are misunderstood and underserved for many reasons – lack of money for gifted education, lack of understanding of the unique psychological needs of our gifted kids, and often times, discrimination through anti-intellectualism plays a big part.  
We spend billions of dollars to erect huge football stadiums to showcase athletically-gifted football players.  Musically-gifted pop artists have millions of adoring fans.  Artistically-gifted people display the products of their above-average ability in art galleries.  The world collectively admires people who were born with a gift of beauty, and we showcase this beauty in pageants like Miss America and in fashion magazines.  We all admire and love our favorite talented actors and actresses.  These individuals have all been coached, nurtured, educated and provided the right opportunities to develop, showcase and use their talents and gifts.  Intellectually-gifted children and their parents have historically had to fight for understanding and acceptance in our schools and in society.  We have had to fly under the radar to get the right opportunities and an appropriate education for our kids.  And there are few arenas, pageants, galleries or stages to showcase our children's intellectual gifts…. that is if they were appropriately developed as they should.  
Again, you are right.  I am often frustrated with the public school system's failure to educate our intellectually-bright children properly, but most often, I am very much disheartened by society's negative attitude toward those who have above-average intelligence.

"Gifted" is just a word, but society is failing our intellectually-talented children…."
Here is another reader's comment:
"I agree with you. But the word is the problem. I so wish someone would pick a less loaded word.

And the last comment by a reader:
"I started reading the comment from Lacy as my 5 year old wrote and illustrated his second book of the day, my 4 year old begged to get on my lap so he could use the computer to solve math problems, and my 18 month old colored and I decided that she has not had much experience with a true "gifted" child. When you experience the way a gifted child's brain works I don't think you can help but feel that can change the world (for good or bad depending on how they are treated and guided). My guess is she has had experience with beautifully, wonderfully "normal" kids who have parents who brag about their child's accomplishments and probably throw around the word gifted. I became certain of this as seconds later the peace in my home was shattered as the 5 year old freaked because he couldn't find a book he was looking for, the 4 year old had to change his clothes for the 52nd time because the seams bother him, and the 18 month old fell off her chair (gotta love the asynchronous development that gives a toddler poor balance, but a perfect pencil grip). These kids are different, they are difficult to parent, and I look forward to a day when we can talk about these facts without others crying elitism. Thank you for your blog."

Again, I believe the word "gifted" is an unfortunate choice to label our highly intelligent children.  But is it really the use of the word "gifted" that is most troubling?  Maybe it is the fact that gifted children are perceived as being superior to other children that is the real issue.  Or is it true that every child really is gifted and exceptional, and should all be similarly educated as such?
What are your thoughts?