My Child is Gifted: Do You Think I'm Bragging Now?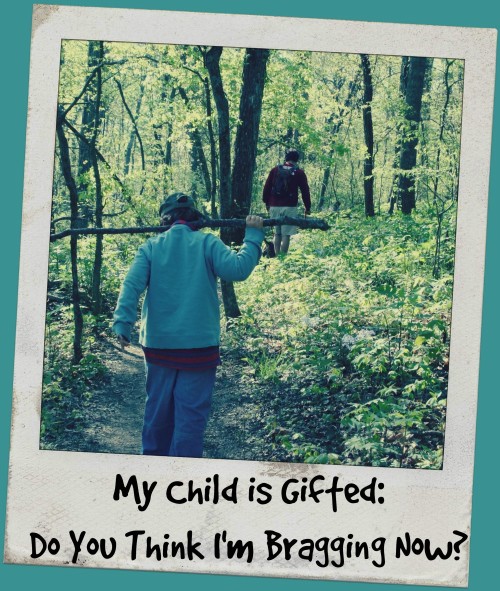 My son is gifted.
She's gifted.
All three of my children are gifted.
You just can't say this to anyone, you know! These are loaded declarations that you just can't utter to even your best friend–that is if they don't get it. Why? Most often you will be met with a long, blank stare and you just know that this other person, after hearing your my-child-is-gifted declaration is thinking, Ugh, I'm so tired of hearing parents brag about their gifted kids! or Everybody thinks their kid is gifted!
Now try saying this to someone: My child is gifted and it is such a struggle!
Ha! Now, you may not see that long, blank stare. You will likely see a wide-eyed look of disbelief tinged with a dash of disgust.  And, as the parent of a gifted kid, you absolutely know that this person is thinking, Is she really trying to make me believe that raising a smart kid is tough? What? Did she just break a nail thumbing through all of his straight-A test papers?
That ultra smart kid, the one who easily makes all A's, the one most people think of when they think of gifted children–there is a chance that he isn't gifted.  Smart? Yes.  Gifted? Maybe not.
Intelligence is difficult to measure, and achievement in school doesn't always determine intelligence. But historically, we have totally equated intelligence with academic achievement. And academic achievement does not always relate to giftedness.
Say what?
Nope, gifted children often don't excel in school.
So, is this revelation poking holes in the belief that gifted children are smart and excel in school? I hope so.
I have three gifted sons. Only one really excelled in school. He loved school and always made excellent grades. Neither of my other two sons consistently made all A's in school likely because they are both visual-spatial learners, and nearly all traditional classrooms are taught using auditory-sequential teaching methods which flies in the face of visual-spatial learners.  Nope, gifted children often don't excel in school–especially when their unique learning needs are ignored.
This is where the struggle begins. As a parent of a gifted child, you know your child reached all sorts of intellectual and developmental benchmarks way before other children. Pretty awesome, huh? So, why are they not making straight A's on their report card?
My son is gifted, but he has an F in algebra.
Okay, just try saying that to someone who doesn't understand giftedness. Most likely you will see a confused look on their face with their nose and forehead scrunched up with deep, furrowed eye brows. If this person is polite, he'll refrain from spouting out what he really wants to tell you: Dude, I'm sorry, but maybe your kid isn't gifted after all!
And the struggle continues. Parents of gifted children understand that it is an uphill battle to try to convince schools that acceleration can help the child who is failing. But doesn't failing in school mean that the child does not know the information? Nope, not necessarily. Failing in school can also mean that a child who is gifted and his educational needs are not being met in the classroom may have just given up. He is tired of waiting because information is not being taught at his quicker pace. He is bored with repeated practice and repetitions of skills he already knows. Or the teacher teaches in a step-by-step fashion leading slowly up to the bigger concept when the gifted child already sees the bigger concept. Or he has decided that rote learning is a waste of his time because knowledge should be useful and purposeful–rote learning is for filling in the blanks correctly so you can make an A+ on your test and have it pinned to the wall of fame in the hallway outside of your classroom.
Kind of like nails on a chalkboard–to a gifted child.
As a parent of a gifted child, we also know that there is more to our child than their intelligence and academic performance. We know, understand and have experienced the emotional and social characteristics that come with higher intelligence. It's brain wiring. How could a gifted child's brain have developed more significantly intellectually without other cognitive brain functions such as emotional and social capacity being affected? That higher intellect (giftedness) seems to automatically come packaged at birth with more intense emotional quirks and more significant social mores.
So, you take this smart-but-failing, emotional wreck of a kid and try to get his school to understand that he doesn't need to work harder or practice more because he is failing, but that he needs to be accelerated, differentiated or taught in a way that meets his needs. Then he may once again feel learning has a purpose, and he just may decide to make a few A+'s just to please his parents and teachers. But how do you convince anyone that a child with an F in algebra needs to be moved ahead faster, taught differently, and not slowed down and pushed backwards by more practice?
And how do you convince your highly-emotional child that school should not define him? And how do you warn him that naturally, he will be the object of envy because he was born gifted, and sometimes this envy results in bullying? And how do you assure him that despite his higher-than-average intelligence, he will find friends who understand him?
It's exhausting.
So, there you have it. A scary smart kid who may not make the honor roll in school, who may struggle socially to find like-minded peers who understand his complex topics of conversation, who then freaks-the-hell-out when he can't be like all the other typical kids and he fears he will never fit in EVER. And neither you nor your gifted child can talk about these problems or ask for help because for sure, other people will think you are shamelessly suffering from first-world problems.
My child is gifted.
Do you think I'm bragging now?
RELATED POSTS AND ARTICLES:
My Child is Gifted and I Can't Talk About Him
Giftedness is More Than a Function of Education