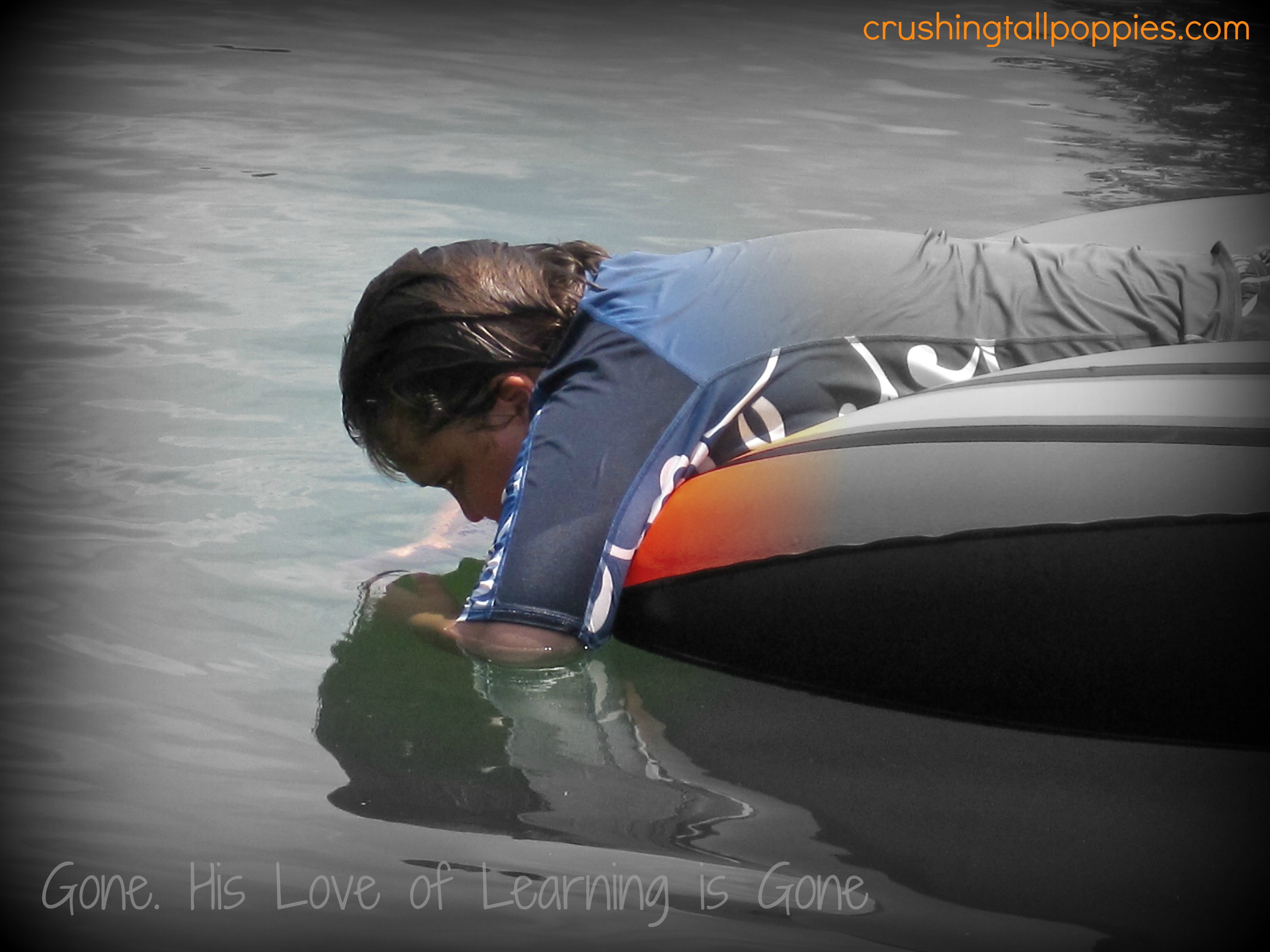 Gone.  His love of learning is gone.  And I am now struck with the realization he may not get it back.
After reading this delightful post, "How to Destroy a Child's Love of Learning in 15 Easy Steps", I had to chuckle at the flawless use of sarcasm, humor and snark to let the readers know, quite truthfully, how our children's love of learning can be so easily flushed down the toilet.  After enjoying the humor and happily nodding my head in agreement with all that was written, reality then flooded my brain and tears welled up in my eyes.  Too many of those fifteen things had happened to my son when he sat within the walls of brick and mortar schools.
I allowed myself a moment of sadness and let the tears fall, and then quickly bucked up, telling myself that I WILL help my son regain his love of learning.  I immediately repeated the same pep talk I give myself every morning as I am faced with the sobering responsibility of having to reverse the damage caused by educators who did not understand my son's giftedness.  I pushed all negative thoughts out of my brain and refused to cave to the despair.  Succeeding was my only choice.  My monumental task – to resurrect his once-voracious need for knowledge, for creating, for problem-solving, for making music and for inventing.
Crushing reality struck again, but this time I was slammed with a feeling of total despair, dizzying grief as if from a horrible loss.  As I read yet another poignant article that portrayed how our traditional educational system can extinguish a child's natural desire to learn, to explore, to discover and to follow their passion, I knew.  I knew his love of learning was undeniably gone, and I may not be capable of helping him get it back.  The reality that my child has lost a part of himself that at one time so brilliantly defined him – his energy, his curiosity, his enthusiasm for learning.  Gone.
Even his wit, his contagious sense of humor, his ability to spontaneously craft clever jokes – gone.
Gone and replaced by a paralyzing fear of failure.
His love of learning was crushed by educators who said things no child should hear.
"I'm tired of this crap!  You need to start paying attention in Math class!"  He had a 100% average in the class he wasn't paying attention in.
"I know your mom thinks you are gifted, but you have to prove to me just how smart you are!"  Proving his intelligence was his teacher's criteria for allowing him in her Advanced Math class.
"Mr. Zero"  A name his last English teacher called him in front of his classmates after she gave him a zero on an essay he was writing because he was talking out loud to himself.
"If you are so smart, then why aren't you making better grades?"  He heard this more than once his last month in traditional school.
My driving desire is to see that all of our gifted children receive the understanding, education and support they need in our educational systems and by society.  That is their inherent right.  As I've told many people, I want to make sure that what happened to my son does not happen to any other gifted child – "no child should have to suffer simply because they were born gifted."  This is what drives me to write, to advocate and immerse myself in the cause of advocating for all of our gifted children.
I will continue to advocate and fight for all gifted children, but I have another seemingly insurmountable fight for my own gifted child.  And for this fight, I'm truly scared.
**A few months have passed since this article was posted and I am happy to say that things have turned around in that time.  I have written two articles about this wonderful turn towards learning:
The Spark That Changed Everything: Homeschooling a Gifted Teen