The Spark That Changed Everything: Homeschooling a Gifted Teen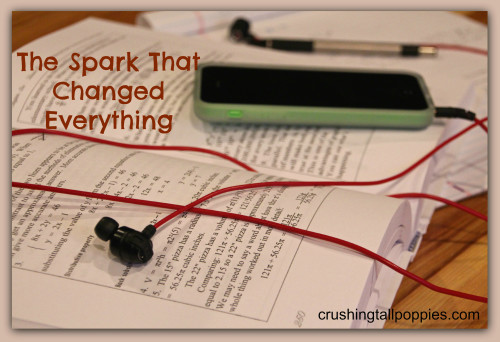 If you have been reading my posts, you probably know that we are homeschooling our gifted teenage son, and we are trying to heal the damage our son's last year in school has caused him.  Overcoming the effects of neglect from his last school where his giftedness and learning style were not recognized or understood is quite easily the most difficult experience I have ever had to deal with.  I feel as though I am on call 24/7, and I  need to be at my very best with – unlimited patience, endless compassion, perfect level-headedness, and total understanding – all necessary to be able to troubleshoot every teenage educational and emotional issue flawlessly with no mistakes because there are NO do-overs!  Nope, no pressure here!
So, we are now homeschooling our high schooler, our gifted, quirky high schooler,  our visual-spatial learner who remembers everything he sees, our computer-techie kid who can talk Raspberry Pi and Arduino with the best of 'em, our super-sensitive teenager whose last year in public school turned his life upside down.  I always said I would never homeschool high school, but you know that cliché, "never say never"?  Yep, that one.  So, okay, I really get that now.
Yes, I am homeschooling my teenage son who…
is smarter than me
lives and breathes all things computer techy and program-y, which is all way over my head and miles past where I stand
is a visual-spatial learner who needs to "see" what he is learning, not listen to or read his education.
hates school because it has proven to him to be boring, pointless, repetitive, restrictive and traumatic
is smarter than me (again, for emphasis)
And now, I think we see the light at the end of the tunnel.
My son's last year in school before we pulled him out to homeschool him was traumatic, but the extent of the educational and emotional effects from this experience still haunt him – the loss of his self-confidence, his disinterest in schoolwork and the disappearance of his previous enthusiastic zeal for learning.  A few weeks ago, I really thought that it would be just about impossible for him to regain his love of learning, but…
I was wrong!  His love of learning is not completely gone; it has been significantly dimmed, but the other day, I witnessed a glimmer of a spark!  That spark that changes everything!  I saw my first glimpse of that spark and now I am like, "all hands on deck"  to make sure we stoke that spark until it becomes a flame again!  However, it will be a slow process, and it will be one small step at a time.
Nope, his love of learning was not totally gone, but what is gone is his love of "school".  And we can live with that because my son had figured out long before I did that the way traditional schools teach did not always result in learning – purposeful, useful and meaningful learning.  For my gifted son, traditional school meant sitting in a regular classroom full of skill & drill, rote memorization, fill-in-the-blank, multiple choice, read-and-answer-the-questions, show your work, tests, standardized testing, grade-level work, rubrics, tons of worksheets, and grades.  Traditional school's seemingly endless "filling of a pail" approach to learning extinguished my son's burning desire for knowledge – meaningful, purposeful and useful knowledge.  Being misunderstood and bullied by his teachers dimmed his flame until it was a nearly-extinguished ember in danger of dying out completely.
But we are fervently fanning that one little critical ember!  Imagine if you will Les Stroud of Survivorman fame in the middle of the frozen tundra of the Yukon working frantically to ignite a life-saving fire from a single, small, burning blade of dried grass ignited by his last, wet match – yep, that is how we feel – Survivormanish.
I caught a glimpse of that spark just last week when my son and I went out for our weekly lunch date.  Lunch regularly plays out with him sitting across from me holding his phone in one hand while one ear is hooked up to the phone via one-half of his ever-present earbuds.  Most often both earbuds are in, but my rule is one-ear, one-bud during lunch!  But, this time was different – no earbuds, zero ears plugged in.
And we talked.
Really, he talked and I listened.  He talked and talked.  And he talked.  His topic of concern was ancient history and how our lives would be affected today had the Ancient Greeks not had their unbelievable technology destroyed when the Ancient Romans conquered the Ancient Greek civilization.  He wondered how the timing of the Industrial Revolution would have been affected had the Ancient Greeks' inventions, knowledge and technology, which was so ahead of its time, survived the Roman conquest.  What if the Industrial Revolution had occurred many, many years earlier as a result of Ancient Greek technology surviving?  How far ahead would we be today, he mused?
That was it!  I saw it!  I spotted the spark right then and there!  I immediately began to fan that little spark with questions and more ideas for him to ponder further, so afraid that if I stopped asking questions, the spark would disappear.
The spark that changed everything.  And now, everyday we fan the spark just a little.  Too much and we could blow it out.
Everyday, step by step, little by little, we fan the spark by asking thought-provoking questions needing his valued opinion, by giving small, easily-managed assignments or tasks in which he will feel successful, and by providing judicious amounts of well-deserved praise for his efforts to overcome.  And everyday, the spark seems to burn a little brighter.  Of course, we have a few, occasional disheartening days where the spark is a bit dimmer, but we also have days where that spark is glowing and it shines hope on us all.
Little victories.  Small steps.  Giving it time.  As long as we have that spark.  The spark that changes everything.
Are you homeschooling a gifted/2E teen?  Then go and see all the great information and resources found in the Gifted Homeschoolers Forum's Blog Hop: Homeschooling (and parenting!) Gifted/2E Kids Into Their Teens and Beyond.