"He's smart, but he just needs to apply himself." Just Wondering Out Loud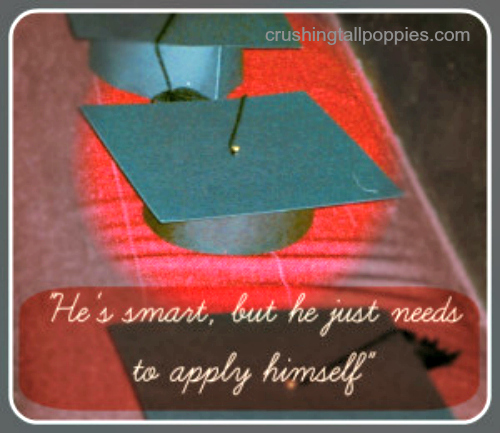 "Susie is not applying herself in class"
"If he applied himself, his work would improve"
"He needs to work harder and apply himself"
What does it mean when we hear that our child is not applying himself in school?  We often read or hear this sentiment when it is brought up in parent-teacher conferences, or scribbled across failed tests, and written as a comment on poor report cards. When this educational statement is made, it is usually because a child is not as successful in school as we assume he should be.  The logic used here is that if a child is not performing in school as expected, then the problem lies with the child.  Any number of issues could be occurring and are subsequently investigated such as hearing or vision problems, learning disabilities or possibly a poor home environment.  But, if there are no issues or conditions found that would prevent a student from performing as expected in school, then do we just conclude that the student is just not applying himself and needs to work harder?
I have been musing over this undesirable student behavior a lot since I saw a cartoon recently that humorously presented a paradigm shift in how we look at poor student performance in the classroom.  In the drawing, a student is standing in front of his teacher's desk as she sits there with a look of shock and bewilderment on her face.  The student, who obviously had not been doing well in school, announced to his teacher that he feels he may not have a learning disability, but that maybe she has a teaching disability.  Now, before you go and think I'm bashing teachers, you have to know that I was a former public school teacher and I truly believe that the majority of our teachers are excellent educators.  But, properly educating a child involves many factors such as school and classroom environment, curriculum, class size, teaching strategies used, and the range of grade-level abilities of each student in the classroom just to name a few.  All should be considerations when investigating the cause of a child's lack of performance in school.
So, why do we so often assume when a child with no learning road blocks, is not doing well in school that the problem lies with the child not living up to his potential?  Further, if no obvious learning disabilities or issues are present, why do we then conclude the child is lazy, and needs to work harder and apply himself in school?  More so, when a child who has above-average intelligence or has been identified as gifted with no diagnosed learning disabilities and he is performing below expectations in school, why do we then determine that the only possible explanation is that he is not applying himself in school?
Think for a second: She is smart, she is a gifted learner, but her grades are below average.  What would anyone logically conclude?  This "needs to apply herself" conclusion seems more misguided when the child is gifted.
When it comes to gifted children, we have an arsenal of information from multitudes of credible, professional articles and educational research studies about gifted children and such common issues as underachievement, perfectionism, twice-exceptionalities, resultant behaviors from boredom, and a visual-spatial learning style.  We also most recently have been seeing compelling data on the misdiagnosis of emotional and psychological issues among our gifted students.  Unfortunately, we know that all this information is usually only well-known among those associated with gifted students in some way and can unfortunately be a non-consideration in the regular classroom.  For sure, giftedness is complex and often misunderstood.  So, when a gifted child is under-performing at school, shouldn't we look beyond the first simple conclusion of "he's smart, so he just needs to apply himself more in school?  Still wondering…
In recent months, many in the field of education have been bringing forth ideas that essentially are saying we are pushing our students too hard simply because we need them to perform well on standardized tests.  These professionals are warning us that creativity, enthusiasm, engagement and love of learning are being ignored, trashed and kicked to the curb.  Making learning fun has been replaced with the need for skill-and-drill.  This hampers any student's ability to "apply himself" in school; it can especially harm a gifted learner who usually does poorly with repetition, rote learning and skill-and-drill.
Another consideration I have about the decision that a child just needs to apply himself more in school, and this is from my personal experience in the classroom and with my own kids: when a child is performing poorly in school and not living up to the expectations set in school, couldn't it possibly be that she may feel ashamed and embarrassed to the point of pretending not to care just to save face or ward off any teasing or bullying?  This pretense of not caring may further convince the teacher that the only conclusion is that she just needs to apply herself and work harder.
Lastly, while researching information about this "needs to apply himself" concern of mine, I was looking on the many websites that provide canned report card comments for teachers to use.  Out of curiosity, I just wanted to see for myself how often the "needs to apply himself" turned up.  As I read the many comments to be used to let the parents know their child could do better in school, it really struck me how so much of the responsibility of learning is placed on young children.  Comments like: needs to focus, needs to stop fidgeting, needs to stop being distracted, does not use time wisely, poor work ethic, and spends too much time daydreaming. This just begs me to wonder, are we simply just expecting too much from our children especially in an educational era so focused on teaching to the test?  Expecting them to sit focused for hours and eager to learn dry, unrelated facts and figures just so they can do well on the high-stakes standardized tests?  And then we are holding our children solely responsible when their performance is not up to our expectations?  More to wonder about.
And wonder I did.  I tried to think back to as many of my own students as I could recall who just flat out didn't care about learning or trying to do their best – as in they "didn't apply themselves".  I even asked my teen if he could recall a friend or classmate who really didn't try to do his best, or who didn't care about learning.  Between us, we came up with one child who probably would have fit the behavior of "needing to apply himself in school".  I believe every child truly wants to do well in school.  And when they don't do well and there are no barriers to his learning, should we assume it is entirely the child's fault?  If it is a gifted child who is not performing well in school, then the conclusion seems, of course, to be his poor work ethic and a need to apply himself because hey, he is gifted and should be making good grades!  Considering the fact that education is consisting more and more of rote learning and teaching to the test, shouldn't education rethink this conclusion for all students?
Much like the boy in the cartoon, maybe the problem doesn't lie with the student, but with the system delivering his education.  Maybe our school systems do have a teaching disability.
Just wondering out loud…