Gifted Advocacy and Stepping Out of Your Comfort Zone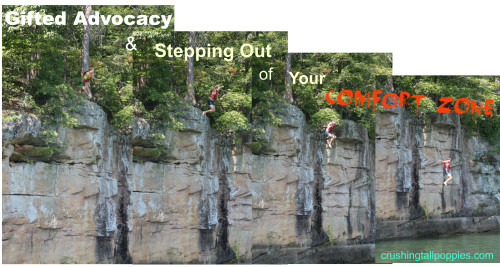 Non-confrontational, a little shy, avoids uncomfortable conversations, rule-follower – not exactly the most optimal personality type the parent of a gifted child would need to ford the deep, somewhat treacherous and often muddy waters of gifted advocacy.  But like any mother who would do anything to help her child, I had to overcome my nonassertive nature and step WAY OUT of my comfort zone to find the right educational resources and opportunities for my gifted son.
We moved from the Southeast to the Midwest about nine months ago so I am quite unfamiliar with everything in our new town – every store, every street, every rule, every procedure, every tradition – EVERYTHING!  And simply asking – for anything – was a step out of the coziness of my comfort zone!  Asking questions, asking for information, asking for advice and asking for help was difficult, but I needed answers to find the right resources and opportunities for my family and also for my son, so I asked, and I asked many people many questions.  Finding the right educational options for any gifted child is a huge priority, and having to ask so many people so many questions was uncomfortable…no…nerve-shattering…., but having to ask about specific educational options, and having to clarify and justify what I was asking for by using the "G" word just about sends me into a panic-induced meltdown!
Advocating for our gifted children whether they are in traditional school or homeschool is difficult simply because just about anything you ask for needs to be packaged with the word gifted.  Even asking questions of those who work directly with gifted children, I hesitated to state that my son was gifted.  There was always that ever-present nagging doubt that maybe he wasn't the right kind of gifted or he was not gifted enough.  I tried to pre-formulate my questions and requests in a way that I could get the answers I needed without having to say that my child was gifted.  Now, after my many trips outside of my comfort zone, I have been thinking that as parents of gifted children, we must all, at one time or another, need to step outside of our comfort zones when advocating for our gifted children.
As parents of gifted children, most of us will most certainly agree that it is rarely straightforward or easy to ask for and receive the most appropriate educational options for our gifted children!  If you are just starting out on your journey with your gifted child, arm yourself with as much information and knowledge as you can and be prepared.  If you are familiar with the roller coaster ride of raising a gifted child, then you understand the ongoing, constant challenge of finding the right educational fit and resources for your gifted child!  So, unless you are inherently assertive, very confident and extremely well-prepared (and if you are, you sincerely have my highest admiration!), you will need to step out of your comfort zone once in a while to secure what resources your gifted child needs to succeed.
Like many parents, I was not prepared for the fight.  Despite having two older children and having been a public school teacher, I was not prepared for the maze of misunderstanding, ignorance and intolerance of gifted children and their unique needs.  Because I was not prepared, I was unable to step out of my comfort zone in order to advocate as needed for my gifted son during his last stint in public school.  Although I was certain of what my son's needs were and what his school should have been doing to address those needs, I had to rely on a well-known private counselor who specialized in gifted children to advocate for my son.  She was a real gem, but this was a more costly option.
So, after the past several uncomfortable months of asking many questions of many people in my search for resources and educational options for my son, I am no longer out of my comfort zone because the boundaries of my zone just gradually expanded with each step out of the bounds.  And in some respects, it has disappeared completely.  Armed with knowledge and information, you will be well-prepared to step out of your comfort zone and advocate successfully for your gifted child!
Here is a brief list of resources to start you on your way:
Hoagies' Gifted Advocacy page
Becoming an Advocate for Your Gifted Student: an Interview with Carol Morreale
Tips for Parents: Advocacy – Working with Your Child's School