Let Them Know They are Gifted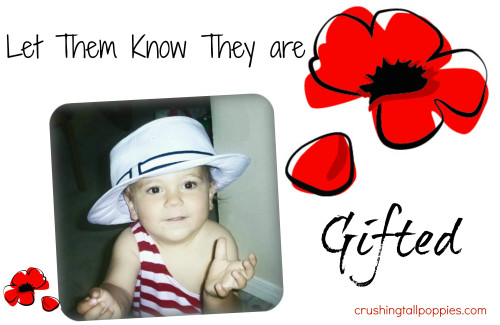 Although my youngest gifted son is 14 years old now, I feel as though I have many more years of parenting experience behind me than I do ahead of me.  And this, I think, gives me enough credible perspective to ask myself, "what is the one thing I wish I had known or done differently BEFORE I started on this journey of raising my gifted sons?", and then be able to answer my own question with a insightful and helpful answer for you.
The answer is this: Let your child know they are gifted, and tell them when they are young.
Letting your child know they are gifted.  I know this is a debated topic, and depending on your own experience and where you are on your journey, you may disagree with me.  I can only relay what my experience has taught me, and hopefully you can take away a few grains of parenting wisdom to help you a bit on your journey with your gifted child.
And so it goes like this:
Despite having been around the gifted children in our extended family, and having been a public school teacher myself, it still never occurred to me when my children were very young that they could be gifted. Why?  Because, way back when I first became a mom, my idea of a gifted child was the child who always made straight A's, excelled in school, was popular among his peers, and was the teacher's pet.  Period.  I believed that schools defined who was gifted and who was not gifted, and it was all based on a teacher recommendation and a school-administered test.  My two oldest sons made very good grades, but not all A's all the time; so, to me, that did not equal gifted.
Why am I telling you my historical view of giftedness?  Because my erroneous thinking back then continued all the way up, for nearly 20 years, until my youngest gifted son was 11 years old.  It wasn't so much that I didn't recognize the gifted traits in them, it was more the fact that normally, children who have been tagged for being gifted are the same children who excelled perfectly in school, made straight A's..… well, you know the stereotype I'm talking about.
My ignorance to the fact that my children were gifted didn't so much hurt my oldest.  He loved school, was self-motivated and he always did very well.  My middle son hated school most likely because he was a visual spatial learner, but he accepted his fate that he would have to suffer through his K-12 education, and it wasn't at all a pleasant journey.  Had we known, or he'd known, that he was gifted, his journey would have been quite different, more educationally beneficial and a much happier journey for him.
As far as my youngest gifted son, had we accepted that he was truly gifted and told him when he was young, he would not have spent so many years wondering why he was so different and out of sync.  Knowing he was gifted would have given him a real reason why he felt like he did not fit in.  Knowing he was gifted when he was younger would have provided him the many answers to the many questions he had about himself.  Instead of feeling as though something was wrong with himself, he could have seen that what he felt was actually right for him.
In short, had my youngest son known he was gifted when he was younger, much of the pain, confusion and heartbreak could have been averted.
Parents of gifted children know that raising a gifted child is a challenge because of the unique educational, emotional and social needs giftedness embodies and presents.  We also know that gifted children most often are burdened with the inherent complexities and unique needs of giftedness.  If letting them know about their giftedness could help them understand, accept or lessen their burden, shouldn't they know?
Gifted children realize early on that they are different from their peers.  They discover soon enough that they usually know more than the other children their age.  Gifted children have different interests than their friends and they find they don't have as much in common with their same-age friends.  To their friends, our gifted children may seem arrogant because of their more complex topics of conversation.  Our gifted children, at a young age, realize they are out of sync with their friends, they don't quite fit in.  If letting them know about their giftedness could help them understand, accept and moderate their social presence, shouldn't they know?
Giftedness is who they are; shouldn't they know?
This post is part of the Gifted Homeschoolers Forum May 2014 Blog Hop: "Special Tips, Toys, Tricks, & Tools for Parenting & Educating Gifted/2E".  Gifted Homeschoolers Forum is one of the most comprehensive, resource-rich sites on the internet for giftedness.  You don't have to be homeschooling to find a wealth of information about gifted children at Gifted Homeschoolers Forum