I'm Jealous of Your Smart Kid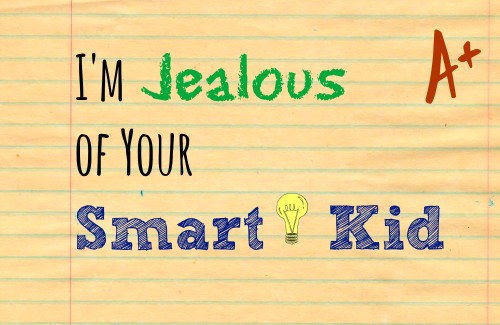 Yes, I am jealous, but I would never roll my eyes or say nasty, mean things about you or your child. Nope, I keep my envy to myself, and I just smile when I see your smart child making honor roll, gathering academic awards and breezing through school. I know how lucky your child is to be so successful academically. He or she will easily go far in life.
I guess you are assuming my child is not smart, or not doing so well in school.
Are you wondering if I'm a mom of a child who struggles in school?          Well, yes, I am.
Are you thinking that maybe my child does not always make good grades?       No, he doesn't.
Are you feeling a little relieved and happy that you don't have to worry so much about your child academically like I do?     Yeah, you most probably don't need to worry like I do.
"Hey, good for you!" Really, I'm happy for you and your child.  As parents, we all need less to worry about when it comes to our kids and school.
Are you maybe feeling a little sorry for me and my child because my child struggles in school and doesn't make good grades all the time? You know, it has not been easy at all on my family.
Would you be willing to help me and other parents whose kids are in the same boat as mine? It would't take up much of your time at all, really. Actually, none at all.
My child doesn't need after-school tutoring, or extra worksheets, or reteaching, so no help is needed there.
Wait, wait ….. wait! I know what you are thinking now. Poor grades must mean my child needs that extra practice work in school, or some tutoring after school.        No, he doesn't need that kind of extra help at all.
So, what does he need?
He needs your understanding. A clear, factual understanding about what kind of learner he is, what he is capable of, and what he needs to be successful in school–successful like your child.
So, what kind of student is my child?
He's gifted.       Yes, he's gifted.
Surprised?
Are you still willing to help? Are you still sympathetic? Still willing to understand who my child is?
My child is gifted which means he is not automatically academically successful. It means his thinking and learning seem to transcend what goes on in his regular classroom. And when specialized gifted programming taught by teachers who understand his way of thinking and learning are not available to him, he has trouble paying attention in class, he may get fidgety, he will likely start talking when he shouldn't, and often becomes disruptive in class by asking a lot of questions that go further and deeper than his teacher's lesson plan was prepared to go. I could go on, but my kid just doesn't fit into this regular class no matter how hard he tries.
And then things fall apart for him: failure, humiliation, bullying, recommendations to have him tested for ADD or learning disabilities. But, I have to be discreet when I go to school to talk to his teachers about his—um–giftedness, because you know, there are teachers who will roll their eyes over the fact that I actually think my child is gifted even though he isn't doing that great in school. And  I can't talk to my friends about my gifted child and his struggles in school because, you know, they will roll their eyes or say nasty, mean things about my child at a time when he could not feel any worse about himself.
Oh, I'm sorry.  I'm just rambling on, aren't I?
You do still want to help my kid, right?
Here's want you can do: Please try to understand that giftedness is not all what it is cracked up to be. Giftedness is not always about being smart; smart excels in school. Giftedness is more about thinking, and seeing, and feeling the world more intensely, more deeply, and through a stronger, clearer lens. Giftedness is like being born with red hair, or inherently artistic–some kids are just born gifted. And it isn't easy being a gifted kid when your friends' parents are envious of you, and your mom's friends roll their eyes at her, and your own friends think you are weird so you try to change yourself to fit in. The worse thing about being a gifted child is being envied, and shunned, and bullied for a stereotype that is purely mythical.
So, could you please let others know that gifted children are born that way, and that giftedness is not at all the intellectual privilege you once thought it was?
Thanks, that would be wonderful!
Category: Bullying, Gifted, Gifted Advocacy, Gifted Education, Gifted Teen, Parenting a Gifted Child, Twice-exceptional / 2E, Underachievement · Tags: 2E, asynchronous development, bullying, gifted, gifted advocacy, gifted and talented, gifted children, gifted education, gifted learners, gifted students, GT, parenting gifted children, public schools, underachievement in gifted children
Subscribe to Crushing Tall Poppies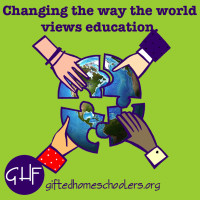 Many of you have asked about books and resources for homeschooling and gifted children. These are books and resources I own and have used. I do get a small portion of the sales from any of the items you purchase.
TALL POPPY SYNDROME FROM WIKIPEDIA:
" a social phenomenon in which people of genuine merit are resented, attacked, cut down, or criticized because their talents or achievements elevated them above or distinguish them from their peers "