A Gifted Memory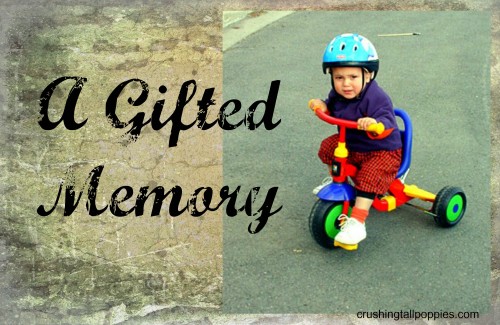 "Mom, you remember my first tricycle with the push bar that screwed in on the back?" "Yes", I replied, quizzically wondering where this conversation was going to lead. "I so disliked when you insisted on using that bar. It was quite embarrassing and made me feel like such a baby!" At 8 years old, he was recalling riding his first tricycle at 18 months old. The push bar was used for only one day because a little 18 month old pushed back vehemently about its use.
Intellectual giftedness is often so much more than what intelligence, academic and aptitude tests normally measure. Of course we understand that no test is 100% accurate for all people, but when testing for intelligence, not all intellectual traits can be measured. While short term memory can be measured and is used as a factor in intelligence testing, what about long term memory?
My youngest gifted son has, at times, astounded as well as frightened us with his incredible long term memory. Events, people, smells, emotions, names, places and even peripheral factors such as the air temperature or background noise at the time of the original situation and setting – can all be recalled by our son. And it amazes us how far back in his childhood his memory goes and how much of his earliest years he can remember. This has been an incredible and useful, but sometimes frustrating gift.
His frustration is often felt when he is recounting a specific situation as part of an enthusiastic conversation or an important point he wishes to make, and his father and I just can't remember the event he is trying to help us bring to mind! He desperately tries to bring in every detail he can summon to trigger our memory, including some so minuscule, I am awed that anyone can remember such inconsequential details. These conversations often leave him a bit angry with us for being unable remember what he needs us to, and then it brings about an end to his pointed conversation or the point he was trying to make.
I am ashamed to admit that my son's mega-memory has become a crutch for the rest of us. When we need to remember something: "Hey, do you remember the name of the man that came to fix our fridge last year?" When we've lost something: "Do you remember where that special, safe place was where I put the extra set of keys to the car?" Or when I need a memo: "Okay, remember these room measurements for me, and we will go get the paint for the room this afternoon."
And his memory works well for him, too. When he wants something: "Mom, remember when you had promised me years ago you would buy me that software and you never did?" When he doesn't want to do something: "Papa, remember when you promised me last week that I could skip scooping dog poop this week?"
One event in recent history, and one that I can recall, still stuns and intrigues me.
We moved about a year ago, and during the first few months, we happily took in all the most popular sights and places of our new city.  One particular restaurant was extremely popular, always crowded, and had a wait time no matter what time of day you went. We had to try it! Once we were seated in this bustling, crowded restaurant, it was at times difficult to enjoy our meal with all the people, noises and movement, but it was a worthwhile visit.
Another point we made during our move was to get our son, who was 13 years old at the time, into social situations as soon as possible so he could make new friends. Before our move, I investigated different teen-appropriate groups, teams and clubs that our son could join or participate in. In one such group, after hearing about our new-in-town family, with a teen in tow who wanted to get plugged into social groups pronto, one mom, whom we had never met, offered to get her same-age son and my son together. We invited her son over to our house to come hang out, and while the moms, dads and sons, who had all just met for the first time chatted in our foyer, our son made a mind-blowing revelation.
As we relayed to our new friends all the local highlights we had already taken in, we brought up the popular, always-crowded eatery we had been to a month ago. Coincidence would have it that our new friends' uncle owned the well-known restaurant.  Cool!
"Weren't all of you there about 4 weeks ago sitting at the high table in the middle of the restaurant?", asked my son. Blood immediately drained from my face. I flailed between, "is this one of his jokes?", or "did he meet these people at some point and I didn't know about it?", or worse, "he is going to be so embarrassed when he finds out he made a mistake"! How could my son remember what a group of strangers at a ridiculously crowded restaurant looked like enough to recognize them as the people we just met for the first time who are now standing in our foyer? He must be mistaken–an easy, forgivable mistake. No biggie.
Then the mom said that in fact they were there 4 weeks ago celebrating her older twin sons' birthdays. What? Really? Are you kidding me?  And in reply to what his new friend's mom just stated, our son commented, oh so tactfully, that he also recognized that their teenage son, his new friend, had the same outfit on now as he did in the restaurant 4 weeks ago!  Ouch!
Just because you remember something doesn't mean you have to spout it out! But darn, how did he recognize and remember these people who were total never-ever-laid-eyes-on-before strangers 4 weeks ago in a large crowded and bustling restaurant? Could he recall every stranger in that restaurant?
His gifted memory astounds and frightens me; and at times, when he was much younger, his verbalization of these memories in public made me want to run and hide.
Please remember that this post is part of Hoagies' Gifted Education Page September Blog Hop: Gifted, How? Don't forget to read all the other memorable posts that are part of this blog hop!