Guess what? Your child is probably not gifted.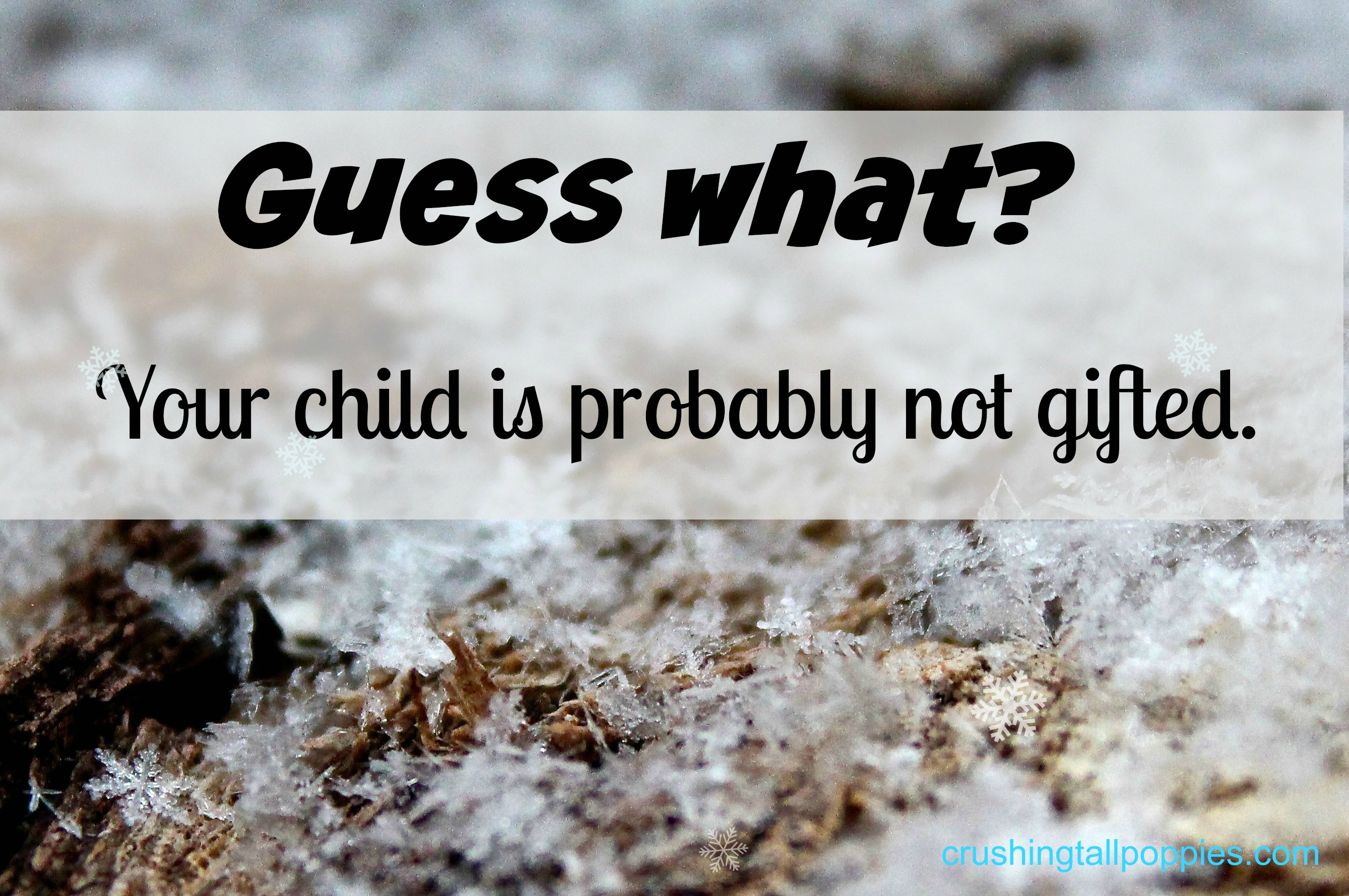 Guess what?  Your child is probably not gifted.
This sentiment has been posted, oftentimes quite smugly, as a comment on numerous recent articles on the topic of gifted children. It always seems when the emotional and controversial articles and discussions about gifted children and their education come up, the sour grapes comments inevitably come out. Yet, I have to agree with this claim—chances are, your child is not gifted.
Although there is no one definitive, clinical definition for giftedness which professionals in the field all adhere to, it is generally agreed that 2% of the population are gifted.1 Numerically, that would be two children out of every 100 children, or twenty students in a school of 1000 students. Rare, for sure. But because giftedness is a small percentage of our society, does that mean we should assume no parent has a child who is gifted?  And when we hold to this attitude—your child is probably not gifted or the other sentiment—every child is gifted—we then set up an injurious belief system which seems to insidiously perpetuate itself, and then it marginalizes and even shuns the 2% of our children who are gifted and in need of educational, social and often psychological services.
The many public discussions about gifted children and gifted education programs seem to bend to the attitude of all or nothing. Either every child gets the benefit of a gifted program, or no child should have that benefit.  It's the equality thing. Gifted education programs are considered elitist. Rarely is gifted education seen as a necessary educational service for gifted children.
A quick internet search for recent information on the cutting of funding and the complete elimination of gifted programs in our public schools can attest to the fact that services to gifted children are deemed unnecessary. Without gifted education and an appropriately challenging education, our gifted children are being held back, kept locked within their grade level based on their age, not their achievement level. Similarly, would you agree to hold back your 9-month-old baby who is ready to walk solely because the vast majority of babies don't walk until they are 12 months old? Also, what if allowing your baby to develop and reach milestones early as he was born to do was seen as elitist, or you were told you were hothousing your baby just to force him ahead of the others?
And so the myths, misunderstandings and animosity keep swirling around the discussion of giftedness in children—disallowing our gifted children or prohibiting them from learning and developing intellectually, the way they were born to.
Let's look at the probability and occurrence for other childhood conditions and situations:
 The Centers for Disease Control (CDC) states that 1.47% of the population has been identified with autistic spectrum disorder (ASD). Chances are, your child is not on the spectrum.2
 Only 2% of all high school athletes will go on to play college-level sports and only one in 16,000 (0.00625%) high school athletes will go on to a professional sports career. Your child is probably not athletically talented given these statistics.3
The American Diabetes Association says that less than 1% (.25%) of children below twenty years of age are diagnosed with diabetes. Thankfully, childhood diabetes is not an often-occurring disease. 4
Diabetes, ASD, and talented athletes—each with a very small chance of occurring in our children.  But, because it is such a small percentage, do we just throw a blanket of ignorance over the whole lot and say that the situation does not exist?  Do we refuse to treat diabetes in children.  Do we refuse special educational services for autistic children?  Do we ax funding and scrap all school sports?  Are services and treatment to these small populations deemed unnecessary simply because these are not in the majority of childhood occurrences?
Of course not, but these, autism, childhood diabetes and talented athletes, do not elicit the feelings of resentment and envy as does giftedness in children.
Of course, none of us would say stop treating a child with diabetes simply because only a few children have it and thankfully our child does not. We would all support funding for research for childhood diabetes even if our own child does not have it.
And of course none of us would argue that children with autism, only 1.47% of students, do not need an appropriate education that meets their unique needs. Even if your child is not on the autistic spectrum, you support educational programs for the special learning needs of these students.
How many of you have supported your child's school football team by buying a ticket to go and watch a game or two or more?  Even if your child tried out, but did not make the football team, you still agree that there should be a football team at your child's school, right? Claiming that the football team is elitist and should not exist just because your child did not make the team would seem petty.
Then why are there people who believe every child is gifted or no child is gifted? Why do we continually see funding cut to gifted education programs leaving gifted students sitting in regular classrooms learning what they already know?  Why do we claim that gifted programs are elitist just because every child can not participate? Why do we want to insist every child is gifted when we know this is not true?
Every child has his place in society where he will be happy and successful if given the necessary tools. Why do we keep wanting to withhold the tools gifted children need to reach their happy and successful place in society?
There are real gifted children in our world. Will you support the education and the tools gifted children need to succeed and be happy, or will you continue agreeing to hold gifted children back, and why would you do this?
Why do we continue to crush our tall poppies?
1. "Is your kid really gifted? Probably not", CNN Health
2."Prevalence of Autism Spectrum Disorder Among Children Aged 8 Years — Autism and Developmental Disabilities Monitoring Network, 11 Sites, United States, 2010", Centers for Disease Control 
3. "From High School to Pro – How Many Will Go?", Georgia Career Information Center, Georgia State University
4. "Statistics About Diabetes", American Diabetes Association, Data from the National Diabetes Statistics Report, 2014 (released June 10, 2014)