Gifted Children–Mistaken Expectations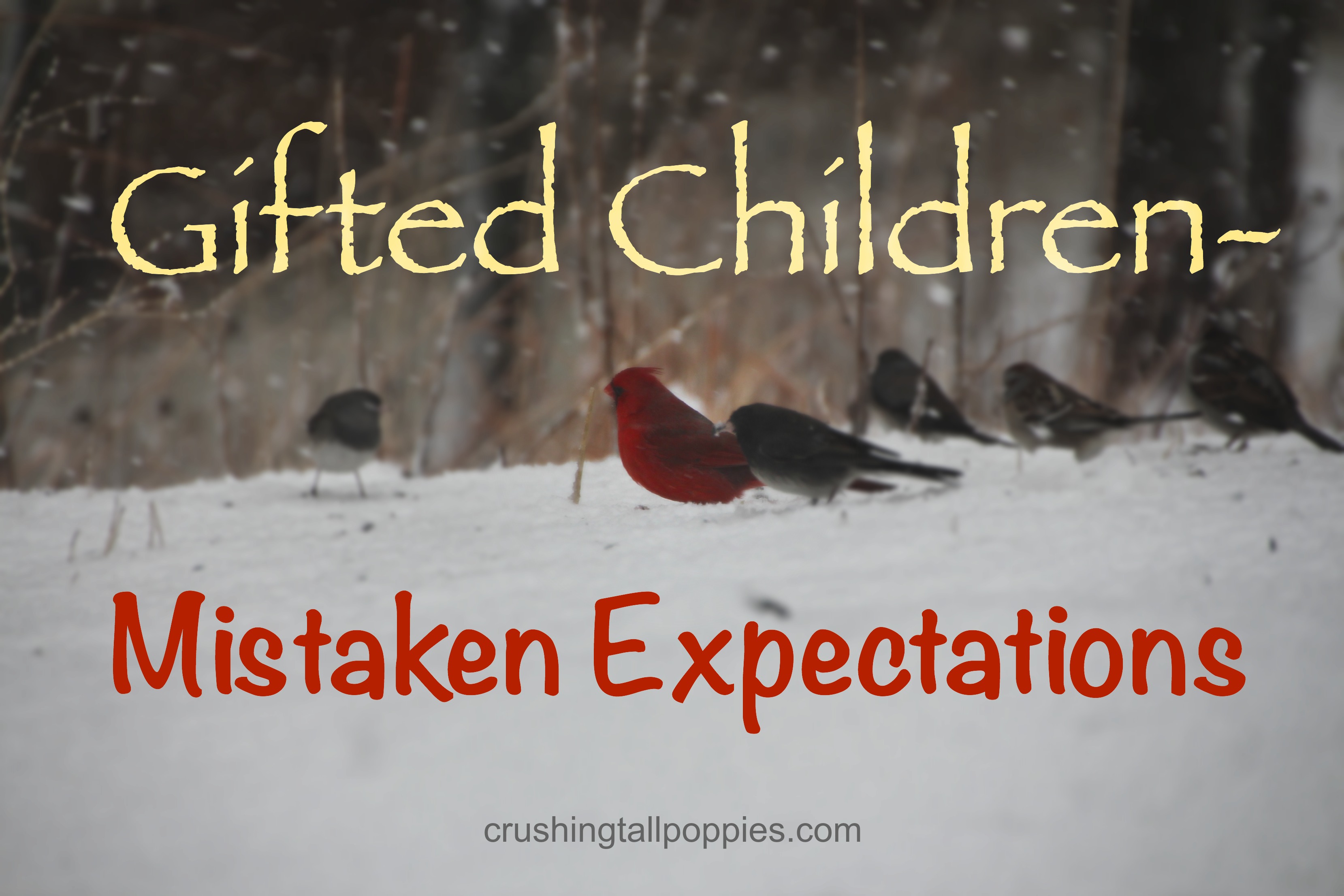 We meet people, we interact with them for a short while, and soon we characterize them and place them into one of the people and personality categories we house in our brain. Our life experience helps us to create and define these categories, and this process can benefit us when we come across someone we feel we need to be wary of or someone we feel we can trust. Or it can hurt.
Sometimes we judge people as not trustworthy when they are—we misjudged. We may project someone as unfriendly, but they end up being our best friend—wrong projection. We make mistakes with our characterizations and subsequently the expectations we hold for them.
Mistaken expectations—this is what I call the expectations we wrongly hold for someone based on our misjudgment of them.
I discovered mistaken expectations when I began noticing how adults expect more from gifted children simply because they are characterized as being more intelligent.
Sam is a highly gifted 10 year old. He plays out in his neighborhood with the other children nearly every afternoon after school.  He enjoys interacting with children younger and older than himself, but often prefers joining in on the neighborhood parents' conversations. His advanced verbal skills and ability to intelligently discuss such adult topics as politics or current events with the adults earned him respect, but also earned him mistaken expectations.
The parents in Sam's neighborhood know him as being highly intelligent and a leader, so naturally they also expect him to be emotionally and socially mature. Mistakenly, these adults assume Sam's emotional and social maturity are on par with his intelligence.  When conflicts break out among the playing children, which commonly happens, Sam is held accountable above the others, even above those children older than himself.
"Sam, you should know better.  Of all the children here, you should be the one who understands the most about taking turns!  If the little kids cut in line, you are smart enough to know it is not worth fussing about."
Annie is a gifted 15 year old and she belongs to her high school's competitive computer technology team. The team learns to program, learns new software and enters competitions. When a new software needed for the next competition was released, Annie was the first to catch on quickly and easily to the new software in the training sessions. Naturally, she was assigned to take the lead on the usage of this software during competitions. But when the next competition got closer and the stress was being felt throughout the team, her teammates expected her to utilize this new software quickly and with no glitches.
"Annie, you need to be able to get this done quicker, that's why the team chose you to lead. You are smart, you can do better, and the team is depending on you."
Jordan is in 8th grade. He is profoundly gifted, but still struggles in algebra. His algebra teacher knows Jordan is gifted and has skipped a grade. She knows he has good grades in his other classes, but wonders why he is failing her class. Despite Jordan's outgoing personality and seeming maturity, his daydreaming in class and refusal to show his work when doing algebra problems frustrates his algebra teacher. For his teacher, the only logical reason for him to be failing algebra is his own laziness. What other reason could there be for a profoundly gifted student who is doing well in all of his other classes to be failing algebra?
"Jordan, if you are so smart, why are you failing algebra?  Maybe you just need to work harder and start doing your homework. And stop trying to be Mr. Popular! If not, you are going to have to stay after school working with the remedial algebra computer program."
Sam, Annie and Jordan are all gifted and their demeanor portrays them as confident, intelligent and mature, and naturally they are characterized as such which often leads to higher expectations of them—mistaken expectations.
Many people who do not understand gifted children or know the common traits of giftedness fail to take into account the emotional and social sensitivities and intensities of the gifted.
Sam may seem more mature than his age to the neighborhood parents, but he struggles with taking turns just like any other 10 year old might. His strong intolerance of unfairness causes an avalanche of intense emotions and frustration.  The mistaken expectations of the adults add to his emotional turmoil.
Jordan, despite being profoundly gifted and excelling in his other classes is a visual-spatial learner, making algebra a difficult subject for him. His teacher's flippant attitude towards him has caused Jordan an exceptional amount of emotional distress and he exhausts himself daily trying hard to not let anyone see he is really near tears and just dying inside.
Annie did indeed catch on quickly to this new software, but despite her advanced skills, she is feeling the pressure from the looming competition more acutely than the rest of her team. Her emotional intensities are wreaking havoc on her ability to focus and are slowing her down. Her strong sense of loyalty has her in a panic worrying what will happen if she doesn't meet her team's expectations of her and she fails her team.
The mistaken expectations of gifted children hurt, and they can cause severe emotional and social issues.
What can we do?
We first need to remember that despite appearing as mini-adults, Sam, Jordan and Annie are children. Also, we need to remember that gifted children very often suffer from emotional and social sensitivities and intensities making typical adverse situations feel like the end of the world for these kids. We need to advocate for gifted children and try to educate others about giftedness. As parents, we need to help  teachers, neighborhood parents and other adults see who our children really are.  And we need to teach our gifted children how to advocate for themselves so that they can try to diminish the  mistaken expectations.
Mistaken expectations hurt.
Has your gifted child ever been the victim of mistaken expectations?