Gifted Kids Turn Out "Just Fine"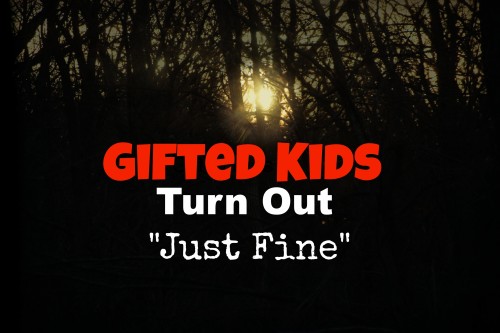 This is a guest post from one of my incredible readers, Erin.  Erin posted a comment on one of my posts–this poignant story of her giftedness, and her experience in traditional school as a misunderstood, overlooked and unidentified gifted child. 
Recently, in order to determine what she may need educationally, my husband and I had our oldest daughter privately evaluated and found out she is gifted. I started to research and read everything I could get my hands on about giftedness, what it means, and what it doesn't mean. In doing so, I started to ponder my own childhood. Apparently, most gifted children's parents are also gifted, and upon finding out about their children, also embark upon a journey of self-discovery. I have cried many times while reading about the emotional side of being gifted: the "differentness" people feel, the various overexcitabilities many of them deal with, and how they experience the world in a very intense way. I have cried reading these things because I *get* it. It's like I understand myself now, and through this process, many painful memories from my own education have flooded my head.
When I was in first grade, my teacher changed our seat assignments every so often. Every time, I was placed at a desk in the back of the classroom. I was excited about school and wanted to be closer to the front of the class. One day, about halfway through the school year, after being placed in the back yet again, I asked my teacher if I could be moved to the front. I was told I was in the back because I 'always did so well,' and that she 'didn't have to worry about me like some of the other kids.' She reluctantly moved me to a front spot, and made a big deal about it in front of the class. I felt singled-out and embarrassed.
I learned that my needs didn't matter as much as the needs of other kids, to not ask for learning accommodations, and that it was better to keep my head down and not be a "bad kid."
When I was in second grade, after learning a bit about Johnny Appleseed, our assignment was to write our own books about his life. I worked hard, wrote a great summary, and drew lots of pictures. I was so proud of my book. After turning it in, my teacher called me up to her desk at the front of the classroom. She told me that since I had obviously plagiarized my book, I failed the assignment. I stood there, shocked, my head buzzed and my face got hot, and started to cry. I knew deep in my soul I would never do such a thing, nor had it even occurred to my 8 year old self to do something like that. I was heartbroken, and mortified. Later, my mom had to advocate for me, and the teacher finally relented and gave me a fair grade.
I learned not to work to my best ability, or risk shame, and that teachers didn't trust or like me very much.
Then, I moved to a new school (one of the 6 times I changed schools as a child). When I was in second grade at my new school, we had a game where the kids in the class guessed what one student put in the jar. It was my turn and I had a tongue depressor in my jar. I had to answer "yes" or "no" questions. A classmate guessed a "popsicle stick," and I answered, "no." The teacher laughed at me and said, "yes, of course it is" and the game was over. I was embarrassed.
I learned I shouldn't pay too much attention to "silly" details, and I was weird for caring about them.
When I was in fourth grade, our teacher asked the class, "where is spaghetti from?" Feeling clever, and knowing the REAL "secret" answer (or at least one interesting theory on the matter), my hand shot up first. I was called on and my answer was, "China!" My teacher laughed at me, told me that was a dumb answer, and asked someone else. The correct answer was Italy. Except, it wasn't. I knew there was a theory that Marco Polo had brought spaghetti from China to Italy. (And even if it is only a theory, there are other theories, and the Italians surely weren't the first to make pasta. There was room for discussion there.) My face got hot again, my stomach hurt, I wanted to be invisible, and I excused myself to the bathroom and cried and cried. I felt so stupid and so full of shame. Everyone had laughed at me, including my teacher. My mom noticed my crestfallen face at the end of the day, and asked me why. When I told her what had happened that morning in class, she marched right down to the school and gave the teacher an earful. I never got an apology, but the teacher mumbled a correction the next morning.
I learned never to raise my hand in class, never to question, and that if I wanted my teacher to like me, she was always right.
At Summer camp, we got to select a main focus for our week-long stay. I chose sailing. The first day, I made friends with the other sailing girls in my cabin. We went out to our first class on the boat, and the instructor asked us things about sailing: which side of the boat was the starboard side and which was the port side, if we knew what a catamaran was, etc. I answered nearly every question first, and correctly. My new friends shunned me. When I asked why, they enjoyed ignoring me for a while, finding it funny they could so easily upset me. Then, I was told I was a "know-it-all" and they didn't like me. I was crushed.
I learned I had to dumb myself down to fit in with my peers. I also learned to pretend people couldn't get to me, even if I was destroyed on the inside.
When I was in high school, I was given an assignment in English class and told I could be creative with it. I relished this assignment and came up with a brilliant idea to do a collage that followed all of the assignment's rules, in a creative way. I received a failing grade on the project. I was heartbroken and confused. The teacher told me it wasn't along the lines of what she thought I should have done, and refused to let me explain myself. I had to take her to the vice principal of the school over it, and prove I followed the rules, justify my process for the project and how much thought went into it, and was begrudgingly given a better grade.
I learned I should never think outside of the box.
In college, in my first semester of freshman year, I was given my first writing assignment in the class every freshman had to take: Writing 50. I quickly churned something out, as easily as every paper I'd ever written. I got a C. I was floored. I had rarely ever gotten below an A on a paper. I also nearly failed my Biology class that year. I had developed zero study skills because I never had to study much before, and I wasn't used to failing.
I learned I must not be very smart after all.
In my adult life, I've had many problems with employers. I have felt burned out, bored, and have been mistreated by bosses who make sexual jokes and have me run personal errands. I dared ask a tough question once, and had a boss call me "combative." The only way I survived, was just how I did in school: keep my head down. I've had to dull my natural emotional response, and try to "be OK" with dishonesty and injustices. I HATE dishonesty, and those who blatantly disregard, or feel they are above, rules. I can't even play a board game with someone who doesn't follow the rules.
I learned I'm not very fun, too sensitive, difficult to work with, and can't take a joke.
Now, I'm the mom of a gifted child (probably 2 gifted children, but the youngest is still a baby). If someone asks me how I taught my oldest daughter all of the letters of the alphabet by 18 months old, and I answer truthfully that I didn't, I'm given funny looks and talked about behind my back. To those who don't understand what it is to be gifted, I'm the hothousing mom, who must have "created" this kid with flashcards, and forced her to read by 2 years old (ever tried forcing a 2 year old to do anything she doesn't want to do?).
I've learned if I ever talk about my child, I'm a liar, or a braggart.
These examples may seem like small things, but to me, a deeply-sensitive person, they were everything. Through all of this, one message has remained in my head: "STAY SILENT. You're not likable unless you pretend you're different than you are. Never let them see you sweat or cry, because they'll use it against you to knock you down a peg. Don't speak up. Pretend you don't know the answers, you're not really THAT smart, impostor. Laugh with them as they "lovingly" call you a dumb-blonde, because having no friends hurts more. Don't be a know-it-all, don't be too good at too many things, and never ever ever talk about your gifted kid, if you want to have mom-friends."
Anyone in my life, that you ask about me, would say I did just fine in (mostly) public school without being in any gifted programs. I was social, on the dance team, had friends, got good grades. I have made a happy life for myself: I have a sweet family of my own, I started, ran and recently sold a successful business, and I do have real friends who love me as I am, so yes, it all worked out in the long run.
But, did I do just fine? I felt so deeply insecure, timid, and not very smart. I internalized all of the above "lessons," reinforced every year of school, and had a crippling fear of speaking up in class by the time I got to high school. I second-guessed myself always. While I had a few wonderful teachers along the way, for the most part, they never liked the real me much, so I became someone they did like: the girl who kept her head down and got mostly As. I became known as the "quiet girl" in school, which is laughable to my family, as I generally speak my mind with zeal. My IQ is in the top 2%, and yet I thought I wasn't very smart, that I was a bit odd, and I worked hard to conceal both of those things. I went from being excited, to being apathetic about school, until college. I thank God I got to go to a college that challenged me and encouraged me. I broke out of my shell. I realized I *was* smart and I had to work for it. I LOVED it, and would be a college student forever, if I could.
I don't think school should teach a person to become smaller and smaller, and more withdrawn, until she forgets she loves to learn, and she forgets who she is. Gifted education matters. Being understood matters. Even if I had been in a gifted program, and still ended up right where I am today, it would have given me the understanding that I'm not weird, and my thoughts and feelings do matter. I would have known I *am* smart.
It would have mattered to me.