The Upsides of Giftedness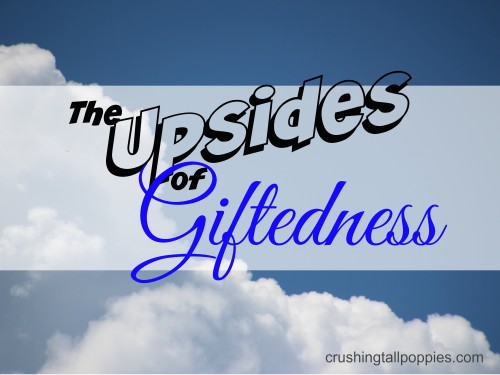 Parenting a gifted child? Fearful about your gifted child's education? Weary from the many issues that crop up all too often with your gifted child?
Yes, there is much to be concerned about if you are parenting a gifted child—struggling to find an appropriate education, stressing over their unique social needs, trying to deal calmly with their emotional intensities and sensitivities, and figuring out how to handle society's oftentimes negative attitudes about giftedness—it is A LOT and I get that.
Giftedness does have some upsides, I think we should try to focus on them more.
I've been writing about and bringing to light all of these issues for the last two years hoping to do my part to advocate for gifted children. Then a reader sent me an email recently stating that there has to be something good about being gifted. I could almost hear her desperation when she wrote, "I really really really really need to hear that there is an upside to this gift!"
The upsides of giftedness can easily be obscured by the downsides, the dark side of giftedness, but today, we shall talk about the upsides of being gifted. We need to focus on the positives while still being mindful that there are some downsides of giftedness we all need to work together to try to change.
There are many positives to giftedness.
As a parent, raising a gifted child is much like being handed a hugely difficult challenge which promises enormous rewards along the way—kind of like climbing Mount Everest or training for an Ironman Triathlon. Big efforts, commitment, compassion, and a few super-human virtues, but the journey can be a memorable and exhilarating ride!
I'll start the conversation about the upsides, the positives, the gifts of giftedness, and then I ask that you continue the conversation with your own upsides to giftedness, your joys, your proud moments and your thrilling experiences with your gifted child.  Leave your comments, as many upsides and positives as you would like to list or write about, and let's make this an all out Giftedness Has Upsides Fest.
I'll start.
I love the mental and physical energy a young gifted child has. They approach, almost attack their world with such a voracious appetite for knowing it all, figuring it all out and theorizing about the future. Those beautiful minds are bursting with thoughts and ideas so unlike their peers. One almost needs to step outside of their own box to grasp the very essence of the outside-the-box thinking of a young gifted child. Just sit back and observe and you can almost touch their mental energy.  The young gifted mind has gears that just don't stop turning.
I have one gifted son who instantaneously, and out of the blue, creates jokes and riddles by manipulating words and facts, like a sculptor molds clay.  The telling of his new joke always seems to happen in nearly the same way each time: My son tells me an enormously funny joke. Then naturally I ask where he heard that joke, assuming someone told it to him because that is where all jokes come from—someone else. He inevitably replies, "Mom, I just made it up", and I am, once again, caught off guard by his talent for humor. I am always amazed at his ability to think about words and their meanings and spellings in a way that a joke can be crafted out of the irony, double meaning or unique nature of a word or an idea. To me, it is like magic.
What do you call a fresh cut Christmas tree that drinks a lot of water?
An aquaholic.
What did the constipated ketchup say?
Mus-turd
Knock knock.
Who's there?
I eat mop.
I eat mop who —say this a few times quickly letting the last words run together, keeping in mind a 9 year old boy made this up.
Yeah, well, I said he had a talent for creating jokes. I didn't say they were all clean.
Gifted children and adults who are creativity gifted always astonish me when their creativity makes me laugh, or solves a long-standing problem or ameliorates an uncomfortable social situation. Why didn't I think of that?, is often what I end up wondering when one of those creative gems pop out of their creatively gifted minds.
One of my gifted sons has the market cornered on creativity and humor. When he was 10 years old, he acquired a headless mannequin torso from a department store which was closing, and he found a head for it at a roadside flea market and the eyes had two pupils painted on each. Despite its creepiness, for many years, that mannequin lived an unbelievable life. Who knew a mannequin could be so useful, so fun and could create so many great memories.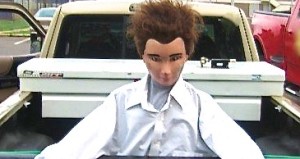 For his entire high school career, the mannequin was strapped into the passenger seat of my son's vehicle or in the bed of his truck. It's name was Shem. Shem showed up in bathtubs behind closed shower curtains terrorizing the unsuspecting person about to step in.  Shem came dressed up to birthday parties, and Shem sometimes rode home in the passenger seat of a girlfriend (my son's) who was afraid to drive home alone. Shem went to class in high school, sometimes hopped a ride in the backseat of a new friend's car without asking, and relaxed in bathroom stalls, but forgot to lock the stall door. Shem did not leave for college, but he had an outstanding high school career of creatively frightening, delighting, humoring, cheering and puzzling so many unsuspecting people because of his creatively gifted custodian.
There are many more upsides to giftedness that I can mention, but not this time because now it is your turn. Tell us about your upsides of giftedness, your proudest moments, those times giftedness brought joy and happiness to you and your family.
A n d  go . . .