Gifted Underachievers: Underachieving or Refusing to Play the Game?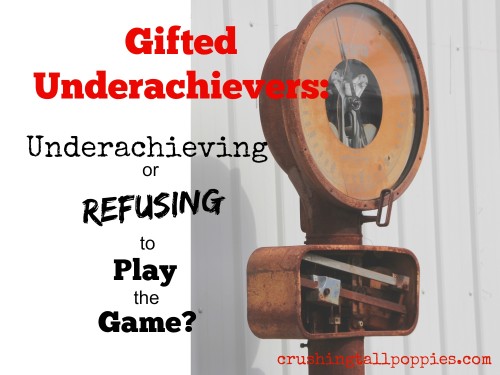 Gifted children who are not challenged in school and are not taught the way they need to learn can eventually give up on school and may then become what we term gifted underachievers.
Sadly, it happens more often than it should.
Yet, maybe the term gifted underachievers is a misnomer. Maybe we have it all wrong. Maybe gifted underachievers have it all right and our educational system has it all wrong. What if our gifted underachievers know something about education that we don't know and we refuse to see?
Our traditional, industrial-style educational system of today is a relatively new construct in American and world history. Before the current type of education our children experience today, we had the one-room schoolhouse and learning at home from parents, tutors and older siblings when there was not a school nearby. Teachers were not always trained and classes were multi-age. Instruction was probably instinctive and geared toward each child's educational level and needs. Teaching was probably more natural, logical and organic way back then, at least that is what I think.
Now, we have a strict age-based organization. Education is delivered to typical children based on their ages, not their educational level because this is an expedient and effective method, most of the time—this assumption does not include special education which usually focuses on the educational needs of the child, not his age.
Of course, any system, group or organization with a set organizational format will always have outliers or exceptions to the overriding philosophical foundations, and our traditional educational system does have its share of those exceptions. Maybe more than its share. Our gifted underachievers are included in the group of outliers, the exceptions to our current traditional educational system. One-size-fits-all in reality is one-size-fits-most in our educational system.  And this leads me to the question: Are our gifted underachievers really underachieving? When school does not fit them?
Before we answer that question, let's first look at those who are achieving in our traditional school system. Specifically, let's look at the children who are excelling. To be brief, the children who excel learn the information they are expected to learn and then perform well on tests and assessments. They follow the rules, comply with what is expected of them and work hard to exceed expectations. They know that good grades are important and so they follow the rules and meet or exceed expectations. They are the smart students, deemed so because they are following the game plan exceedingly well and getting the desired results.
What about the gifted underachievers? Their label is derived from the fact that these children are gifted and are performing below expectations, not fulfilling their potential. There are many reasons given for gifted children who fall into this unfortunate category—lack of a challenging education, boredom, frustration, and not being understood as a gifted learner with unique social, emotional and cognitive needs. When traditional schools don't deliver an education that meets the learning needs of this particular group of gifted learners, they become frustrated, demotivated and disengage from school. And then we cast on them a label that suggests they are not doing their part in school, they are not following the game plan.
Are gifted underachievers really failing to achieve? Or are our schools failing to meet their learning needs? What responsibility do our schools have to properly educate all students? And when this responsibility is neglected by our schools and we end up with a crop of gifted underachievers, who bears the responsibility of fixing the situation?
I'm sure most of us have seen the growing disapproval of our public schools lately—too many standardized tests, recess being taken away, focus on bringing up low test scores, and subjects like music and art being cut out of the curriculum. Learning is becoming more and more a stressful and hated part of many children's lives. There is a lot of dissent out there.
For our gifted children who are said to be underachieving, are they really failing to achieve or just bucking a system of learning which no longer works for them, a system which is said to be broken? Maybe the educational system is underachieving and our gifted underachievers know something we haven't quite figured out yet.
Maybe our gifted underachievers are a growing manifestation of our broken educational system. Maybe we don't have gifted underachievers. Maybe what we really have is a colossal case of underachievement by our broken educational system, and our gifted underachievers are not really underachieving, they are just refusing to continue to play the game in an arena where the rules keep getting more and more restrictive, inappropriate and ineffective.
And just maybe these gifted children know something we have yet to figure out: our educational system is failing too many of our children—maybe most of our children.
Gifted underachievers—underachieving or just refusing to play the game, the broken game?
RELATED ARTICLES:
Underachievement of Verbally Gifted Children
Underachievement in Gifted Children: A Tragic Irony
Suffering in Silence: Who's Really Paying the Price for the Neglect of Our Gifted Children?