Three Ways to Say Gifted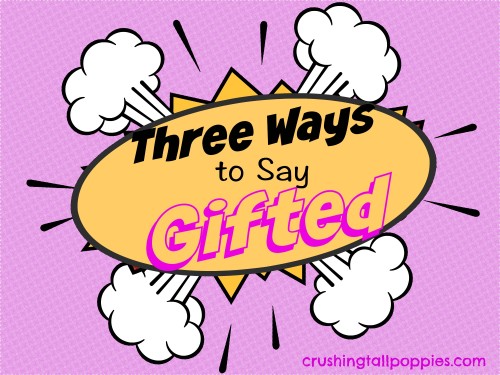 Gifted. Easy to type. Difficult to say.
Have you experienced that uncertainty and discomfort when you knew you had to say the word gifted, but you were a bit fearful how it would be received? And you worried what the reaction from the listener would be? Were you also uncomfortable even when having to explain to an educator or physician, people who should know about and understand gifted children?
You can be sure, many of us struggle with that—how to say gifted.
It is just one of those discombobulated moments that you wish could just go away or at least would pass very quickly. You know, like the wake me up when it's over kind of quickly. But if you have gifted children, you know it will be necessary, on more than one occasion, to have to audibly utter the term gifted in the future. And when you must verbalize it, how do you manage to get through that awkward moment? How do you say gifted?
Everyone has their style or trick to make this inevitable ill-at-ease situation more tolerable or less thorny to get through. Or they just painfully muddle through when having to vocalize the word gifted.
Here are three common ways people use to manage to articulate that contentious word. Not that these three ways are tips or advice or even a magic bullet, but at least you will see which style you fall into, or maybe want to try out for the next time you need to say gifted.
THE FEARFUL FOG — This approach involves getting all worked up the night before you must utter the G-word. You fix yourself a hot tea with chamomile to try to reduce the anxiety, praying you will be able to sleep that night because, dang it, you will need a good night's rest to tackle that fearful task the next day. You crawl into bed, lay your head on your pillow and wait. And Mr. Sandman then passes you by. Instead, the thought of tomorrow's conversation keeps you awake. Over and over you play out in your sleepless mind how you will explain that your child is gifted. You wake up dazed and tired. You drag yourself to the meeting and you try to muddle through as best you can. You are talking and you know the time has come to say that word and your face gets hot, your mind freezes up and you feel like you are in a fog. And BOOM, you say it. It's over. It wasn't that bad after all.
THE BEAT AROUND THE BUSH — Knowing that the word gifted itself is the problem which sends bolts of electricity to rouse the rankles of the listener, you devise a clever way to explain giftedness without saying the word gifted. Brilliant. Good plan. Replacement words like neurodiverse, highly intelligent, academically advanced, intellectually advanced or high-achieving are used to explain the gifted piece and yet not have to say that questionable word. Armed with your list of replacement words, you get your point across and still have a few substitute words to spare for next time. SHAZAM. Got it done.
THE "I DON'T GIVE A DAMN" — Gifted, gifted, gifted! There, you said it, three times even. You are such the brave one. Your philosophy is to call a spade a spade and not give a damn what the other person thinks. You just tell it like it is and if the other person doesn't like it or rolls their eyes, it is their problem because they are just so wrong.  "My child is gifted and I don't give a damn what you think. She was born this way, she is intelligent and I didn't hothouse her, so I don't really concern myself with what you think." Gifted, gifted, gifted!  BAM You got that right!
Which group do you fall into? Do you have a unique way to say gifted? Tell us how you say gifted. Share your clever solution to this awkward situation—leave your story in the comments below.
Gifted, gifted, gifted! 
There, I said it again.
And there are many more people who know how to say gifted, too. This month's Gifted Homeschoolers Forum Blog Hop is "How Do You Say Gifted?" and who better to know how to say gifted than all the bloggers from GHF!  Click on the link below to find out how others dare to say gifted.