What You Didn't Know About Gifted Children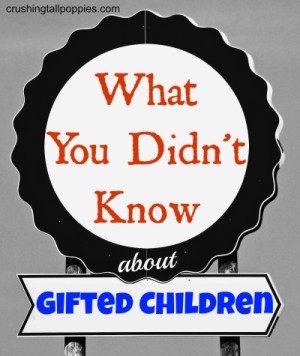 Go to school, study, make good grades, go to college, work hard—this is a universal recipe for success so often offered to our children. For some children who may struggle in school, it can be a difficult recipe to follow, but for the smart, high-achieving students, it seems a clear and easy path. And most agree that the smart, high-achieving students will find their success, they will turn out just fine—they just seem to have it made.
The smart, high-achieving students, as a homogenous student population, may find school easy, maintain high scores and excellent grades with minimal effort, and then they reap the rewards of their success in school with recognition, awards, opportunities and scholarships. Given the advantages this group of students may have in life, is it any wonder we as parents would want our children to be part of this elite group? We want our children to be successful and don't want to see our children struggle in school.
Understandably, feeling quite sure that this group of students will succeed in school without much effort on anyone's part, we turn our focus to those students who seem to need additional educational support and modifications to attain much-needed success in school. In fact, in the last fourteen years, federal educational initiatives, No Child Left Behind and Race to the Top, have both focused funding and classroom efforts on helping these underperforming students learn, show educational progress and feel successful in school. And the results of these efforts focused on our underachieving students have shown that we are gaining ground and the educational strategies and focus have been effective.
This is good news!  We all love to see those children who struggle in school succeed. It is just human nature, and it is why there are such strong negative reactions to the parents of gifted children—the smart, high-achieving students—when they complain that their gifted children need more educational focus in school.
It just makes sense—why should the gifted students who seem to have it made and already do well in school require more attention in school? Also, why do these parents ask for special attention for their gifted children when this extra effort will only take focus and funds away from those students who truly need educational support?
Here's why.
The widely-held premise that gifted children are academically advantaged and have it made in school is flawed.
Here are some things that you probably didn't know about gifted children:
1. Not all high-achieving students in school or in the gifted programs are gifted.
Many gifted programs include non-gifted, high-achieving students which leaves the impression that all gifted students are high-achievers and are fine on their own in school. It is not a homogenous group. The belief that high-achieving students are synonymous with gifted students disregards the fact that gifted children do not always excel in school.
2. Gifted children don't always excel in school. 
This is especially true when their specific educational needs are ignored. And gifted children do have educational needs that must be met. Many schools do not have gifted programs and they may also refuse to differentiate or accelerate gifted children in the regular classroom even though the gifted student may be several grade levels ahead. How do you think your Kindergartener would respond to learning letter recognition, letter sounds and how to sound out words for months even though she already knows how to read?
3. Gifted children often have increased social and emotional intensities and sensitivities which are often misunderstood in school.
It is said that gifted children see, feel and experience the world through a stronger lens than the rest of us. These intensities and sensitivities are real and need to be understood. Their cognitive functions are always on overdrive—like brains on fire. These sensitivities and intensities need to be understood and addressed in school. When they are not, gifted students are at risk for behavioral issues, boredom, frustration, depression, underachievement, PTSD and suicide. Parents of gifted children try to ask for help and support when their gifted child begins to hate school because they are not learning anything new, but others shoot them down because they believe they are asking for more for their gifted child who seems to already have more than enough.
4. A disproportionate number of suicides, high school drop-outs and incarcerations are gifted individuals.
These statistics give us anecdotal evidence that gifted children are not fine on their own and are indeed special education students requiring an education that meets them at their level of ability while addressing their unique emotional and social needs. Have you heard of the school to prison pipeline?
5. Gifted education accommodations such as acceleration and differentiation for gifted children DO NOT take away resources from any other group of students.
It is not an either-or situation. There are several accommodations that busy teachers and schools can make for gifted children that are cost-effective and efficient. Although every student deserves an appropriate education, including gifted children, there are ways to meet the educational needs of the gifted while not compromising anyone's education. Skipping a grade or subject acceleration is one such example. If a Kindergartener is performing at a 2nd grade level at the end of the school year, what harm or expense is incurred is she is allowed to just skip a grade and be promoted to 2nd grade instead of 1st? Also, state and district educational budgets can and should have the funding to educate ALL children properly, and no child's education should be sacrificed for another.
6. Gifted children can have co-existing learning disabilities which must be accommodated as a special educational need.
Yes, although they are intellectually advanced, gifted children can also have learning disabilities which hinders their success in school. These are our twice-exceptional or 2E kids. That brilliant child who has been identified as gifted, who seems to have it made in school, may also have dyslexia and struggles with reading.
When parents of gifted children advocate and plead with schools to accommodate the educational needs of their gifted child, they may be at the point where their child is failing, hates school, is feeling shunned by peers and other adults, and may feel as though his life is over. At this point, the parent who is afraid their gifted child may drop out or may commit suicide can be ostracized at the same time by unknowing parents who think this parent is asking for educational favors for their gifted child who is misjudged as having it made.