I Would Never Because Homeschoolers are Just So …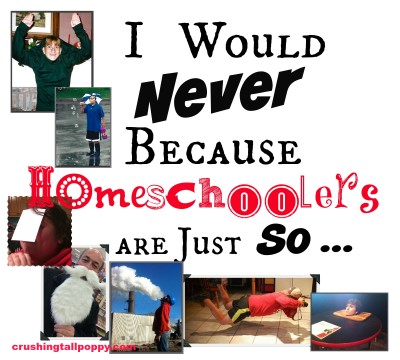 I would never homeschool my kids because homeschoolers are just so, you know, just so. . .
Weird
I mean every homeschooler I have ever met was such an oddball. I would never want my kids to be like Venus and Serena Williams who were homeschooled.1 All they do is play professional tennis all over the world. And what about those weirdos, Bode Miller, the Olympic alpine skier and Tim Tebow, the NFL quarterback?2 Or for that matter, the Jonas Brothers and Justin Timberlake are a little strange too, don't you think?3 Nope, I wouldn't want my kids to be known as weirdos or oddballs like those people.
Also, who knows what their parents are teaching them at home! Homeschoolers are really so. . .
Uneducated
Traditional school is the only way to get a good education. Just take a look at the National Spelling Bee; it is always a regular school kid who wins—except for the four homeschooled kids who have recently won.4 Also, public school students' SAT and ACT scores should prove that homeschooled kids don't get a good education, right?
Wait, what?
Homeschoolers have consistently higher ACT and SAT scores than public school kids? And higher GPA's their first year in college than public school kids?5 Well, that doesn't really mean much of anything.
How do homeschoolers get into college anyway? There's the real problem right there!
I'm sure it must be only a few colleges that admit homeschoolers. Okay, so yeah, I once heard that a few bigger universities like Yale, Vanderbilt, United States Military Academy, Georgetown, Emory, and Cornell have admitted  homeschoolers, but that is just a few—surely no more than a thousand. 6
Still, this would never convince me to homeschool because, despite academics and weirdness, everyone knows that homeschoolers are completely and totally. . .
Unsocialized
They stay home all day, isolated from other people and they simply do not have the opportunity to learn social skills. Ha! It must be a rumor spread by those kooky homeschoolers that Massachusetts Institute of Technology (MIT), Harvard, Stanford, and Duke Universities all actively recruit all those unsocialized homeschoolers? 7
Huh?   It's true?   They do?
Oh.
Well, even if they graduate college, adults who were homeschooled must be terribly awkward in social situations. I'm not buying into this new longitudinal study, "Fifteen Years Later: Home-Educated Canadian Adults", that claims, "Not only are home-schoolers actively engaged in civic life, they also are succeeding in all walks of life". 8
I still would never do this to my kids because homeschoolers are just so weird, uneducated and unsocialized.
Or maybe not. . .
RESOURCES:
Educating Your Gifted Child: How One Public School Teacher Embraced Homeschooling, by Celi Trepanier, 2015
"Exploring Academic Outcomes of Homeschooled Students", Michael Cogan, University of St. Thomas, 2009
CITATIONS:
1 "Homeschooled tennis champs Venus and Serena Williams win Wimbledon titles", The Examiner, July 8, 2012
2 "16 Successful People Who Were Homeschooled", Buzzfeed, May 19, 2014
3 "15 Successful Celebrities Who Were Home-Schooled (So Much for the Stereotype of Freak and Geeks)", Ashley Page, StyleBlazer, July 19, 2012
4 "Washington Times Op-ed—Homeschoolers Thrive at the Bees", Home School Legal Defense Association (HSLDA), November 23, 2009
5 "Do Homeschool Kids Really Rate Better on Standardized Tests?", HubPages, August 29,2012,
6 "Colleges That Admit Homeschoolers", Karl Bunday, Learn in Freedom
7 "Number of Homeschoolers Growing Nationwide", Julia Lawrence, Education News, May 21, 2012,
8 "Fifteen Years Later: Home-Educated Canadian Adults", Deani A. Neven Van Pelt, Ph.D., Patricia A. Allison, M.Ed., and Derek J. Allison, Ph.D, 2009,