It's All About the Grades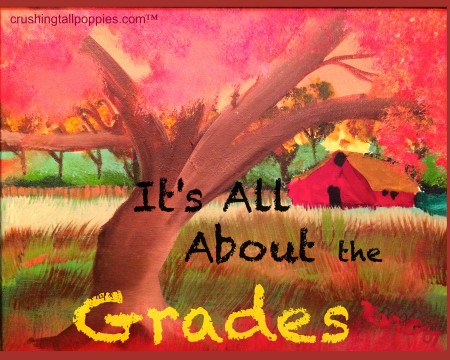 It's a Punch in the Gut and not a Pat on the Back
Why is it all about the academic output—the grades, the achievement, the scores?
As a mother of three gifted children and a committed gifted advocate, my heart sunk in my chest, actually it broke in many little pieces, when I saw in my Twitter feed today a wonderful young scholars program happening locally for qualified high school students—an incredible opportunity for high-achieving and gifted students.
Why did my heart break?
Because I have a brilliant, innovative, creative, independent-thinking, entrepreneurial gifted high schooler who could have benefited from attending such a program. But he is often excluded from such programs because he is homeschooled and his academic output, his proof that he is as intelligent or as gifted as his IQ says he is, doesn't qualify him for such a program. It's all about the grades.
Many such programs across the country offer our high-achieving, high-potential students exceptional opportunities to utilize and strengthen their intellectual gifts. Through these programs, our best and brightest are acknowledged for their academic accomplishments in traditional school and provided tools to strengthen and enrich their intellectual talents in order to encourage them to continue to excel in their educational endeavors. For nearly all of these high-ability students, acceptance into and attending these programs gives them a well-deserved pat on the back and it boosts their self-esteem—it confirms to them that they they are on the right path in life and so they have the confidence to continue to excel.
What about the high-ability, highly-intelligent or creatively gifted students who don't have the academic output–the grades–needed to be accepted into these programs? What happens to the gifted child who has the potential to be a mover and shaker for our world, but uses his knowledge and talents to create, innovate and invent instead of conforming to the traditional school norm of learning for the sole purpose of academic output—making good grades and achieving high scores? Where and when do they get their needed pat on the back?
What about a gifted, high-potential child who for various reasons such as underachievement, being homeschooled (many programs only accept traditional school students),  emotional issues or being twice-exceptional does not have the needed academic output—grades, scores, achievement—to qualify her to be accepted into these academic achievement programs? From my own experience,  these deserving, but excluded gifted students, this exclusion feels more like a punch in the gut, not a rightful pat on the back.
When grades, scores and other forms of academic achievement are the only output or proof we are looking for in order to acknowledge any student's academic efforts and future worth, then are we just giving other high-potential, highly-creative and intellectually-gifted students a punch in the gut while sending them the message that you are not good enough?
What are the repercussions when we only reward our high academic achievers while ignoring our highly-intelligent visionaries? Throughout a child's educational career, he receives feedback about his achievement, intelligence, behavior, academic performance, and this feedback can strengthen his self-confidence or it can destroy it.
I am ashamed to say I have on many occasions stressed to all three of my children that they need to focus on their grades. I've uttered to them such stupidity as, "You only have to memorize all of these spelling words long enough to make an A on the test on Friday", or "I know this test is unfair, but if that is what they want, then that is what you have to give them if you want to make good grades."  I've even told my children, "I know it is stupid. I know it makes no sense. I know that you will forget all those isolated facts you need to memorize, but you have to play the game to get ahead." And I am a former public school teacher and it disgusts me thinking about those statements—true and necessary statements, but still disgusting.
But, as I sit and stare at the image in my Twitter feed of all of those lucky, high-achieving students taking part in this incredible opportunity which also provides them invaluable feedback, the affirmation that they have what it takes to excel in life, I think of all the other equally-deserving high-ability gifted students— children who are repeatedly provided with negative feedback, the affirmation that they don't have what it takes to excel in life because good grades are what make you successful.
Selfishly, I think of my own gifted child whose intellectual potential—whether measured by his IQ, his inventions, his intelligence, his creativity, his giftedness—is more than enough to make him equally deserving to be among those high-achieving students attending this scholars program. I know he is highly intelligent, extremely capable and has as much potential as any of those lucky students, but what he doesn't have is critical positive feedback, the same affirmation that these lucky high-achieving students receive—the affirmation that says, "you have what it takes to excel in life."
Why? Because it's all about the grades.
*The painting used in the above graphic is an oil painting by my then 7 year old.