Gifted Children: Our Five-Leaf Clovers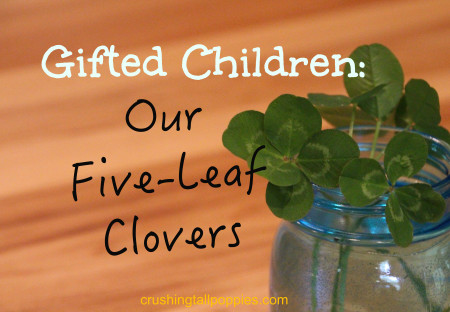 Four-Leaf Clovers—a Symbol of all Things Good
Four-leaf clovers are an atypical variation of clover which can infrequently be found hidden among the more common three-leaf clovers in a clover patch. They are symbolic for bringing good luck to the finder who happily discovers the rare and wonderful find in a patch of clover. It is widely known that a four-leaf clover is a wholly positive symbol which is why many organizations and companies use a four-leaf clover design as a logo or trademark. Four-leaf clovers have the reputation of being all good with no known negative attributes.
Gifted Children—a Symbol of all Good Things
Giftedness, especially in children, is understood as being a totally advantageous and better-than condition. Kind of how we look at four-leaf clovers—it's all good. Gifted children as a population have generally been equated solely as those who easily excel in school, consistently earn good grades and high scores, and are then tagged to participate in coveted gifted education programs. These gifted children are also known for having parents who brag about their intellectual feats and firsts. Those perfect kids and their braggy parents. I can see the eyes rolling about now.
Every Child is Different and Unique
Most of us understand not every child can excel in school. This reasoning comes from the belief that every child is different and unique, and every child has different strengths, traits, talents, weaknesses and gifts exhibited in school or out of school. Yes, it is widely accepted that every human is different with his or her own unique set of strengths and weaknesses, talents and flaws, abilities and disabilities, so we then understand that not every child will excel in school, or in sports, or in music. As well, gifted children also have different strengths and weaknesses, and they do not always excel in school. In fact, many gifted children struggle, fail and drop out of school.
Cutting Down the Tall Poppies
But yet, gifted children and their parents are not accepted in this all-humans-are-different sort of way. Because gifted children are believed to be smarter and better than other children, many feel the need to cut gifted children and their parents down to size. Gifted children and their parents are often mocked, bullied, shunned and criticized by envious people who really don't care to know the real facts about giftedness. The reality is, all humans are different, but a gifted child's differences, especially the weaknesses, are not believed or accepted much at all.
Gifted Children are Not Like Four-Leaf Clovers
I was discussing gifted children with my husband one day when the comparison of four-leaf clovers to gifted children came up. I pondered that comparison for a second, thinking of the statistical occurrence of giftedness in the human population as compared to the incidence of four-leaf clovers among the three-leaf clovers in clover patches. Then my thought process quickly catapulted me to the conclusion that, no, gifted children are not at all like four-leaf clovers because four-leaf clovers are understood to be wholly positive—all good, no bad. Four-leaf clovers seem to more closely compare to the fictitious stereotype of a gifted child—that stereotype that portrays giftedness as a net-positive with no downsides.
The truth, the facts and the reality of giftedness show that giftedness has its share of advantages and disadvantages, upsides and downsides, strengths and weaknesses, some good and some bad.
The Truth About Giftedness
Giftedness is not determined by how well a child does in school. Perfect grades are not the criteria for gifted identification. High achievement does not always equal giftedness, and giftedness does not always equal high achievement. Giftedness is not a net-positive. Gifted children are just a different sort of learner. Being gifted is the way they were born, it is who they are—in school and at home.
Giftedness is just different, not better.
Gifted children are cognitively different from other learners in that they need a different education than what is taught in the regular classroom for their same-age peers. They generally learn more quickly, and often need to get deeper into a subject to satisfy their need to fully understand the concepts and make the necessary connections. Yes, gifted children may be several grade levels ahead of their same-age peers in school, but it may only be in math, or just language arts. They could also be behind in a certain subject or failing a class. Gifted children do not always excel in school, especially when they are held back and forced to relearn material they have already mastered which is frequently the case. Frustration can result and then they may give just give up or drop out. What's more, gifted children may also have learning disabilities which need accommodations.
At home, gifted children can be intense—their emotional intensity wears on their friends and parents, and they can pursue their passions and interests tirelessly, often with weary parents in tow. Gifted children also may have extreme sensitivities known as overexcitabilities. A constant ticking noise, a lingering odor or a social injustice can cause significant distress in a gifted child. Because of some of their differences such as overexcitabilities, and intensities, gifted children find it difficult to make and keep friends.
In the classroom, gifted students are judged, wrongly so, as only having distinct intellectual and social advantages over other students—excellent grades, popular among their peers, consistently high scores, superior academic achievement. Teachers and other parents believe that gifted children have it made which is an absolute myth. From this, our gifted children are then unjustly branded with the better-than reputation which not only leads to resentment and bullying from others, but contributes to the huge barrier preventing gifted children from receiving the educational accommodations they need to thrive in school.
Gifted children are not at all like a four-leaf clover. They are not always the high-achieving student. Gifted children have their share of weaknesses and downsides. For crying out loud, they are just children and their lives are no better than any other child's life. They are different, and surely not better.
Gifted Children—Our Five-Leaf Clovers
As my discussion with my husband about four-leaf clovers and gifted children continued, we both came to the conclusion that the true gifted child compares more to closely to a five-leaf clover. The five-leaf clover is not like the four-leaf clover with its all-good, spotless reputation.
We really don't know much about the attributes of a five-leaf clover just as most people don't know much about gifted children—real gifted children, not the fictitious, mythical gifted child. Just like a gifted child, the five-leaf clover is a bit of a quirky organism, quite different and it occurs infrequently in nature. It is not tagged, or burdened, with some mythical, magical, net-positive perfection. The most we can say about the quirky five-leaf clover is we find them less often and they are different—different, not better.
A five-leaf clover is simply different—just like a gifted child.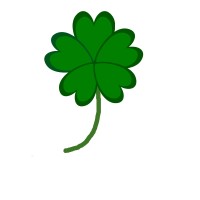 Category: Bullying, Education, Gifted, Gifted Adult, Gifted Advocacy, Gifted Education, Parenting a Gifted Child, Twice-exceptional / 2E · Tags: 2E, asynchronous development, bullying, education, gifted, gifted and talented, gifted children, gifted education, gifted learners, gifted students, GT, OE's, overexcitabilities, parenting gifted children, underachievement in gifted children
Subscribe to Crushing Tall Poppies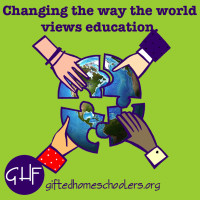 TALL POPPY SYNDROME FROM WIKIPEDIA:
" a social phenomenon in which people of genuine merit are resented, attacked, cut down, or criticized because their talents or achievements elevated them above or distinguish them from their peers "