Gifted Children–These 3 Things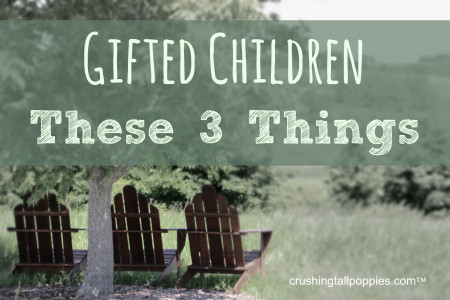 "You will never get teachers to understand."
"Too many teachers only see gifted children as smart, high-achievers."
"It's the word gifted. Change the word and maybe it won't be so off-putting"
"It's an uphill battle."
"Unless they have a gifted child of their own, they will never understand the struggles of raising gifted children."
"Things will never change."
Gifted advocacy can be a soul-crushing, arduous endeavor, whether you are advocating at your child's school or advocating for all gifted children everywhere. Obstacles are ever-present.
The one, most intimidating obstacle which seems almost insurmountable is the belief that changing society's—teachers, administrators, co-workers, family and friends—erroneous and negative opinion of gifted children can never be changed.
It seems society loves to hate its gifted children. 1
There will always be the disbelievers with  a resolve to not try to understand that there is so much more to giftedness than the enviable high achievement of a gifted child in school. But, can we reach those who are open-minded, willing to learn  about and understand giftedness, or accept that what they once believed may be wrong?
Optimistically, and maybe naively, I'm reaching out to those who are willing to try to see the other side and truly want to know the truth about giftedness. Giftedness, in children and adults, is so complex and multifaceted, but I'll keep this message concise and I hope you will keep an open mind.
Just these three things about gifted children as well as gifted adults dispel the myths and correct the misunderstandings about gifted people. They are a snapshot of giftedness.
THESE 3 THINGS:
1. Giftedness is not just about school. 2
Gifted children are not only found in school in the seemingly prized gifted programs making straight A's. Giftedness is not just a function of education. Giftedness is part of one's entire life—in school, after school, at home and in the workplace.
Just like we can inherit our hair color, body shape and size, and personality traits from our parents, giftedness is also genetic. Studies have shown that if one child is identified as gifted (generally an IQ above 130), siblings and one or both parents will also likely be gifted. From birth until death, giftedness is an inherited trait permeating every aspect of a gifted person's life, not just their years in school.
2. Giftedness DOES NOT guarantee success in school or in one's work life.
Not all gifted children make straight A's in school. Some gifted children actually struggle and even fail in school. Gifted children, as with any child, can have co-existing learning disabilities which hinders a gifted child's success in school. Additionally, our public school system has historically neglected the education of our gifted children which holds them back. Many gifted children find out early in their school years that learning more deeply and more quickly can cause negative repercussions because moving ahead of their class is an inconvenience in traditional education. This is often seen in schools where gifted programs are minimal or non-existent, and regular education teachers have too much on their plate to attend to every child's learning needs, especially children who have already reached minimum grade level standards. So, sitting in class, gifted children wait, wait some more, and then give up. Yet despite this, the mockery and envy of stereotypical, high-achieving gifted children is rampant and disgustingly mainstream. 3
Gifted adults can also be the victims of envy and resentment. They can be seen as arrogant and know-it-alls for exhibiting their natural creativity and problem-solving talent at work which can make those around them feel inferior and intimidated. Gifted adults often experience workplace bullying from co-workers who feel threatened by the gifted adult's intelligence. 4 Again, gifted people, children as well as adults, learn that using their natural, above-average intelligence makes others feel less-than, so they dumb down, offer their creative ideas judiciously or just hide their intelligence all together.
The envy and resentment of gifted people likely stems from the belief that gifted, highly intelligent people have it made in life, success is handed to them on a silver platter. Bullying of gifted children and adults, and the need to cut gifted people down to size can cause distress, emotional damage, depression and PTSD (post traumatic stress disorder) and can even drive gifted individuals to suicide. 5  Success is hardly guaranteed under these conditions.
3. Gifted people do have weaknesses, quirks, flaws and disabilities just like you and me.
Gifted people are human beings. They are not perfect and they don't have it made.  They need support, they need understanding and they need acceptance—just like every other human being. And just like every other human being, they possess good and not-so-good traits. A gifted person with superior cognitive skills can also have below-average emotional maturity–really no better off than anyone else.
Gifted children, although they are of above-average intelligence, can often lag behind in other cognitive areas such as social and emotional development. This is called asynchronous development. 6  Gifted children's development can be uneven—their accelerated intellectual development can be paired with delayed social and emotional development making them adept in some areas and lacking in others.
Gifted people often struggle with inherent overexcitabilities (OE's)—super sensitivities—which are most often connected to giftedness.7 Being more sensitive to sounds, smells, tastes and textures can make life rough for gifted people and those around them.
All of the negative attitudes towards giftedness from those who do not understand gifted children and adults stem from misunderstandings, unfounded beliefs, myths, envy and resentment. But, if you want to understand the truth about giftedness, then understanding these three things is necessary.
1. Giftedness is not about school.
2. Giftedness DOES NOT guarantee success in school nor in one's work life.
3. Gifted people do have weaknesses, quirks, flaws and disabilities just like you and me.
Gifted people are no better than any one else, yet they are so often treated with resentment as though they lead a perfect life, better off than the rest of us. Giftedness comes with its share of ups and downs, but the most detrimental down is the resentment and misunderstanding of their giftedness they face nearly everyday from those in society who want to believe that giftedness equals superiority, that giftedness is a net-positive.
For those who mock, envy or bully gifted people, you are very wrong and it is up to you to decide if you want to stand for the truth or continue to believe the fallacies. Giftedness is not the golden ticket to a great life you believe it to be. For those who simply do not understand giftedness, but believe in knowing the truth and acting on facts, remember these three things about gifted children and adults.
REFERENCES
1. America Hates Its Gifted Kids, Chris Weller, Newsweek, January 16, 2014,  
2. Gifted Education is About the Whole Child, Celi Trépanier, Education Week, May 12, 2015,
3. That time The Today Show mocked gifted kids, Jen Merrill, Laughing at Chaos, May 21, 2015,
4. Workplace Bullying—Who Gets Targeted, Workplace Bullying Institute,
5. Bullying and Gifted/2E Kids, Pamela Price, Red, White and Grew™
6. Asynchronous Development, Jean Goerss, SENG (Supporting Emotional Needs of the Gifted)
7. #3 Gifted Children are Often Extremely Sensitive, Celi Trépanier, Crushing Tall Poppies, June 24, 2014,
Category: Bullying, Creativity, Education, Gifted, Gifted Adult, Gifted Advocacy, Gifted Education · Tags: 2E, advocating for gifted, asynchronous development, bullying, creativity, emotional intensity, gifted, gifted adult, gifted advocacy, gifted children, gifted education, gifted learners, gifted students, GT, OE's, overexcitabilities, parenting gifted children, public schools, sensitivity, workplace bullying
Subscribe to Crushing Tall Poppies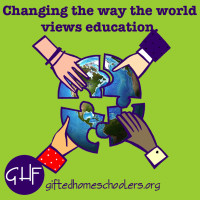 TALL POPPY SYNDROME FROM WIKIPEDIA:
" a social phenomenon in which people of genuine merit are resented, attacked, cut down, or criticized because their talents or achievements elevated them above or distinguish them from their peers "