Gifted Relationships. The Silver Lining in the Gifted Storm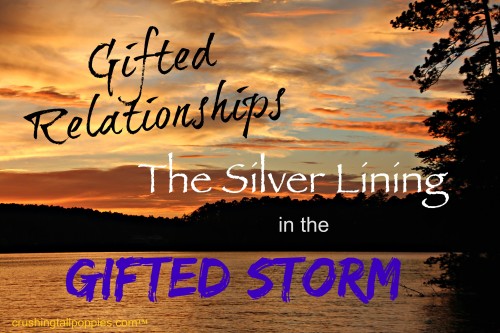 Giftedness can seem as though it is an inherent gift all would love to have. Yet, gifted advocates, teachers of gifted students, professionals who work with gifted individuals and parents of gifted children who are so misunderstood know that there are many downsides to being born with a gifted mind. Too often, the downsides, the struggles, the injustices seem to be voiced the loudest simply because we want everyone to understand the downsides, to help us minimize the struggles, and to try to reverse the injustices. As with any human being born with gifts and weaknesses, so are intellectually gifted people—giftedness comes with good and bad.
With this, I am choosing to talk about the good—the gifts of giftedness which are most cherished to me—gifted relationships.
Giftedness was never really anything I had thought much about until the last three years when my youngest son's giftedness made it necessary to seek more educational accommodations at school. Gifted advocacy, which was absolutely nothing I had ever heard of before, suddenly became a centerpiece in my family's life. Many of you who are parents of gifted children know the struggles of trying to get your child's school to meet your gifted child's educational needs.
For us, advocating for our youngest gifted child became a lonely, devastating storm which caused pain and isolation. But, the storm also brought opportunities and realizations which enriched our lives and showed us we were not alone in our efforts to advocate for our son. We were not alone in the storm. There were others and we all seemed to naturally cling together with a mutual understanding of the hardships we all shared, helping each other through this storm full of the ups and downs we all had in common.
These intelligent, sensitive and understanding people, some I've met in person, some who have become life-long friends and some I have only met online are all gifts to me. Truly, each and every one. I value these relationships and I learn so much from each one. These are friendships full of compassion, understanding, trust and respect. Each relationship enriches my life more than any one of them will know.
And to think I've met them all because we had one huge life situation in common—the gifted storm. But, it is so much more than a misery-loves-company relationship. Because giftedness is truly a contentious topic that is best left unspoken, finding others who understand and share your concerns is such a relief and a gift. Living in a society who, for the most part, has adverse attitudes towards gifted people, finding others who share such a compelling part of your life is gratifying, reassuring and can even save your sanity.
These relationships, every last one of them, are unexpected gifts from an unexpected source. The silver lining in the gifted storm. And each relationship means the world to me.
Have you found meaningful relationships because of your own gifted storm?
Are you feeling alone in your gifted storm? Need help finding gifted relationships to enrich your life and share the problems and the triumphs? Here are two excellent places to look:
Hoagies' Gifted Education Page
This post is part of Hoagies' Gifted Education Page's July Blog Hop, Gifted Relationships. Go see what others have to say about their own gifted relationships.