Gifted Children Stuck in the No Passing Zone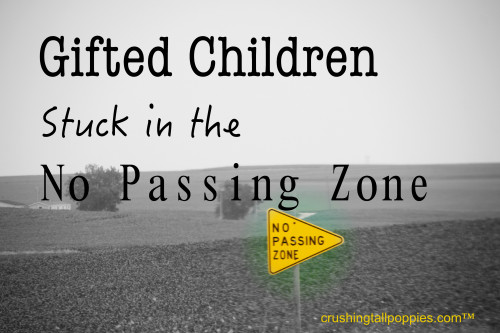 No Child Gets Ahead

No Child Gets Out Alive

Double Back Around To Pick Up The Children We Left Behind Act

No Child Left Untested
THE YEARS OF NO CHILD LEFT BEHIND
We've all heard some of these mocking twists on No Child Left Behind—the reauthorization of the Elementary and Secondary Education Act  (ESEA) from 2001. Currently, the ESEA is being rewritten and debated in the U. S. House and Senate, and many believe this comes many years too late. 1
No Child Left Behind focused heavily on bringing up the lowest performing students to ensure they met minimum grade-level standards, and schools and teachers were held accountable for meeting the goals of No Child Left Behind (NCLB).
The focus of our public education system was on the average- and lower-performing students thus ensuring that no child was left behind, and no teachers or schools were left penalized for not meeting the goals of NCLB. Students who met or exceeded the minimum grade-level standards received less educational focus, and they did indeed get left behind.
Many of the students who were left behind during the last decade of NCLB were our gifted children. Standardized test scores have shown that gifted and high-achieving students demonstrated less year-to-year progress than their lower-achieving peers under NCLB. During NCLB, many states drastically cut spending for gifted education because NCLB lacked the provisions, directives and earmarked funds for the education of gifted students. 2
No Child Left Behind was not the sole contributor to inadequate gifted education in the United States.
THE STIGMA OF THE GIFTED CHILD
Even before No Child Left Behind, gifted children, both in and out of school, were stigmatized. Whether due to the envy of a child who is seemingly smarter and better off than most, the misunderstanding of what giftedness really is, or both, gifted children suffered from a lack of an appropriate education and from the negative attitudes towards giftedness in society.
The stereotypical gifted child is one who the vast majority of people believe is smarter than most children, excels in school, is socially and emotionally mature and also well-behaved. Given this stereotype and the widespread belief in it, many in society, as well as our legislators who supported NCLB, and the states and school systems who continue to cut gifted programs, all felt that gifted children already had enough academic advantages making it unnecessary to mandate, fund and implement an appropriately challenging and accelerated education for gifted children.
The  predominant sentiment—they already have more, why do they need more?—is a huge detriment to gifted education. When state and school system budgets need trimming, the first programs to be axed are the programs for gifted children leaving these students to languish in regular classrooms.
GIFTED CHILDREN STUCK IN THE NO PASSING ZONE
Have you ever been stuck in a No Passing Zone with a slow-moving car in front of you? With your destination as your focus, you are anxious to get there as soon as possible. You wait for a chance to pass the slow-moving car in front of you, the double yellow lines no longer keeping you from passing, you edge out a bit only to see your chance to pass curtailed as the double yellow lines appear again. You move back in behind the slow-moving car.
Do you remember how it felt when you repeatedly attempted to pass, only to find yourself in the No Passing Zone again and again? The frustration at not getting to your destination sooner, not being able to go faster than the slower car in front of you, and you trying repeatedly but failing to get ahead of the slow-moving car—it was upsetting, anxiety-inducing and angering, right? It may have even made you lose your cool.
Those double yellow lines exist everyday in the regular classroom for our gifted children stuck in the No Passing Zone.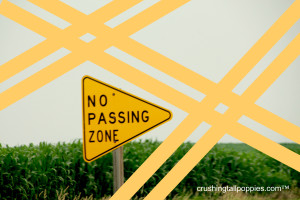 Since NCLB was enacted, high-achieving and gifted students have been short-changed, receiving a less-than-challenging education. Even with strong advocacy on the parts of parents and teachers, states and school systems continued to provide less and less for gifted students.
Why? My guess would be because those legislators casting votes to cut funding to programs for gifted and high-achieving students never understood or believed that gifted education was and is indeed very necessary—the they already have more, why do they need more? sentiment at work. Gifted education is considered expendable, not necessary, an enviable advantage for the already advantaged.
Our high-achievers and gifted children are stuck, unable to pass ahead of the regular classroom, and prevented from accelerating their learning. These children have been held back and left behind, the double yellow lines tying them to a frustratingly slower pace.
WHAT WOULD YOU DO?
If you are one who believes our gifted children already have more than enough, and that educational funds and a teacher's time is better spent teaching to the middle and focused on students who are underachieving or have special needs, what if I told you that gifted children often themselves underachieve in school likely due to the double yellow lines that bind them? Did you know that gifted children also have special needs? Many gifted children have learning disabilities and are on the autism spectrum which require accommodations. And yet, they are still forced to stay behind.
Let me ask you this: If your child was an average student who most often brought home B's and C's on his report card and you learned that your child's teacher was focusing most of her time and energy on the many failing children in your child's class, would you be upset? If you knew your child, who was bringing home B's and C's, really could be making A's and B's if given the chance, what would you do? If you knew your child was capable of learning more and moving ahead faster than the majority of his classmates who were learning at a slower pace, would you allow him to sit everyday in class and wait until his classmates caught up? If your child came home bored, frustrated and upset with school for holding him back, would you tell him it was okay because he was better off than his classmates because he was smarter than most of them?
Every child needs an appropriate learning environment. Every child deserves a challenging education. NO child deserves to be held back and each child deserves to get ahead at his own pace—especially  the gifted children who have  been stuck in the no passing zone for far too long.
NOTE: In my book, Educating Your Gifted Child: How One Public School Teacher Embraced Homeschooling, I go in to more depth about No Child Left Behind and how it has left our gifted children behind in our schools. I also provide strategies for advocating for your gifted child within the traditional school system as well as information and resources for educating your gifted child.
1. What should — and should not — be written into a new U.S. education law, Valerie Strauss, Washington Post, July 8, 2015.
2. No Child Left Behind Act, Wikipedia