Homeschooling: Letting Go of the Vision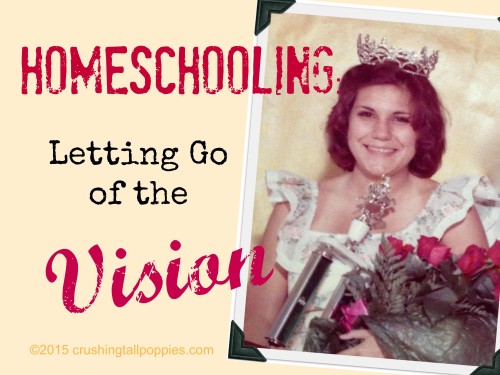 Prom, swim team, quarterback, yearbook staff, class president, cheerleader, pep rallies, homecoming dance, valedictorian, debate team, marching band—all visions parents may hold for their children for their high school years.
High school was, for me, one of the best times of my life. Being a part of the pep squad, attending football games, going to homecoming dances, and being  prom queen—high school was chock full of unforgettable highlights for me all chronicled in my coveted yearbooks. All good memories.
It was such a great experience for me and I couldn't wait for my own kids to experience the fun of high school also.
BUT…
Homeschooling one's high schooler may mean no yearbook to create and then reminisce over, no pep squad to join and cheer with, no homecoming dances to enjoy, no playing on the football team, no class offices to run for, and no momentous walking across the stage at one's graduation ceremony. Homeschooling pretty much knocked out having many of these experiences and opportunities.
Face it, traditional high school has a lot that homeschooling does not– good and bad.
As long as I have homeschooled, I have, at times, been overcome with the guilt and regret that my own homeschooled high schoolers would never have the opportunities and experiences I had in high school. My own wonderful high school memories tainted my thoughts and clouded my judgement. And I get that not everyone has a good high school experience like I did.
And now, it's not that I regret homeschooling—I CHOSE homeschooling because it was the best education for my children. I LOVE homeschooling because it is so full of educational opportunities, unparalleled experiences, and we've always been able to tailor it to fit the academic needs of each of our children.
No, it's just that for as long as I can remember, I wanted my kids to be able to experience the same memorable times in high school as I had. To excitedly receive their yearbook, find their class picture and look back at their past year in school.
But, is that a reasonable want or vision? Most likely not! I know that.
I understand that my own life experiences will not compare with or be duplicated by my child's experiences. It is just that it is so hard to let go of the vision of my kids clutching their yearbooks in their hands, yelling at school pep rallies, attending club meetings or pulling basketball game tickets out of their pockets at the gym door.
And that vision has been very difficult for me to let go of mainly because I worry my children may be missing out on opportunities or experiences somehow.
In an attempt to ease my guilt, I try to parse through and sort out my favorite moments during high school, and what I've discovered is that it was really the extra-curricular activities I had enjoyed so much. To be perfectly honest, I enjoyed those extra-curricular high school activities so much, I totally forgot I was in school to get an education. My grades seriously substantiated how little I was studying and how much fun I was having in high school.
So, why am I homeschooling? Why am I not insisting my kids go to traditional high school? I'm homeschooling for my kids' education, and for a better education than I had. Does this mean my kids will be deprived of fun, momentous and rewarding experiences and opportunities because they are homeschoolers?
Nah, not at all. We are making our own wonderful memories and having the most rewarding experiences throughout our homeschooling years.
Traditional high school is just not for every student.
The freedom and extra time in our day that homeschooling affords us gives us the opportunity to  experience many more social and extra-curricular activities than I could have ever had when I was in high school. Lunch dates, volunteer opportunities, meeting other homeschoolers, co-op classes, traveling during the school year, extensive field trips—hey, Disney World is tons more enjoyable when you can go while everyone else is in school–and it's educational, too!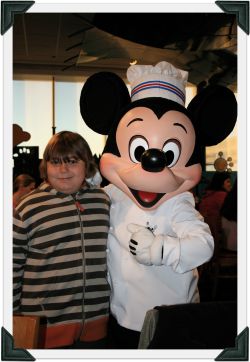 I have to keep reminding myself that the experiences my homeschooled kids have had can easily be more rewarding, more memorable than my own high school experiences. If not better, they are easily more educational, more rich, more diverse, and more meaningful than my own high school days. Plus, I get to experience all of this homeschooling fun along with my kids.
I try to remember that in the end, my homeschooled children's high school experiences can be very different from my own and still be just as unforgettable and rewarding, if not more so. And as a homeschooler, I uniquely have the power and the ability to make sure their high school years are more memorable, rewarding AND more educational than mine were—and this thought has helped me to let go of the vision.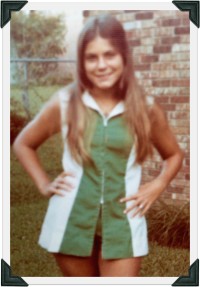 As a homeschooling parent, do you ever struggle with regrets or guilt over what you kids may be missing by not attending traditional school?