Workplace Bullying and the Gifted Adult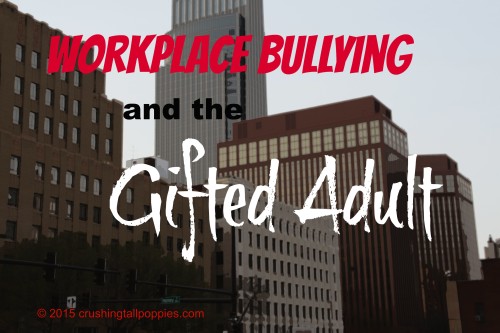 Bullying.
Hearing the word brings to mind the schoolyard bullies many of us encountered on the playground, in the classroom, and even in our own neighborhoods. Those who bully others, it is often said, choose their victims from those who seem to stand out for one reason or another—red hair, taller than average, odd clothing choices or smarter than average. And this is why gifted children seem to be the victims of bullying more often than typical kids because their intelligence and gifted traits, in so many ways, make them stand out. It is not unusual for our gifted children to be the victims of ridicule, teasing, envy and bullying.
But bullying doesn't end in the schoolyard or once our gifted kids grow up. It just goes from the schoolyard to the company water cooler. Workplace bullying is an adult version of schoolyard bullying and the victims are nearly always a highly-capable, exceptional worker who discovers that his hard work and exemplary skills may have unknowingly threatened a co-worker and many times, the victim's boss.
In this dog-eat-dog world we live in, competition to stand out at work, to be recognized for one's contributions to the company, and to be promoted to better positions is extremely fierce—it is often a no-holds-barred take down to get ahead. The only way some workers feel that they can climb the ladder of success is to take down their competition, the co-worker who outshines them. The worker who is very knowledgeable, more creative, more intellectually adept, a better problem-solver, and the worker who can quickly make the best decisions needed are most often the targets of workplace bullying according to the Workplace Bullying Institute. 1 We can easily assume that many of these exceptional employees would be gifted or highly-intelligent adults.
With workplace bullying, the tactics adult bullies use to undermine the outstanding employee's job status, confidence and reputation are more subtle and less obvious than schoolyard bullying. Withholding information, marginalizing them at meetings, stealing ideas from them, and spreading rumors are all tactics used to destroy the confidence and strong standing of the targeted employee. It is crushing the tall poppy corporate style. And bullying can be as devastating for adults as it is for our children
Cutting down the tall poppies can span a gifted individual's lifetime—in school and in the workplace.
As the parents of gifted children, we know our child is likely to experience bullying and we work hard to nurture and build resilience in our children to minimize the damaging and painful effects from bullying, and to help them stand up for themselves when bullied. 2
We also need to be cognizant of the reality that our gifted child, once they are grown and step into the workplace, may just as easily become the target of workplace bullying simply because of their above-average intelligence. Bullying is more than an unfortunate reality our gifted children face now and can easily face in the future as gifted adults. Today, as we equip our children to deal with bullying as best they can, we will also be building in them the critical skills and providing them with the necessary tools they will need if and when they face bullying in the workplace.
1."Who Gets Targeted?", Workplace Bullying Institute
2. Gifted, Bullied, Resilient: A Brief Guide for Smart Families, Pamela Price, GHF Press 
MORE INFORMATION AND RESOURCES
"Dealing with Difficult People, Bullying & Sabotage", Gifted, Talented & Creative Adults
"Gifted and Tormented", Sandra G. Boodman, Washington Post, May 16, 2006
"Bullying and the Gifted: Welcome Back to School", Christopher Taibbi, Psychology Today, August 26, 2012
"How To Deal With A Workplace Bully: Advice For Victims, Bosses, And Co-Workers",  Amy Morin, Forbes, August 21, 2015
"Workplace Bullying: Its Impact Goes Beyond Hurt Feelings", S. L. Young, Huffington Post, February 25, 2015
"Workplace bullying: A scourge that's hard to define, harder to root out", Diane Stafford, The Kansas City Star, November 3, 2014
This post is part of the Gifted Homeschoolers Forum Blog Hop, "Bullies, Bullying and Gifted/2E Kids".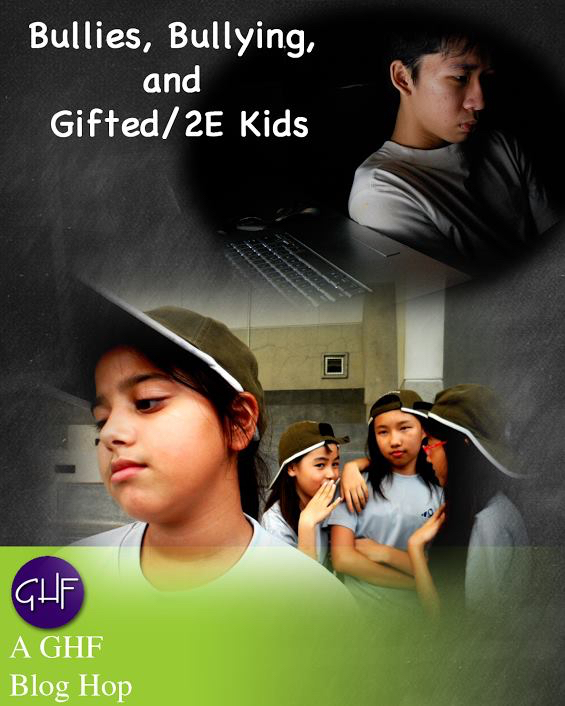 Subscribe to Crushing Tall Poppies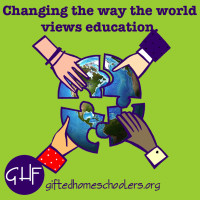 TALL POPPY SYNDROME FROM WIKIPEDIA:
" a social phenomenon in which people of genuine merit are resented, attacked, cut down, or criticized because their talents or achievements elevated them above or distinguish them from their peers "