I'm Not THAT Parent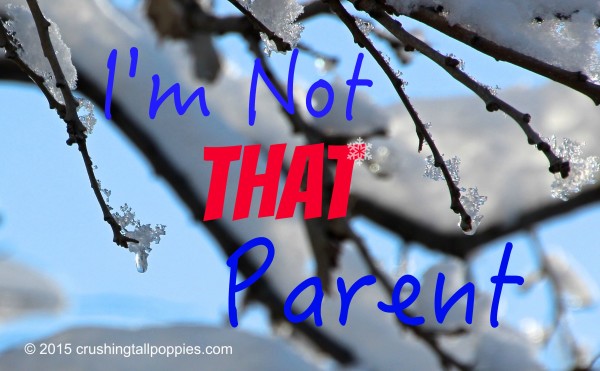 I'm not THAT parent. Having a gifted child, an intellectually gifted child, does not make me THAT parent. There is no need to sound the alarm and send out a special snowflake alert. I have no delusions of my child being a special snowflake who needs more than his share of attention in school. And I'm also not part of the gifted epidemic. I do have a gifted child, but I am not that parent.
Having a gifted child is not at all what you think it is. I'm sorry, but you've got it all wrong.
Look, I know that there are some parents like that stereotypical parent. As a former public school teacher and a parent of three children—yes, all three are gifted, I've seen some of those parents who wear the my-child-is-in-the-gifted-program like a feather in their cap—a status symbol. But to make a sweeping generalization that all parents of gifted children are that pushy, crazy, bragging, flash-card-toting and hothousing parent is just wrong—very wrong.
I've read your comments on forums and on posts about gifted children, and your feelings towards parents of gifted children are unfortunately apparent: *
Holy cow, talk about zero self awareness. Crazy parent. 
Or,
She's basically saying, please give my child the lion's share of your attention.
And this one,
But I do agree, the whole "gifted" thing is obnoxious. The name alone is ridiculous. It's like having a special class just for the "beautiful" or the "clever" children.
Here is a whole slew of comments that I've found online criticizing parents of gifted children:
LOL, I don't call that the "gifted" epidemic. I call it the "baby angel snowflake" epidemic.
God, hear me *scream*. This kind of parent drives me nuts, and they are everywhere. Public, private, every kind of school. Somehow I have even ended up in spontaneous conversations at the vet and grocery store w/ people wanting to let me know that their child is gifted.
I know that this gifted obsession is a function of having a high concentration of well-educated, successful parents. Parents who focus every moment and dime on their child's learning, including utilizing flash cards, tutors, and all kinds of educational systems from an early age (of COURSE a child reads early when someone takes the time to teach them). From it extends a self-centeredness and sense of entitlement.
MY CHILD IS SOOOO SPECIAL. I NEED SPECIAL RULES AND SPECIAL ATTENTION FOR MY CHILD!!!  Nope. No they're not. There are tens of thousands of children just like yours. All across the country. But I'm glad that the extra special attention that mommy and daddy constantly give them will ensure that they grow up socially inept and completely incapable of functioning in society.
And then you even slam the children in your online comments.
Yeah, the "gifted" label is the label everyone wants. So what if the kid is bright or even "gifted". He/she is an obnoxious brat with an attitude and unpleasant to be around, arrogant being a big fish in a small pond. No matter how "gifted," there is one Einstein and even for the profoundly "gifted," there is someone else "smarter" than you. Sheesh, "giftedness" is not a "gift" when paired with "annoying" and no clue on "playing well with others." Overrated.
Many who judge and then publicly post online criticism of gifted children and their parents don't have the real facts—they don't understand. 
Many like you have fallen for the myths and the stereotypes of gifted children and their parents, and spewing your misunderstanding of giftedness online only proliferates the fallacies. The educational, medical, psychological and scientific facts about giftedness don't back up what you believe, and the negative feelings you have towards gifted children and their parents are unfounded.1
Being gifted is who one is; it is not what one does nor is it what one's parents do.
I'll lay it all out on the table. Here are the facts: Gifted individuals are born gifted. It's inherited. Giftedness is a real neurological difference one is born with—like hair color, tall stature, left-handedness, the shape of one's nose, curly hair, artistic talent, or musical talent. Giftedness in human beings "creates an experience outside of the norm. Giftedness is who a person is, not what a person does. A person born gifted, is always gifted." 2
A parent can't grow a gifted child with flash cards, tutors or reading to them in utero. All the hothousing a parent can muster or hire out will not deliver a gifted child—a high-achieving or advanced child possibly, but not a child who will be clinically identified as gifted by his or her IQ and other identifying inborn traits which can only be determined by a trained professional utilizing specific testing. Gifted is a medical, educational and psychological label used  to identify individuals with an IQ above 130 along with other identifying characteristics such as unique emotional and social traits and needs.
Gifted children don't come from pushy, successful and highly educated parents—they come from every corner of the world.
Giftedness exists outside of school and giftedness does not discriminate. Giftedness in children is not about academic achievement, or how smart you are, nor is it about getting into the gifted program at school. Giftedness is not a function of education. Giftedness is the neurological difference you were born with, the inherent way your brain functions—it is how you think and who you are.
Giftedness also exists outside of successful, well-educated and upper-middle class families. Children from impoverished, lower-socioeconomic and minority families are also born intellectually gifted, an inherited trait from their parents. Giftedness knows no social classification, nor does it have a cultural or ethnic bias.
After all, Leonardo da Vinci, a gifted genius of historical proportions, was born from an unwed peasant mother and because of the social caste he was born into, he was denied access to a formal education and was largely self-educated. I'm pretty sure Leonardo's mother was not in a position to hothouse her son.
Gifted children and adults can have co-existing learning disabilities.
I also want to point out that giftedness is not the net-positive you believe it to be. Not all gifted children excel in every subject at school nor are all gifted children identified and accepted into the gifted programs at school—and remember, giftedness is not really just about school. It often happens that a child can have the IQ of Einstein yet have dyslexia or autism which can cause them to struggle in school. What a coincidence; historians have long believed Einstein to have had dyslexia and high-functioning autism. Einstein also struggled in school.
See? No net-positive here. Believe it or not, there are real downsides to being gifted beyond knowing the resentment others feel about your gifted children and yourself, and openly mock you.
Gifted children need gifted education.
Just as with a child who has a real talent for singing, the parent and possibly the school work to nurture that talent to make the most of the child's exceptional musical ability. If your son showed a remarkable talent for tennis, would you not sign him up for tennis lessons and have him join the school's tennis team to help him develop his exceptional ability?
As well, gifted children have intellectual talent, but many schools fail to nurture or develop this cognitive talent. That is why parents of gifted children advocate for an appropriate education for their child. It's not because we want a special class for our special little snowflakes, but because it is our child's right to have an education which meets his needs. Yet, all across the U. S. and the world, schools are failing to appropriately educate our gifted children, which is why we advocate for a better education for our children.
What if the tennis prodigy was your son?
Let's go back to the tennis prodigy I mentioned previously, and let's say he is your 13-year-old middle school son. He is better at tennis than nearly all of the high school students on the high school tennis team. His talent would be challenged and strengthened best by being on the high school tennis team, but the school won't let him play with the high schoolers because they are older than your son, so your son's talent languishes undeveloped on the middle school tennis team. He then becomes frustrated and is ready to give up tennis because he is tired of being taught the same tennis skills he mastered years ago. Would you be okay with that? Would you not continue to try to get him on the high school tennis team because that is what would be best for your son? And what would you say to parents who mocked you, rolled their eyes at you and accused you of wanting more for your special snowflake tennis player—all because you were trying to develop your son's tennis talent and have it nurtured as it should be?
All parents want what is best for their child and they work to ensure their child has the tools they need to develop into happy, successful adults. If your child's school was holding your child back unchallenged and preventing your child from developing his intellectual, athletic, artistic or musical talents, what would you do? What would you say to other parents who criticized you for asking for what they felt was the lion's share of attention? Really, all you want is for the school to appropriately address your child's needs.
Unfortunately, public schools have historically neglected the needs of gifted children. Standardized test scores have shown, year after year, that gifted children are showing the least year-to-year progress in school because they are being held back. It is not the lion's share parents of gifted children are advocating for, we are only asking for our fair share of attention in school!
So again, I am not THAT parent just because I want my intellectually gifted child educated the way he needs to be. I don't want more, I just want an equitable, fair and appropriate education for my child as does nearly all parents of gifted children. Doesn't every child deserves to have an appropriate and equitable education?
*The quotes used were all found online and were either in response to an article about gifted children or a parent who said her child was gifted. They were quoted exactly as found online.
1.Excellent explanation of gifted in Wikipedia
2. Jade Rivera
For more information on the misunderstanding and miseducation of gifted children and the consequences of being a gifted child in a world which does not understand you, please check out these posts.
What About the Gifted Children Who Got Left Behind?
The poor neglected gifted child–Boston Globe
Gifted Children Stuck in the No Passing Zone
I Have a Gifted Kid and I Will No Longer Be Ashamed
America Hates Its Gifted Kids–Newsweek
For gifted children, being intelligent can have dark implications–Calgary Herald