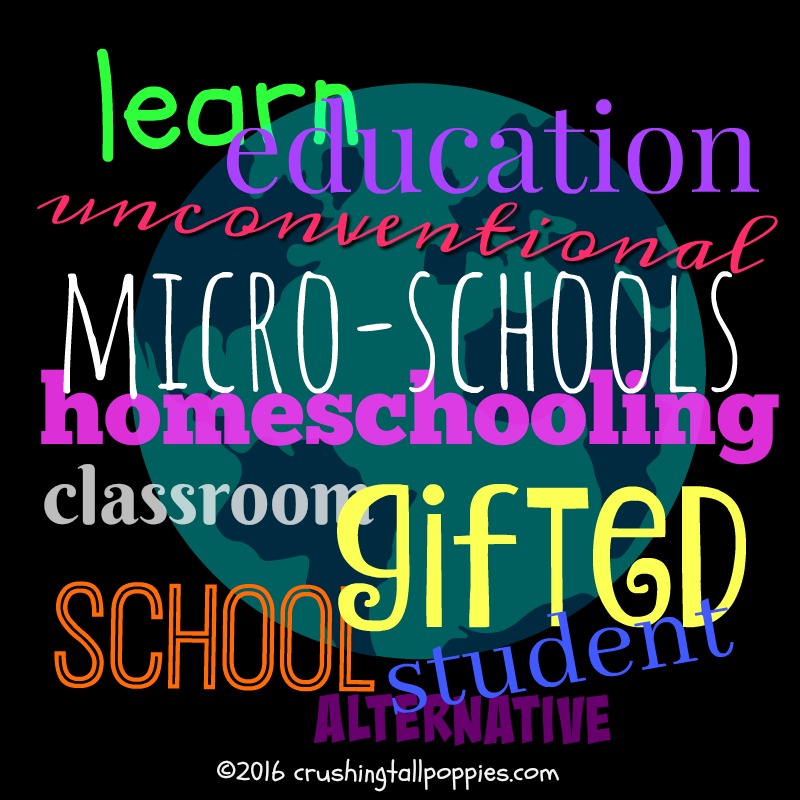 It's not easy growing up gifted, especially when so few get that your not-quite-the-norm behaviors are inherent with your giftedness and are really not a problem or an issue to be diagnosed and then fixed. No place else does this misunderstanding seem more apparent than in the traditional school setting—a place where gifted children can easily lose their curiosity, motivation to dig deeper, and their love for learning.
Have you ever had to deal with your or your child's giftedness and its disconnect in the traditional classroom? Have you had to work with your child's school, sometimes in vain, to get them to adjust to your child's educational needs as a gifted learner? If you have come to the conclusion that the typical classroom model for learning may never meet your child's educational needs and you are seeking an alternative educational setting where your child can be excited about his education again, where he can learn at his own pace, and feel free to search for the information he seeks—an educational setting where your gifted child is happy, engaged and fulfilling his natural desire to learn.
Is there such an educational setting, an unconventional education for your gifted child? Actually, there are quite a few, and they each have various ways to design the best educational roadmap for your child.
Homeschooling
Homeschooling is sometimes the default educational approach families of gifted children take when they feel a traditional school setting is not a good fit for their gifted child. Yet, homeschooling has many options and choices available to tailor it for your gifted child and best meet his needs.
Unschooling, homeschooling co-ops, online classes, classical homeschooling, and dual-enrollment in traditional schools are all such options which can further meet the needs of your gifted child. Homeschooling does not at all relegate you and your child to the kitchen table to plow through textbooks and workbooks!
Look into homeschooling co-ops in your area. Join up with other homeschooling families to share in the learning. Your area may even have homeschooling centers where your gifted child can choose classes he wants to take. Some school systems, public and private, allow homeschoolers to take classes or be part of extra-curricular activities offered at the school. And don't forget to look into online classes—group or individual—if you decide to homeschool your gifted child.
A great place to find the resources you need for homeschooling your gifted child is Gifted Homeschoolers Forum, and my book, Educating Your Gifted Child: How One Public School Teacher Embraced Homeschooling provides information, strategies, and tips from a former public school teacher on the do's and don'ts of homeschooling. Just remember, homeschooling is an excellent educational setting, and sometimes a superior option to traditional schools.
So, what other educational options are there besides traditional schools and homeschooling?
I'm glad you asked!
Micro-schools
In the world of educational alternatives for gifted children, micro-schools is an innovative and exceptional educational setting. And I'll be quite honest here—I wish I had known about  micro-schooling when I chose to homeschool my own gifted children.
Not sure what a micro-school is? Think somewhere between public schools, private schools and homeschooling, or think of all three, or maybe none of these. It just depends on the approach any particular micro-school chooses to take.
I learned about micro-schooling through my colleague, Jade Rivera, who founded her own successful micro-school for gifted learners. Jade has written a comprehensive book on the what's, why's, when's, where's and how's of micro-schooling. Her incredible book, Micro-Schools: Creating Personalized Learning on a Budget by GHF Press is a detailed blueprint how to start your own micro-school.
Jade shares her knowledge and hard-earned experience with the organization, day-to-day operations and legalities of running your own micro-school. In Micro-Schools: Creating Personalized Learning on a Budget , you will also learn all you need to know about this progressive, alternative approach to educating gifted children, and how to be a facilitator in a child's education, not simply a director. Jade gives readers the information needed for setting up a micro-school which provides a place where education is tailored to fit a gifted child's needs. She imparts her philosophies, her experiences and her expertise with providing an education which fully engages gifted children in the learning process and helps them to become active participants in their education. Micro-schooling is an exceptional educational approach and Jade's book is an exceptional book.
We are all very much familiar with the organization of traditional schools and how classrooms are set up to disseminate information to a large group efficiently and effectively. Yet we also know the typical classroom doesn't always work efficiently nor effectively for many children such as gifted children. When the traditional system doesn't fit a child's learning needs, then an alternative educational approach is in order. Homeschooling and Micro-schooling are effective, efficient and yes, exceptional.
Think outside of a book and learn outside of the box.
RESOURCES
Where to buy Jade's book: Amazon
Where to buy Celi's book: Amazon
Learn more about homeschooling gifted children: Gifted Homeschoolers Forum
Read more about an unconventional education: An Unconventional Education—There are many ways to get there from here.
Read more about educational choices: Making the Choice: When Typical School Doesn't Fit Your Atypical Child by Corin Barsily Goodwin and Mika Gustavson, MFT
A great place for online classes for gifted students: Mr. Gelston's One Room Schoolhouse