Gifted Visual-Spatial Learners are Twice-Neglected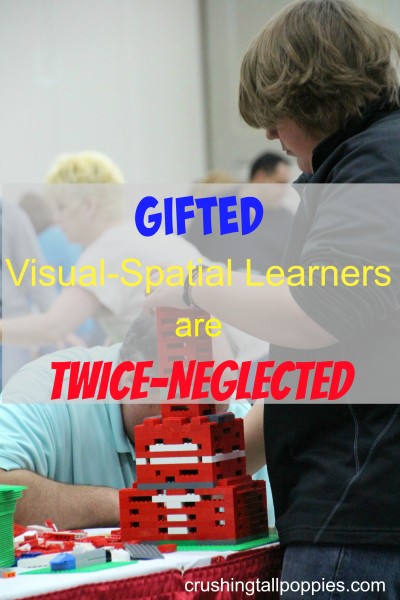 Traditional School is a Hostile Learning Environment for Gifted Visual-Spatial Learners 
Just as gifted individuals often discover that their giftedness feels like both a gift and a curse, those who are both gifted and a visual-spatial learner experience a double whammy. The vast majority of traditional classroom settings deliver instruction via a linear, auditory and sequential method. Visual-spatial learners struggle to understand instruction and master concepts delivered to them in that linear, auditory and sequential manner seen in nearly every classroom because it is quite the opposite of the way they need to learn–through a visual approach.
Visual-spatial learners are holistic learners who grasp the larger idea when introduced to a new concept or skill, and learn best when information is delivered through more visual methods. For a visual-spatial learner, learning through a step-by-step approach (sequential) when delivered verbally (auditory) as in nearly all classroom settings is like teaching a lion how to become a vegetarian. Strong visual-spatial learners struggle in the traditional classroom setting when differentiation and attention to their learning needs are not provided. Visual-spatial is not a learning preference, but a innate learning process that needs to be recognized and accommodated in the classroom. Although some visual-spatial learners can also succeed in an auditory-sequential classroom, those who have weak auditory-sequential skills will fail to learn and thrive.
Research has proven many connections between gifted individuals and strong visual-spatial strengths. A large percentage of gifted individuals are visual-spatial learners. Our visual-spatial learners are creative, artistic, and can quickly synthesize facts into the visualization of the larger picture–they can see the bigger idea.
Some famous visual-spatial thinkers who also struggled in an auditory-sequential environment are Albert Einstein, Leonardo da Vinci, Frank Lloyd Wright and Thomas Edison. One could easily assume that present-day creative geniuses like Bill Gates, Steve Jobs and Mark Zuckerberg are also strong visual-spatial thinkers. Didn't they all drop out of school at some point?
Our world today needs these creative geniuses, but sadly many underachieve in school due to their inability to learn through auditory sequential methods, and eventually they may drop out. Many gifted visual-spatial learners are never identified as gifted because too many regular education teachers may equate only successful academic performance with giftedness. Teachers need to be educated and trained to recognize the unique characteristics and learning needs of our gifted children, especially our gifted visual-spatial learners. We are disregarding too many of these creative geniuses who will struggle to fulfill their potential because our educational system most often does not recognize or understand these diamonds in the rough.
For the parents of a gifted visual-spatial learner who is underachieving in school, being a strong and determined advocate for your child is critical. Without parental support and advocacy, the typical school setting can be a hostile learning environment fraught with traumatic experiences that can destroy your gifted VSL child's self-esteem, motivation and love of learning.
Homeschooling is an excellent educational option for strong, visual-spatial gifted learners who otherwise would flounder in the typical auditory-sequential classroom setting. Homeschooling provides the perfect opportunity for visual-spatial learners to learn in an optimal environment that easily meets their unique visual-spatial learning needs.
Through my experience as an advocate for gifted children, I've seen first hand how terribly our public school system is underserving and neglecting our gifted children; sadly, our gifted visual-spatial children are twice-neglected.
For more information, resources and how-to's on homeschooling your gifted child, check out my book, Educating Your Gifted Child: How One Public School Teacher Embraced Homeschooling.