Visual-Spatial Learners: Tapping into Their Creativity and Potential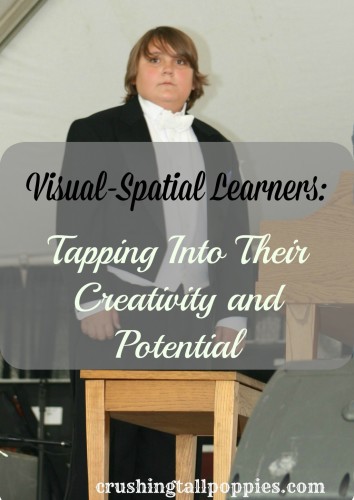 Information and Resources
Creative.
Lego fanatic.
Musically and artistically talented.
Poor time management.
Sees the big picture but misses the details.
Instinctively knows the right answer but can't say how he got it.
Learns complex concepts more easily than easy, step-by-step skills.
These are all characteristics of our visual-spatial learners.  Visual-spatial learners are a unique and little-understood group in the classroom and in society.  What we know about visual-spatial learners is all relatively new, so resources and information is in short supply.  Luckily, professionals and experts in the fields of education, giftedness, and intelligence are delving more into this group of previously unrecognized talented and creative individuals, so recognition of the potential of this group of learners is gaining attention.
Dr. Linda Silverman of the Gifted Development Center is considered the pioneer of most of the information and understanding of visual-spatial learners.  She realized the unrecognized potential, creativity and intelligence among this group of learners who were struggling in the traditional classroom, but yet most often had high IQ's.  Basically, visual-spatial students learn holistically, seeing the big picture.  Their strength lies in their ability to visualize and grasp complex concepts quickly.  Our visual-spatial learners fail to thrive in the traditional classroom where information is delivered in an auditory and sequential manner. Nearly all classrooms today deliver information in the auditory-sequential manner,  leaving visual-spatial learners relying on their weaknesses in order to learn.
Although the body of knowledge about visual-spatial learners is growing, and teachers who are current on the latest educational research know how to recognize the visual-spatial learners in their classrooms, information on how to reach and teach these learners in the classroom is almost non-existent.  Visual-spatial learners are an untapped and little-recognized group of creative, high-potential individuals who can, with the right education, change our world.  If you suspect your child is a visual-spatial learner, here is a list of online resources, books and information:
Books:
Visual-Spatial Learners by Alexandra Golon
Upside-Down Brilliance: The Visual-Spatial Learner by Linda Silverman, PhD
Serving Visual-Spatial Learners: The Practical Strategies Series in Gifted Education by Steve Coxon
Raising Topsy-Turvy Kids: Successfully Parenting Your Visual-Spatial Child by Alexandra Golon and Linda Silverman
Websites: (be sure to scroll through each website's list of links and resources)
Tocatta in D Minor, age 12