NO! For the Last Time, NOT Every Child is Gifted!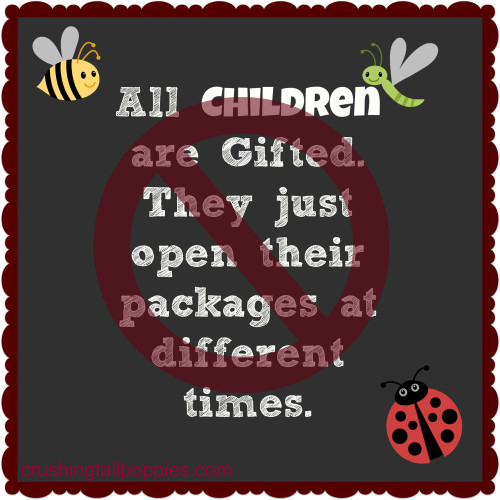 Not every child is  gifted!  Every child is special, every child has gifts, but NOT every child is  gifted!
Please read this and try to understand.
Read, understand and learn what gifted really means, what life is like for a truly gifted child and how difficult it is to be a gifted adult.  Please don't continue to be that part of society who devalues these children just because giftedness is deemed a form of elitism, or because it just doesn't seem fair that one child should be more intellectually advanced than another.   Without your real understanding of what makes up a truly gifted child, or your acknowledgement that not every child is gifted, our society will continue to feel that it is socially unacceptable for these children to shine or publicly display their achievements .  When children are not accepted and supported for who they are, they cannot fulfill their potential.  Misunderstanding of what giftedness is and not acknowledging the critical needs of gifted children have both hindered gifted children's access to an appropriate education which they need to grow and develop into successful adults.  Without your understanding, our educational system will continue to believe that these children are okay to be held back and languish in the regular classroom, and that it is fine to cut out gifted programs because they also believe that, "hey, these kids are gifted, they've got it made anyway."
Gifted children are blessed with enough, why give them more?  Isn't this what you think? Isn't this what too many people think?
If you truly believe every child is gifted, please take a moment to learn who our gifted children really are.
Gifted children are…
are… CHILDREN – Yes, despite their above-average intelligence, out-of-the-norm sensitivities and other quirky characteristics, they are children first!  They are children!  Their above-average intelligence and seemingly mature attitude does not make them more able to handle the ill-feelings leveled at them during their young lives.  They often experience jealousy, rudeness, boredom and bullying because of their giftedness.  They feel like they don't fit in.  How can we allow a child, any child, to feel any degree of emotional pain when it can be prevented?  Do you think every child feels like they don't fit in?
are…BORN NOT MADE – These children were born gifted.  Not practiced, not hot-housed, not pushed, not tutored, not just from a higher socio-economic family, and not forced to become intellectually gifted – they were born this way.   It is genetic.  Chances are one or both of their parents are also gifted; and most likely their siblings are gifted, too.  When a child is born gifted, they are born with higher-than-average intellectual abilities, they learn and assimilate information very differently than most other children and they have many emotional and social sensitivities and intensities other children do not have.  Most parents of gifted children say it is wiring – it is how God made them.  But did God make every child gifted?
are… INTELLECTUALLY TALENTED –  Yes, they learn differently, they most likely learn more quickly and they learn more deeply than children who are not identified as intellectually gifted.  Giftedness is usually determined using an intelligence test to determine one's IQ.  The average IQ is 100; a gifted individual is said to have an IQ of 130 or above.  If every child is gifted, would you say that every child has an IQ of 130 or above?
are… EMOTIONALLY AND SOCIALLY INTENSE – Gifted individuals are born with emotional and social sensitivities and intensities which make their lives a bit more difficult.  Events, sounds, feelings, smells and social situations which would not bother other people could feel so intense to a gifted child that they cry, scream, become anxious, shut down or fall apart.  Do you think every child reacts to a tag on the back of their shirt like it is a piece of wood with hundreds of sharp nails protruding into their skin?
I've seen all of the sayings:
Every Child is Gifted.  Some just Open Their Packages Later.
Every Child is Gifted. They Just Unwrap Their Packages at Different Times.
All Children are Gifted. Some Just Open Their Package Sooner Than Others.
All Kids are Gifted. the Only Difference is that Some Open Their Packages Earlier.
I used to believe them, too.  As loving and caring adults, we all want to make sure every child feels special.  And every child IS special.  Every child is born with strengths, talents, and "gifts", but having gifts is not the same as being born gifted.
The word "gifted" is an unfortunate choice of a word historically used to designate children who were born intellectually talented.  On the other hand, when a child is athletically talented – a natural born athlete – we say he is athletically gifted.  Is every child athletically gifted too, and they just open their athletic gift at a different time?  We've seen many piano and singing prodigies in the news, on talent competition television shows and on YouTube videos shared across social media.  Is every child a gifted musician and they just open their musical package later?
When we say and believe that every child is gifted, isn't it really just the resulting action of our basic human instinct to be inclusive?  Our need to make everyone feel good even though there may be inequality? Saying every child is gifted just makes us feel good because we want to believe that God blessed each and every child with equal amounts of gifts, strengths and talents.  It is our deepest, heartfelt need to include those who are not exhibiting their gifts just yet.  It is beautiful and loving to want to include every child, make them all feel special and then call them all gifted!  This makes us feel like every child is equally blessed.  Did you know with this one compassionate gesture, you are actually singling out and emotionally wounding a group of children when you do this?
Still not convinced?  Recently, I read a blog post by a mom who almost defensively proclaimed that she was so proud of her average child.  Most people who I discussed this post with stated that her envy of gifted children bled into her writing.  Her child was average and she was tired of parents who brag about how well their children are doing academically.  Her child was not doing as well academically.  So, yeah, I can sympathize with her aggravation with being around boasting parents, and the parents of gifted kids have the utterly undeserved reputation of being boastful.  But looking at the flip-side, as parents, don't we all enjoy sharing our children's triumphs, wins, achievements and awards?  And being able to share freely and have others rejoice in your child's triumphs?
I've heard many a parent share that their son made the select soccer team or won the singles title in the regional tennis tournament.  On Facebook, parents rightfully share that their child, the quarterback,  just threw the winning touchdown pass.  When your child makes the all-state choir, aren't you excited to share the good news?  Your child made the cheerleading squad, aren't you proud and want to let others know?  Your child was accelerated one grade level and….oh…wait….can't share that!
When your child just won the state Spelling Bee for the third time, you want to share but you can't because you know nobody wants to hear about your brainy child.  They may even think that he won because you are pushing him too hard to excel and forcing him to study Spelling words for hours on end.
Yes, when it comes to proudly sharing our children's athletic or musical achievements – socially, that is not looked on as bragging.
When we proudly share our child's intellectual achievements – THAT is bragging!
Why?
If our child is athletic, artistic or musically gifted, as a society, we nurture their talent and we want to let them shine!  Beauty pageants, pop superstars and multi-million dollar sports arenas are proof of that.  When a child is intellectually gifted, they learn to keep it to themselves or face jealousy or animosity or rejection.  Parents of the intellectually gifted know full well that it is taboo for them to utter anything at all about their gifted child's intellectual achievements.  Where's the desire for equality and inclusion here?
If you want to say every child has gifts, I'll agree.
If you believe every child is blessed with talents, I'll say you are right.
If you state that all kids have strengths and special traits, I'll be the next in line to support the same sentiment.
If you proclaim that every child is gifted, I will scream, "YOU ARE WRONG!
This post, like so many others,  is in response to this recent post: "Every Child is Gifted and Talented.  Every Single One"
RELATED POSTS:
If Every Child is Gifted, Then…  
My Child is Gifted: Do You Think I'm Bragging Now? 
The Burdens of Gifted Children
Every Child is Gifted & Talented. Every Single One.
My Kid is Average and I Am Oh So Proud
Actually, it goes the other way