Casting Stones at Cacti. Our Intolerance of Gifted People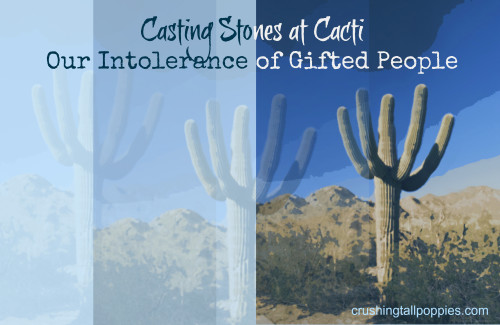 Standing out like stately rarities in the middle of a vast, congruous desert are impressive and curiously-shaped Saguaro cacti.  These unique cacti, towering over the other desert plants, offer gloriously beautiful flowers and prized fruit. These cacti, appearing as an anomaly in the plant world, offer many untold, but extraordinary qualities which seem overlooked and overshadowed by the infamy of its multitude of thorns. These cacti seemingly struggle to survive alone amidst the hypocrisy of its life: beautiful, but painful; wonderful, but unusual; curiously interesting, but too many painful thorns.
This metaphoric depiction is much what life is like for a gifted person; this journey of giftedness where one's human qualities are overshadowed by negative fallacies. Where there is often hurdles, and there are no presents waiting to be unwrapped. There is good, there is very good, but often even the very good is drowned out by the bad. My family's journey through giftedness is much like the metaphorical cacti in the desert.
After recently reading a compelling article by Ariane Benefit titled "Intensity – What makes intensely creative, emotional and gifted adults like Steve Jobs prone to troubling relationship issues?", my family had a gifted epiphany of sorts. Benefit's article describes and talks about the biases and the intolerance society has for emotionally intense, creatively gifted people; and Steve Jobs was one such example of a creatively gifted person who was misunderstood and thus unfairly criticized for his intense behavior. Here is a quote from this article that our family strongly related to: "To me, this is an example of the kind of socially accepted intolerance, bias, and disparaging name-calling that creative, emotionally intense and gifted adults (and children) frequently experience their entire lives".
Our emotionally-intense and creatively gifted fellow human beings are much like the metaphorical cacti standing out amongst the desert of humanity. As a society, we seem to fear, feel threatened by, be suspicious of, or jealous of others who stand out among us. Whether their differences be superior intelligence, physical or mental challenges, sexual orientation, religious differences, political differences, or cultural differences, we seem to want to just spurn anything that does not fit inside our common desert, our own little box of normal. One such group whose differences we often have biases against are the highly-creative, emotionally-intense gifted individuals. We seem to distrust their unique abilities, and we also often, out of jealousy, cast stones at these individuals who seem to stand taller, seem wiser, are more creative, or rise above our own intellect, skills and capabilities. We also know this phenomena as the tall poppy syndrome. 
My oldest son is a gifted artist who started drawing with a passion when he was two years old.  In second grade, he entered the yearly poster contest hosted by our local public library during National Library Week. He submitted his poster to his school who in turn sent it on to the public library for judging. A few days later, the school called to let me know that they had received a call from the library questioning whether or not my son had actually drawn his poster by himself. The school confirmed that in fact he had, having seen his work many times before, but the school called me just to verify that it was his original work. Understandable, but an example of the common human reaction to something that stands out from the ordinary. Did every child who submitted a poster get a call to authenticate their art? I understand totally their need to confirm that my son's poster was his original work, but it was the initial doubt, the suspicion that the poster was not the work of my son, and I needed to verify that my son had indeed drawn the poster himself.
My husband was in 7th grade when a similar incident happened to him, and I will just quote his telling of the story he sent me in an email:
"There was one time in 7th grade that I had written a French (my husband's native tongue is French) exam and one of the questions was to write a short essay on something, anything. I felt very inspired at that moment and wrote something that turned out to be exceptional to the point that I got a zero.  The teacher claimed that I had copied it from a novel or whatever other book, and that there was no way that I would be capable to write something like that.  I argued my point and he finally returned my paper with a 50% and a note saying "benefit of the doubt".  I don't remember much of anything else of this teacher and 7th grade, but this left a lifelong scar that I will never forget.  In my mind's eyes, I can still see where I was standing in the classroom discussing this with him.  As clearly as people remember where they were on 9-11….   It was probably my first teaching that being me wasn't cool.  But I had no idea what I was dealing with then…."
My youngest gifted son has had so many of these experiences, many of which are scattered throughout my writing. Envy, intolerance and resentment are the usual reactions to my youngest son's gifted behaviors. Among his peers, the reactions to his seemingly wiser-than-his-years behavior are bullying, teasing and name-calling. Even some of his teachers reacted to his gifted behaviors by bullying him or placing unfair expectations on him. It often seems to be the first common human reaction to judge people negatively when their behavior is significantly different or better from the norm–they are not exhibiting bad, negative or hurtful behavior– just significantly different or better than most.
In the adult world, society's intolerance of these differences often results in envy of or feeling threatened by the creative, highly-intelligent, and emotionally intense gifted adults, and these feelings play out most often in the workplace. It is termed workplace bullying. This phenomena has become so commonplace in recent years that states are passing laws to protect the victims of workplace bullying from the devastating effects on the worker and his family such as depression, demotion, job loss and suicide. Our emotionally-intense and highly-creative gifted adults are the game-changers, the visionaries, the problem-solvers and the innovators who can make dramatic, positive changes at work. But, most often these gifted adults are seen as arrogant, or the loose canons, and co-workers, most often superiors, feel their job-security threatened by the gifted employee's visions, ideas, potential and success.
We love our geniuses when they make headlines, when their work benefits us or entertains us, or when it is so far and above the rest of our own capabilities, we are no longer threatened or envious. Think Steve Jobs, Mark Zuckerberg and Einstein. We love and seek out the genius surgeon when we need his services, we are grateful for the discoveries of gifted research scientists, and we idolize and revere our favorite gifted musicians. And then we are intolerant and even resentful when the geniuses among us who are in the next cubicle at work, who live next door to us, or sit in the school desk by us produce superior results, but not necessarily the results that would bring them immense public attention or fame. It is these gifted individuals among us that we may become suspicious of, feel threatened by or just outwardly envy.
In the end, Steve Jobs was one of those gifted people who many were unwilling to tolerate, and eventually he was ousted from Apple. Thankfully for the world, he had the strength of character to persevere past the envy, the intolerance and the retaliation; he persevered and returned to Apple, the visionary who brought us iPods, iPhones, iPads and Mac computers. Sadly, many of our gifted children and adults are unable to move past the intolerance, the resentment, the biases, and the bullying. Their discoveries, ideas and visions have been marginalized, stolen or refuted. Or worse, the creatively gifted children who have been misunderstood and mistreated because of society's intolerance of their differences,  fail to grow and thrive, and as a society, we lose out on their potential to create, to envision and bring us innovative solutions, discoveries and ideas.
And let's face it, shouldn't we all be accepting of everyone's differences despite what those differences may be? Shouldn't we be looking for the good and the potential in others instead of being intolerant of their differences which we quickly judge as something unacceptable? Shouldn't we appreciate the gifts, potential and talents of others, and not feel the need to marginalize or destroy these gifts, potential and talents? Shouldn't we stop casting stones at the cacti?
RELATED ARTICLES:
Intensity – What makes intensely creative, emotional and gifted adults like Steve Jobs prone to troubling relationship issues? by Ariane Benefit
The Workplace Mobbing of Highly Gifted Adults: An Unremarked Barbarism by Reuven Kotleras
Brains on Fire: The Multinodality of Gifted Thinkers by Brock Eide and Fernette Eide
Gifted and Tormented By Sandra G. Boodman
Category: Bullying, Creativity, Gifted, Gifted Adult, Gifted Advocacy, Gifted Education, Parenting a Gifted Child, Visual-spatial Learners · Tags: bullying, creativity, gifted, gifted adult, gifted advocacy, gifted and talented, gifted children, gifted education, gifted learners, gifted students, GT, visual-spatial, workplace bullying
Subscribe to Crushing Tall Poppies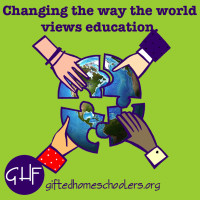 TALL POPPY SYNDROME FROM WIKIPEDIA:
" a social phenomenon in which people of genuine merit are resented, attacked, cut down, or criticized because their talents or achievements elevated them above or distinguish them from their peers "