#1 Gifted Students Do Not Always Excel in School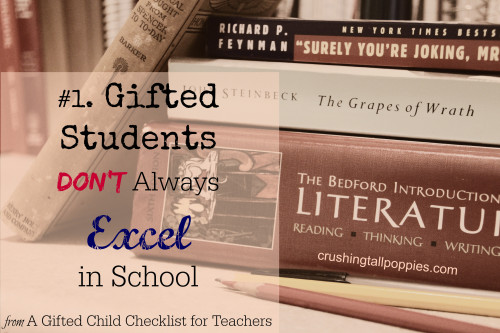 from the post: A Gifted Child Checklist for Teachers
In my blog post A Gifted Child Checklist for Teachers , I listed ten basic characteristics and traits of gifted children – really nine since I repeated #1 because it's a biggee.  It is a list intended to easily help teachers and others by providing a brief and basic listing of gifted traits and characteristics which aren't always so well-known, recognized or obvious.  I also hoped my checklist would bust some myths and correct some incorrect information about giftedness.
Let's take each listed trait and characteristic on this checklist and delve into it further.  Let's start with #1, which is also #10:
1. GIFTED STUDENTS DO NOT ALWAYS EXCEL IN SCHOOL
"Many gifted students are high achievers and excel in school.  Their inner motivation drives them to achieve with the desired high scores and superior grades.  On the other hand, many gifted students are not driven to achieve in school for many reasons – boredom, lack of a challenging curriculum, coexisting learning disabilities, they prefer learning for the sake of learning & not for high test scores, social & emotional issues and others.  If you have a gifted student in your classroom who is not achieving to expectations, look for the contributing factors.  I can assure you that underachievement in a gifted student is rarely if ever due to poor work ethic or laziness.  Simply assuming an underachieving gifted student just needs to work harder or be more conscientious with his schoolwork is always the wrong assumption.  And expecting consistent high scores and perfect grades from all gifted students can be emotionally, socially and educationally damaging to a gifted child."
Face it, if you polled a large, random group of people and asked them to describe a gifted child, the very first adjective they would use is "smart".  And if you further questioned this random group of people and asked them to give you the attributes of a smart, gifted child, I'm sure they would say things like, "excels in school" and "makes good grades".  I would have said the same thing had you asked me before I had my own gifted children.  Yet, gifted children don't always excel in school and  it happens more often than you would think.
It happens for many reasons such as lack of funding for gifted programs, and the misguided notion that gifted children do not have specific learning needs.  Therefore, schools have been neglecting the learning needs of their gifted students.  Governments and school systems have trimmed down or completely cut out gifted programs.  Why?  Most likely it is because most people believe gifted students are fine on their own and really don't need any educational extras.  Gifted programs are viewed as optional, as nonessential and expendable.  This belief is also laced with the sentiment that gifted programs are elitist.  To put it bluntly, most believe that gifted children are already smart which is seen as an advantage, so why should we shell out more money to pad their advantage over other children even more?
I get that …
but it is so far from the truth!
It's wrong.
Like the-Earth-is-flat wrong!
Here's a good example I pulled out of the trash … virtually but literally.  I moderate the comments on my blog, and I feel it is only right to post all comments as long as it is not advertising spam or really nasty.   Anyway, here is one uncivil comment I chose not to post and I just put it in the trash – it was just too mean-spirited to provide any positive ideas, opposing opinions or solutions for anyone.  But hey, now there is a use for it!  This comment exemplifies the kind of spiteful, somewhat-envious attitudes that suppress efforts to advocate for gifted children who really, truly need educational accommodations specific to the way they learn:
I gotta tell you, this is the way you come across.

"My child is gifted and deserves all sorts of extras. Not because he has achieved anything, but because I have given him superior genes.

"Meanwhile your child, although bright, is not 'truly' gifted like my special snowflake. Your child could not POSSIBLY understand things the way my child does, and your child has absolutely no business learning any advanced anything.

"Your child should be grateful to sit in a regular classroom and read from the basal reader every day. Because, you know, she isn't 'truly' gifted."
Gifted individuals are born with unique brain functioning – a true cognitive difference – which must be addressed in school.  They are simply not smarter – they think differently, they learn differently, they perceive differently, and they sense differently.  Their learning needs, much like students with learning disabilities, ADHD, dyslexia and others, are outside the norm and must be addressed in order for them to receive a proper education.  This is why specific educational modifications and accommodations are needed for gifted learners.
In spite of the overwhelming amount of definitive professional and educational research studies and statistics which have proven, over and over, that gifted students have unique learning needs that must be met utilizing specific educational accommodations, we have seen the widespread decline of gifted programs.  This leaves our gifted children trying to learn in regular classrooms while becoming more and more frustrated and disillusioned with education.  Thus, not meeting the educational needs of our gifted children has resulted in many of our gifted students continually disengaging from school for the past decade or so.  They are like fish out of water.
Although I am generalizing the decline in gifted programs and gifted educational accommodations across the board, some countries, states and school systems do provide widely-varying degrees of enrichment, gifted programs, and educational accommodations taught by trained and knowledgeable gifted specialists.  I've lived in different states that vary greatly in what they offer; our previous school district had a 2-hour-a-week gifted pull-out in grades 3rd through 5th ONLY.  We now live in a school district where gifted identification and programs begin in Kindergarten and are provided through 12th grade.
Some gifted students can and will adapt to a less-than-optimal learning environment although it does not meet their needs or provide enough opportunities to be successful in school.  Many can't and won't adapt to an inappropriate learning environment, and their lack of school achievement is a direct reflection of their inability to learn in a regular classroom setting without the needed accommodations.  Their grades suffer which then pushes them further away from fulfilling their potential.  Poor grades and scores also have an added negative effect on gifted students' acceptance into gifted programs, gifted summer enrichment programs, and acceptance into colleges and universities of their choice.
The main reason we have so many gifted students not excelling in school can be directly related to the degree to which a particular school district commits to providing the needed and appropriate education gifted children require.  The true belief in and commitment to the real, unique learning needs of gifted children within a school system is reflected in the achievement of its gifted students.
Without a universal commitment to educate our gifted children as they need to be, our gifted children will not always excel in school.  Worse yet, we all lose out on their potential contributions to better our world.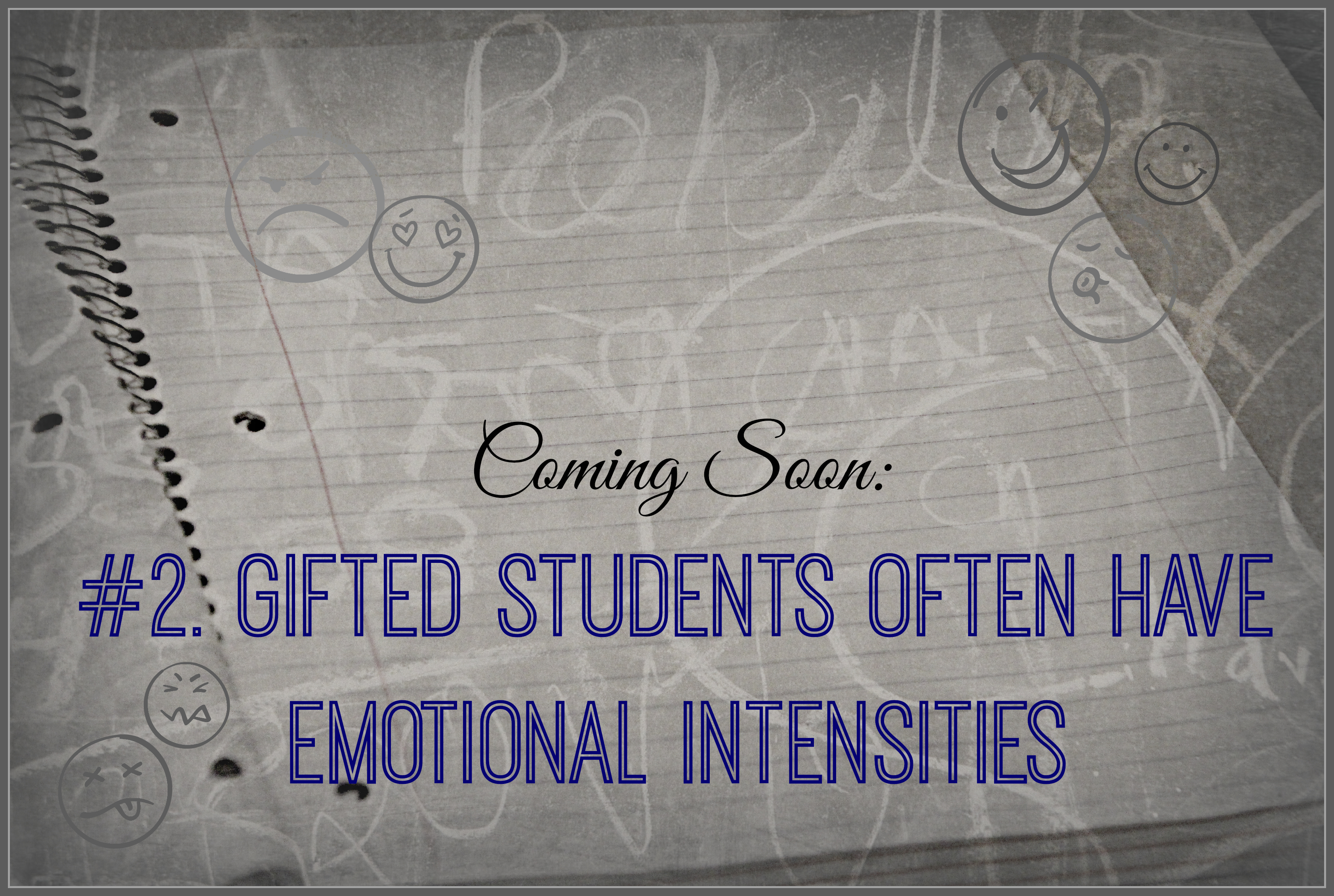 RELATED ARTICLES:
The Miseducation of our Gifted Children
Public Schools are Failing the Most Gifted