Giftedness is More Than a Function of Education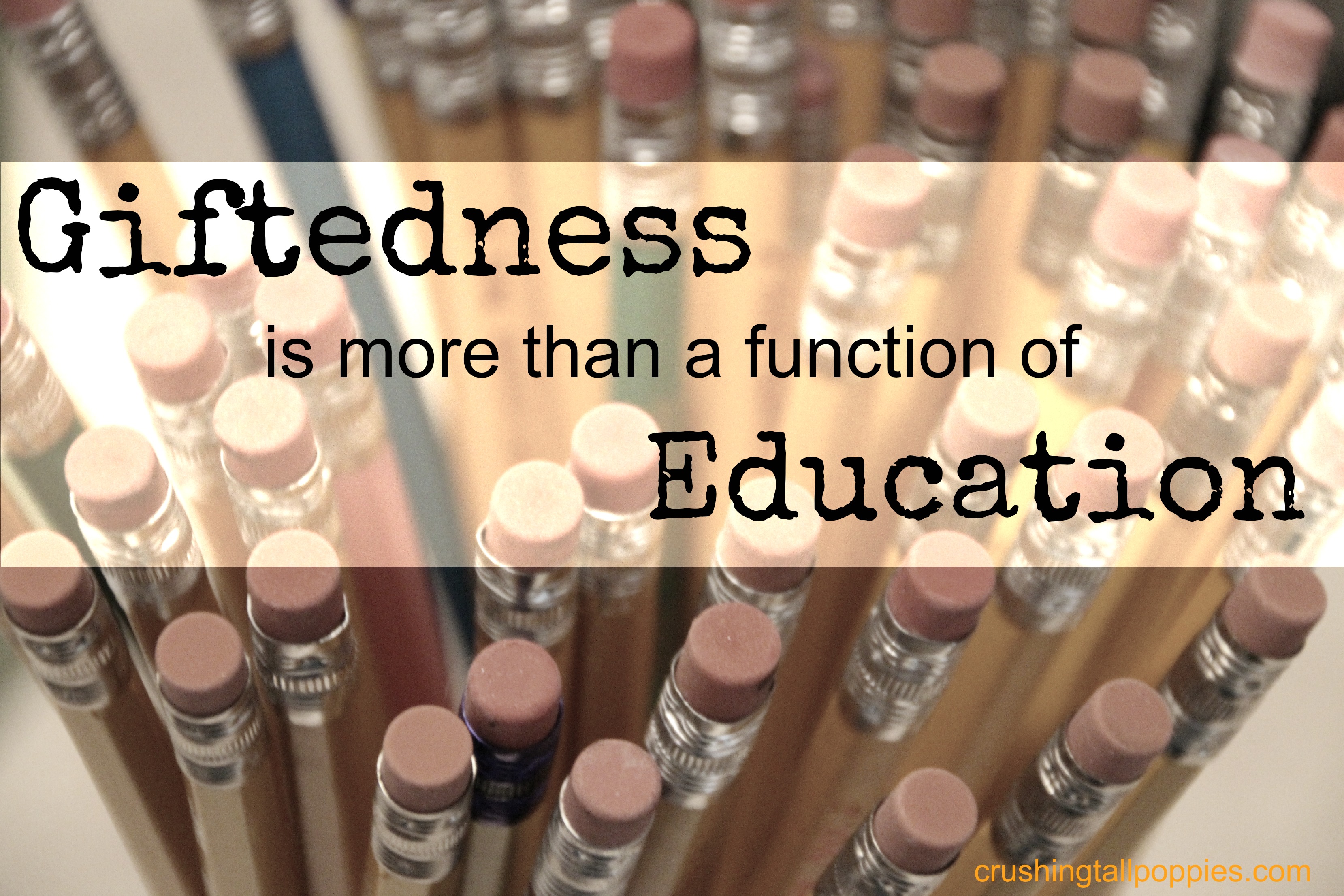 I get it.
The vast majority of people think that gifted children are the smart, advantaged students in an esteemed, sometimes seemingly elitist, special program at school—it's a universal misperception.
Understanding that misperception is pretty straightforward.
When I was a student teacher in college, the elementary school where I was student teaching had a full-time gifted program.  And it was special.  The classroom had no desks—the gifted students got to all sit in bean bag chairs for their instructional time instead of in desks.  In the regular classrooms, where students sat in desks, the field trips were day trips to local museums and events.  In comparison, the gifted students got to go on overnight field trips. Like many, I also used to wonder why gifted students got so much more than the regular students, simply because they were smarter .  My opinion back then as a student teacher was that any student, gifted or regular, could benefit from learning in a bean bag chair, and could gain educationally from overnight field trips, too.  What made gifted kids so special?
Back then, as a student teacher, it was understood that the identification of a child as being gifted, and her subsequent placement into the gifted program at her school was exclusively a function of the school system—its teachers and its schools. The gifted were the smarter students, and smarter was determined by school performance.   And the smarter, high-achieving kids got to sit in the bean bag chairs.  Giftedness was solely an educational label designated by the school.
Educational giftedness, school-smart: a universal misperception.
Flash forward to today. I have three gifted sons and varied experience teaching and raising gifted children, and I now know that many gifted children are not like the stereotypical, G/T student sitting in those bean bag chairs and going on exciting, overnight field trips.
How is that?
The short answer is that giftedness is so much more than an educational designation administered only by the school system.  Giftedness is brain-wiring from birth.  It has been medically and psychologically shown to be an inborn trait which has strong emotional and social facets, not just educational behaviors. Giftedness is a degree of brain functioning one is born with, and a gifted person's above-average intellectual ability is only a part of the life of a gifted person.
A gifted person may not only be born with strong reasoning, creative and analytical skills—the brain is not only used for learning and academic endeavors. Our brains are also where our emotional and social abilities, traits and responses emerge, and gifted individuals have more intense emotional and social needs and issues than others.  Physical and sensory traits such as extreme sensitivity to lighting, smells, skin irritants and sounds are also part of a gifted person's challenges in life.
Simply put, although gifted children are generally recognized as being smarter (the educational side), the intense emotional, social and sensory traits usually go unrecognized and disregarded in schools (the emotional, social and sensory sides).
Historically, schools have done a largely inadequate job of identifying and serving gifted students, and this has fed and perpetuated the damaging universal misperception about gifted children.  In defense of schools and teachers however, the inadequacies in gifted education most often originate from those who hold the educational purse strings and who are far removed from the classroom.  Teachers and schools are left to educate gifted students with the means they are given.
And inevitably, this is what happens in our schools: The educational facet of giftedness is addressed, although insufficiently much of the time, while the emotional, social and sensory traits of giftedness are unknown by most educators unfamiliar with gifted children.  When a gifted child begins to have educational issues at school which can arise from any number of her emotional, social and sensory issues of giftedness, the problems are RARELY attributed to the child's giftedness.  To the contrary, it is all too common for the gifted child to be labeled as arrogant, lazy, unmotivated or uncaring, and the solution is that she just needs to work harder.  Then too often, the child's giftedness comes into question.
"Maybe your child isn't gifted."
Our schools are miseducating and neglecting our gifted children because they only address the educational side of giftedness, and only as long as the gifted student excels in school. The disregard for and the ignorance of the emotional, social and sensory traits of giftedness by our schools has caused devastating and life-long psychological scars for so many gifted children and their families.
It happens over and over and over.
Read through the hundreds of comments I have received on other posts here on my website—so many are from parents crying out for help and relaying the damage schools have caused their gifted child.
This needs to change.
Somewhere down the line, the identification of giftedness in a child came to be associated exclusively as a function of the school. A school's purpose is to educate its students so it may be fair to say that the educational needs of gifted children became the only facet of a gifted child that was given any attention in our educational system.  That is really the only side of giftedness many have knowledge of or experience with.  But, giftedness is so much more than a function of education.  There is so much more to a gifted child than her academic performance.
I get it now and I'm trying to be a part of the change that is so desperately needed.
This is something else I didn't get back then when I was a student teacher.  In that elementary school of approximately 600 students in grades Kindergarten through fourth grade, there would statistically be only about eighteen gifted students (research estimates 2-3% of the population is gifted).  Yet, each grade level had about ten to fifteen gifted students sitting in those bean bag chairs.  That makes at least fifty students in the school who were identified as gifted.  Who are those extra students?
Again, schools have done an inadequate job of administering gifted programs and serving gifted students.
Many in the field of education as well as parents of gifted children know that many gifted programs have set capacities due to funding and support—children who are gifted sometimes don't get into gifted programs when space is limited, and children who are not gifted also may be accepted into gifted programs when there is extra room.
Even more confusing is the fact that a student can be identified as gifted and placed into the gifted program one year, and then the next year, be tested and taken out of the program.  This would make it seem that giftedness is a transient human state which is quite a ridiculous assumption.  The administration of gifted identification and gifted programming is confusing for parents and hurtful to gifted students.  Can you even imagine your own child being acknowledged as being gifted one school year only to be tested and told the next year that they are not gifted?
And let's throw one other area of giftedness into this big bowl of educational mismanagement of gifted identification and gifted programs: twice-exceptional or 2E gifted students.  These are the children who are gifted, many with IQ's above 150, but who also have a learning difference or disability that masks their giftedness.  These gifted students are often overlooked, generally misunderstood and majorly miseducated.
I have had experience with a public school gifted program that serves up a full schedule of honors, AP and accelerated classes for high-achieving students, and the inflexible expectation to be met for all their students is maintaining a high GPA.  The director explained, "we offer traditional academic courses for students who are high achieving and/or students who are identified as gifted and talented in academic areas.  We are not a gifted & talented school."  To me, this means, like in many schools, gifted students are served as long as they excel, and when they don't excel, well, they are just out of luck.
When schools focus on just the educational aspect of giftedness and the general expectation for the gifted student is to be high-achieving and receive high scores, then gifted children are seen only in light of what they can achieve academically and not who they truly are.  The high-achievement focus of schools contributes strongly to the perpetuation of the stereotypical gifted child—the mythological straight-A student.
If I were the parent of a regular, non-gifted student, I too would wonder why schools need money to supply the straight-A students with more and better educational opportunities just so they can excel more and achieve more and be rewarded with more.  I get that.
Are schools and the way they administer gifted education contributing to the hurtful myths that plague giftedness?
Maybe if our schools would focus on the whole gifted child—educationally, socially and emotionally—there would not be the animosity that exists towards gifted children and the seemingly elitist programs created just for them.  If gifted programs would focus less on academic achievement and more on educating the whole gifted child, attending to their individual strengths and weaknesses, we could possibly attain a more balanced approach to gifted children and gifted programs.  And maybe we would achieve a more balanced and accurate view of our gifted children, and gifted programs would maybe not seem so elitist.
As long as we feed the association of giftedness with being smarter, we perpetuate the myths. As long as we put high-achievement above giftedness, we are seriously miseducating our gifted students.  As long as we only look for children who excel in school as a criteria for gifted identification, then the better-than reputation will endure, and continue to hurt many of our gifted children who may not or can not excel in school. As long as we skim the cream off the top for placement into our gifted programs, we are tragically overlooking our gifted children who are twice-exceptional, who may be underachievers or those who care more about learning than educational achievement and output.
Giftedness is so much more than an educational function.
This post was published in a shorter, edited version in Education Week. Click here to see "Gifted Education is About the Whole Child.