What About the Gifted Children Who Got Left Behind?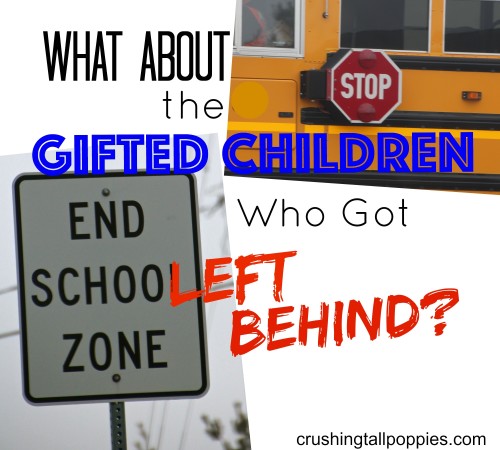 Yes, by now we've seen the recent articles (see below) and studies reminding us yet again that gifted children have been getting the short end of the educational stick in the classroom for too many years. Underachievement, depression, dropping out, drug abuse, incarceration and even suicide are all resulting consequences of neglecting our gifted children's educational needs. Some say that society is also losing out on what these highly intelligent and creative people could have offered—inventions, innovations, creative solutions, service to communities and the abilities these intelligent people have which could advance our world. But these gifted children have been prevented from reaching their full potential because they were being held back in school, wasting away in classrooms where they were taught what they already knew and tested on what they had long mastered.
So.  It sure seems as though America didn't, and still doesn't, want to provide the education its gifted children need to thrive in school and reach their potential.
This neglect of our gifted children by our schools has lead to some devastating consequences for these gifted children and their families.
Are we going to do something about that?
How can we make it up to the parents of a highly gifted 12 year old whose math teacher ridiculed him in class for asking her questions she could not answer, seemingly meant to put her on the spot and humiliate her in front of the class? That teacher did not know asking innumerable questions and challenging information she presented in class were common traits of highly gifted students. She was never trained on recognizing and understanding gifted students because gifted education was never a focus in her school system. Now, this highly gifted child hates math, has shut down in class and no longer understands math like he once did. His parents are struggling to budget for the $300 a month they are having to pay for a math tutor so he doesn't fail math. And it has been an emotional burden on the family as they try to help their gifted son overcome his resulting math anxiety.
What can we do for the 22 year old exceptionally gifted woman whose at-risk, inner-city middle school could only afford to focus on the children who weren't performing at grade level? Her school didn't have the time, the manpower or the money to address her needs as a gifted student because improving the school's failing status was the priority. Gifted students were no concern at all—they weren't failing. So this bright and intelligent girl learned to relieve her boredom by simply staring out the window, day after day, watching drug deals being carried out on the sidewalk across the street from the school. From her years in school, she learned to dumb herself down because being smart became a disadvantage in school—nobody cared or had time for a student who had long mastered grade-level standards. She was bored, ignored and she was routinely used as a tutor for her struggling classmates. She dropped out of school as soon as she could and became a drug dealer until she was arrested and sent to prison.
What do we say to the heartbroken mom of a profoundly gifted teen who committed suicide because her child felt that she did not fit in at school? Given this gifted teen's high IQ, she was most likely the only such gifted student at her high school. She seemed eccentric to her peers and even to her teachers, and they all treated her as some sort of anomaly. Her school did not have any gifted programming, much less enough honors or AP classes that might have challenged her profound intelligence a bit more than the regular classroom. There were no teachers who had any knowledge or experience with a profoundly gifted student—no gifted specialist was assigned to the school. Her teachers looked to finding answers for her unusual behavior. The mother of this profoundly gifted girl was told by her daughter's teachers that she needed to have a complete psychological evaluation because they suspected she had a behavioral or emotional disorder. Being educated in an appropriate environment, provided a challenging gifted education by a gifted specialist, and being able to learn along with other like-minded gifted teens was critical for this promising profoundly gifted teen. She desperately needed the ability to move through her coursework at her own pace which could have given this profoundly gifted girl the educational environment she so critically needed. A gifted specialist would have understood her behavior was that of a profoundly gifted student, not a mental disorder. But she was misunderstood, left behind, totally left out, and she hated feeling so far removed from her classmates. Suicide put an end to her suffering.
What are we going to do to help the mom who had to quit her much-needed job so she could homeschool her gifted 3rd grader who tested on a 6th grade level in math and 7th grade in reading? His school did not have a gifted program and they didn't have the resources to accelerate him, so he became increasingly frustrated sitting in class and not learning anything new.
How can we compensate the family of a gifted middle schooler who took a huge financial hit having to sell their home in order to move their family twenty miles away to a better school district that offers gifted education in all grade levels?
Can we empathize with the gifted 2nd grader we used to envy—the one who once made all A's but now has stopped trying in school out of boredom? In class, he's heard one too many times, "You are so smart, you should be able to easily make good grades!"
How does a family bounce back after they find themselves shelling out thousands of dollars for therapy for their gifted 8th grader who has been diagnosed with depression and underachievement due to a mind-numbing banal education?
Can we support the mother who lost her part-time job because she took off too much time from work trying to advocate for an appropriate education for her gifted 9 year old at his school?
What words would we have for the gifted 8 year old whose severe dyslexia placed him in special ed. classes for years, but his IQ of 150 was never identified or addressed?
What about the exhausted, impoverished single mom of three unidentified gifted children who were all misdiagnosed with ADHD instead?
How can we make it up to the exceptionally gifted young adult whose gifted traits were misunderstood by teachers and mistaken for mental illness?
What about the gifted teen who now hates school and is certain he can't learn?
And the gifted 1st grader who says he is going to kill himself because he doesn't fit in?
The gifted high schooler so bored in class he decided not to pursue his dream of being a medical researcher?
Yes, they were all left behind—forgotten, neglected, misunderstood, misdiagnosed and miseducated.
We need to stop our schools' failure to educate our gifted children appropriately. We need more funding, more teacher training and more gifted specialists. We can't continue to leave our gifted children behind.
But what about the casualties of a school system that has left the gifted behind? Miseducated, misdiagnosed and mistreated.
What do we do about them?
HERE ARE SOME OF THOSE ARTICLES:
"Ending Our Neglect of Gifted Students", Chester E. Finn, Jr., Education Next, July 3, 2014
"Gifted Children in Public Schools", Grace Chen, Public School Review
"For gifted children, being intelligent can have dark implications", Marcello di Centio, Calgary Herald, January 30, 2015
"Study: Gifted Students Still at Risk of Being Left Behind", Jeff Charis-Carlson, Iowa City Press-Citizen, March 7, 2015,
"How some of America's most gifted kids wind up in prison", Florina Rodov, December 24, 2014
"The Gifted Children Left Behind", Susan Goodkin and David G. Gold, The Washington Post, August 27, 2007
"America Hates Its Gifted Kids", Chris Weller, Newsweek, January 16, 2014
RELATED ARTICLES:
"Suffering in Silence: Who's Really Paying the Price for the Neglect of Our Gifted Children?"
"Underachievement in Gifted Children—a Tragic Irony"
RECENT RELATED ARTICLES:
"Education on the Trail" by  Robert Pondiscio, U. S. News and World Report, August 21, 2015
"The Bright Students Left Behind", By Chester E. Finn Jr. and Brandon L. Wright, The Wall Street Journal, August 19, 2015