I Have a Gifted Kid and I Will No Longer Be Ashamed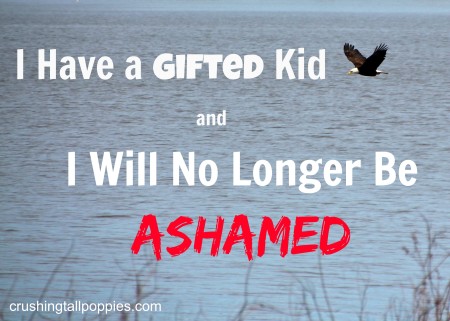 Yes, I have gifted children—born, not made. And I will no longer be ashamed to say my kids are gifted.
I'm a former public school teacher turned homeschooling mom and I've lived a double-life as a regular mom and as a fierce advocate for our neglected gifted children, but I don't often say this out loud. I've maintained this double-life because I know most of you don't want to hear about gifted children because it sounds like bragging.  I decided to step forward after I accidentally posted a gifted article on my personal Facebook page recently instead of on my professional Facebook page — I was ashamed of my reaction to my mistake—my embarrassment and my fear of what others would think; thoughts like, "Ugh, I hate hearing about your gifted kids!"
Right about now, you may be thinking you just need to roll and scroll (roll your eyes then keep scrolling) because you don't want to read about someone bragging about their gifted kid, right? Hey, I get it. We—all of us parents of gifted kids—experience this all the time when we mention the word gifted and then cringe as though we just said a dirty word.  I realize that society regards parents who speak out about their gifted child as something similar to Miss America's mom setting up a Go Fund Me page for her daughter to pay for liposuction to remove that one dot of cellulite on her thigh. Miss America's mom really didn't do that, but the resentment thrown our way as parents of gifted children can feel like that.
Here's the deal. The word gifted does trigger thoughts of privilege and advantage, but it is the clinical term psychologists, doctors, and education professionals have used for years to identify and label children who were born with distinct cognitive differences—these differences can be good AND bad. It's the way their brain was wired.
How can being gifted be a bad thing?
It can be a burden because too many in our society think gifted kids are the stereotypical straight-A, well-behaved students who get chosen to participate in those special, elite gifted programs at school and then graduate as valedictorians.
But, nope, not always.
Many times, those smart students parents are secretly envious of are not gifted, just smart, high-achieving students.  "Being gifted is a huge hypocrisy of facts and myths–ahead but behind, advantaged but disadvantaged, smart but failing, envied but crushed."
What you may not know about gifted children is that along with their higher intelligence, they most often have amplified emotions and sensitivities to go with it. Did you know that gifted people—I say people because it is a lifelong affliction—are believed to be more prone to depression and anxiety? That's why many suicide victims are gifted.
You know what else hurts when one is gifted? When most everyone around you does not understand you.  When most everyone around you thinks your parents hot-housed you and that is why you are so smart. When most people around you think you are arrogant when you talk smart—and you are really just talking normal, your own normal. When most people around you resent you, shun you, bully you and envy you because they don't understand you. When most people around you, including some of your teachers, think you should be making straight-A's all the time, those mistaken perceptions and expectations cause lifelong emotional damage.
Being gifted can hurt.
Okay, so hopefully you may be thinking being born gifted is not all it is cracked up to be, but you may still have lingering, possibly indignant thoughts that it can't be as bad as other illnesses or disabilities. How can being smarter be as bad as cancer? It probably isn't as bad as many other tragic and debilitating life situations many of us have in our lives, but should we make it a competition? Who is going to make that value judgement deciding which situation is worse? Who should make the decision, "you don't get help because you don't have it so bad"? Who gets help and who gets left behind?
Yet, that is exactly what many parents of gifted children hear, resentful comments blasting them for their sense of entitlement for asking for help for kids who already seem to have more than most.
What help could these gifted kids need? They are already smarter, right?
Gifted children need help and support by providing an appropriate education, they need support for their unique social needs, and an understanding and nurturing of their emotional intensities. Also, gifted children can have co-existing learning disabilities which they need educational support for.  Without support and understanding, our gifted children sit in a regular classroom day after day, week after week learning information they already know, become bored, anxious or depressed, and then they disengage, give up and drop out.
But, being gifted isn't only about school; it is not just a function of education. When you are born gifted, you are gifted 24/7 and it is not easy parenting a child who is intensely emotional, extremely sensitive and devours knowledge faster than you can dish it out. Ironically, it is a really tough parenting gig—intelligent, but envied, advantaged, but resented.
Talk to any parent who has a gifted child who is struggling in and out of school and they will tell you it is one hell of a roller coaster ride. My own personal journey with my gifted kids has been so crazy and painful that I was asked by a publisher to write a book to tell my story so that it may help others who are on the same roller coaster ride I rode. My book, "Educating Your Gifted Child: How One Public School Teacher Embraced Homeschooling", tells the story how our traditional schools neglect and underserve our gifted children.
And if I consider myself a passionate gifted advocate, an education professional, and an author and writer for gifted children, then I must set an example.
I have a gifted kid and I will no longer be ashamed!