Gifted Children: What Parents Want Teachers to Know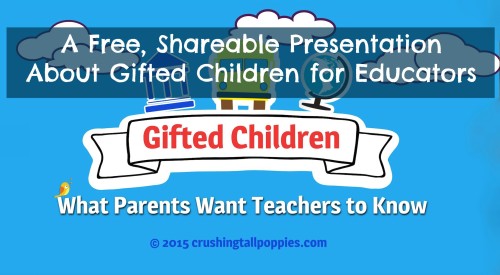 Gifted children are misunderstood and so very often miseducated, and they may even be bullied, envied and shunned. Being gifted is not at all what many people believe it to be. There are myths and unfounded stereotypes which portray gifted individuals as having an easy, successful life because they were blessed with being smart–nothing is further from the truth than this fallacy.
Many in education–teachers, principals, school board members and superintendents–buy into these myths and stereotypes believing that gifted children will be just fine in school without the educational accommodations they are being asked to provide and fund. This has led to some devastating consequences for our gifted children such as acting out in class, daydreaming, boredom, refusing to do homework, giving up and dropping out. And that is just in school. At home, the consequences of an inappropriate, unchallenging education can turn into severe emotional and social issues.
As a gifted advocate, I have seen first-hand these painful consequences of miseducating our gifted children. I have also watched as teachers and schools looked beyond a child's giftedness in search of the root of these problems in school, believing that there must be a learning disability or some other psychological or medical reason for a gifted child to not be excelling in school.
Many in education and in our society as a whole do not believe that gifted children can struggle in school and that is because there is a lack of understanding of the facts about giftedness and the traits and needs of our gifted children. In our schools, one solution often proposed by many gifted advocates, professionals and specialists to help dispel the myths and misunderstanding is teacher training–for teachers already in the classroom and for college students studying to become a teacher. If more educators understood what giftedness truly is and means, maybe we could curtail some of the negative consequences gifted children experience in school. Maybe then we would see more gifted children reach their potential instead of dropping out of school.
This presentation is for all educators and was compiled using quotes from parents who have experienced the many struggles of helping their gifted children try to navigate a world where they are often misunderstood, feel like they don't fit in, and where they are even bullied, envied and shunned. Without the appropriate education they need to progress and be successful in school, gifted children can fail to achieve, give up, act out and drop out of school. Gifted children are often not the stereotypical academic high-achiever we may believe they are.
The original quotes used in this presentation were gathered from parents of gifted children who answered the question, "If you could tell someone–a teacher, neighbor or friend–just one sentence, one idea about gifted children and that one idea was going to stick with them, what would you tell them?" on my Crushing Tall Poppies Facebook page here. These are heartfelt and knowledgeable quotes from parents who know that raising a gifted child is not easy and can often be heartbreaking.
Please share this presentation with those you feel can benefit from knowing and understanding more about our gifted children. This presentation is shareable, printable and can be downloaded. Click the image below to see this presentation.