Your Gifted Child's Education–When to Get Off the Bus and Leave Traditional School Behind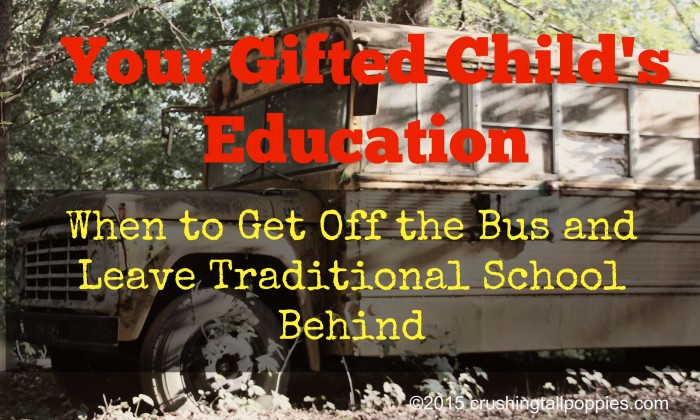 Your child is gifted. What happens now? What will his school do now that he has been identified? How will his education change? What do I do if the school does not challenge him?
These are all common questions and ones even I as a former public school teacher had when my own children were identified as being gifted. It has been a long, eye-opening journey with all three of my gifted sons—their experiences as gifted learners in public schools and our embracing of homeschooling to better meet their educational needs.
Here in the U. S. and elsewhere in the world, gifted students have most often been misunderstood, underserved and miseducated within traditional schools. As a parent of a gifted child, you may be lucky enough to live in a school district who understands the educational needs of gifted students and supports gifted learners with an exceptional gifted program. Or you may be unlucky enough to live in a school district that keeps watering down the gifted program to the point where every student is gifted and enrolled in the program for high flyers.
But, how do you know when to stop putting your child on the school bus and take your gifted child's education into your own hands?  Should you go talk to the school first and try to work something out? Is it your child's fault or is it the school's fault? Does your child's teacher understand the needs of your gifted child? How will you know when it is time to get off the bus, throw in the towel and leave traditional schools behind?
I think I can help, but first, let's look at some signs your gifted child may exhibit resulting from her traditional school not meeting her needs as a gifted learner.
Some Signs to Look For in Your Gifted Child:
1. Your child is unhappy with school. He no longer shows enthusiasm for learning and he may lack motivation for attending to his school work.
2. She resists going to school. She may complain of a stomachache for seemingly no reason. She cries or acts fearful when she is getting ready for school.
3. Unexplained physical ailments crop up. Stomachaches, headaches, and lack of energy could all be physical signs that school is adversely affecting your child.
4. Your child is more anxious and his anxiety affects him more often.
5. She's lost her love for learning. She may even state that she can no longer learn or she is not good at learning anymore.
There may be other signs you notice in your child, but all should be red flags you may want to discuss with your child's teacher. Set up a conference with your child's teacher, but go prepared.
"A parent-teacher conference can be unnerving and emotional. Do your homework and be ready for some pushback when it comes to finding solutions to meet the needs of your gifted child. While not every school will push back or refuse to provide accommodations for your gifted child, it helps to go to the meeting prepared for compromises or unexpected and unwanted responses." 1
The Institute for Educational Advancement reminds us that, "When meeting with the child's school to discuss needs and challenges, we advise parents to bring in literature on gifted students as well as their child's work samples (often done at home). If a school doesn't listen to them then, it is a sure sign that something needs to change." 2
Four Tips for Advocating for Your Gifted Child at School
Tip 1: "It is your child's fault. He brought all of this on himself." 
Teachers and administrators may get defensive when a parent comes in with concerns or problems which appear to suggest they are not doing their job as educators. When my husband and I went for a meeting with our gifted son's principal at his last-attended traditional school, we were concerned that nearly all of his teachers seemed to be uncaring, almost resentful, towards our son. The principal explained that she had talked to all of his teachers, who pointed out that our son would correct their mistakes in front of the class, embarrassing them. Teachers understandably expect students to behave in specific ways and when they don't, the student often receives the blame. 
Tip 2: "Gifted" and "bored" may evoke negative responses. 
My own experience with trying to judiciously use the word gifted to clarify the issues my son was having in school was met with a swift response: "Thirty percent of our student body is gifted," snapped one of my son's teachers before I could finish my sentence containing the forbidden g-word. The message was very clear: we have many gifted students and your child is no different than any of them, so giftedness is therefore not an excuse for your child's issues. Many educators believe the myth that gifted students are polite, well-behaved, and excel in school, therefore giftedness is never a reason for misbehavior, boredom, or underachievement. In the numerous comments I've received on articles, many parents have attested to the negative reactions they receive when they use the words gifted and bored, and this seems to be the rule rather than the exception in traditional schools. 
Tip 3: Request the presence of the school's gifted specialist.
I wish I had known this beforehand. After all, the gifted specialist is the educator at any school with the most knowledge of the needs of gifted students, so her presence could be very helpful. Do not assume the gifted specialist has been consulted. 
If your school does not have a gifted specialist on staff, and not all do, if you can find and afford one, you can bring your own. 
Tip 4: Use a psychologist, counselor, or professional as an advocacy ally. 
Not every parent feels knowledgeable enough to advocate for their gifted child at their school. Using a psychologist, therapist, or a trained gifted advocate or consultant to support you in your efforts to obtain the appropriate education for your child is an excellent option. During the five months my husband and I spent advocating for one of our sons at his school, we enlisted the help of a highly-recommended and well-known counselor who specialized in gifted children. She instantly knew what was going on with our son and his school and quickly determined that some of the issues at school were due to our son being a visual-spatial learner, common among gifted students. She also understood well the lip-service our son's school was giving us; she had seen it many times before, even with her own gifted children. Without the help of a counselor as a gifted advocate who had a personal and experiential understanding of gifted children, knew the adverse ways traditional schools deal with gifted children, and was experienced in advocating for gifted children, our son's situation at school and his emotional reactions to it all could have been so much worse. It is not always easy to find a counselor, consultant, or psychologist who truly understands the needs of gifted children and you may not find one close to you, but their care and expertise are well worth the drive and extra effort. 3
Because I had been a public school teacher myself, I trusted my children's teachers and their schools for longer than I should have simply because I wanted to work towards solutions to help my gifted child and keep him in school.
"If you are like me, you don't want to throw in the towel without a fight. Being the parents of gifted children, most of us have had to fight someone, somewhere to make sure our gifted child was receiving the education and attention he needed and deserved." 4
But there is a danger to holding on too long in a situation where your gifted child is unhappy, misunderstood, bored, anxious, fearful or losing his love of learning. Depression, underachievement, acting out in class, and other unwanted and serious repercussions can result from a gifted child being underserved and miseducated in school.
"When my own family threw in the towel after it was clear our efforts to advocate for our youngest gifted son were useless, we sadly and quietly withdrew our son with just two months to go in his eighth grade year—two months before his eighth grade graduation, two months before the yearbook signing parties, two months before the end-of-school celebrations. With incredibly heavy hearts and battered emotions, we took our son away from the traditional school system which ignored his educational needs and we brought him home to heal and engage in an enriched educational environment which was perfectly attuned to his learning needs—homeschooling." 5
Since then, we truly have not looked back. Homeschooling has afforded my gifted children an education tailored to meet their individual needs, it has strengthened our relationships within our family, and it has provided all of us with unparalleled experiences for learning, family and fun.
This post contains several excerpts from my book, Educating Your Gifted Child: How One Public School Teacher Embraced Homeschooling by GHF Press. For more information on your gifted child's education, advocating for your gifted child within traditional school, transitioning to homeschooling, and tips on homeschooling from a former public school teacher, check out my book.
1.Educating Your Gifted Child: How One Public School Teacher Embraced Homeschooling, Chapter 2, page 16
2.Institute for Educational Advancement (in a comment on this post)
3.Educating Your Gifted Child: How One Public School Teacher Embraced Homeschooling, Chapter 2, page 17
4. Educating Your Gifted Child: How One Public School Teacher Embraced Homeschooling, Chapter 6, page 47
5. Educating Your Gifted Child: How One Public School Teacher Embraced Homeschooling, Chapter 6, page 48
This post is part of Hoagies' Gifted Education Page Blog Hop, Gifted 101. Please check out all of the other posts for everything you need to know about your gifted child.