Your Gifted Child and the Gift of Gab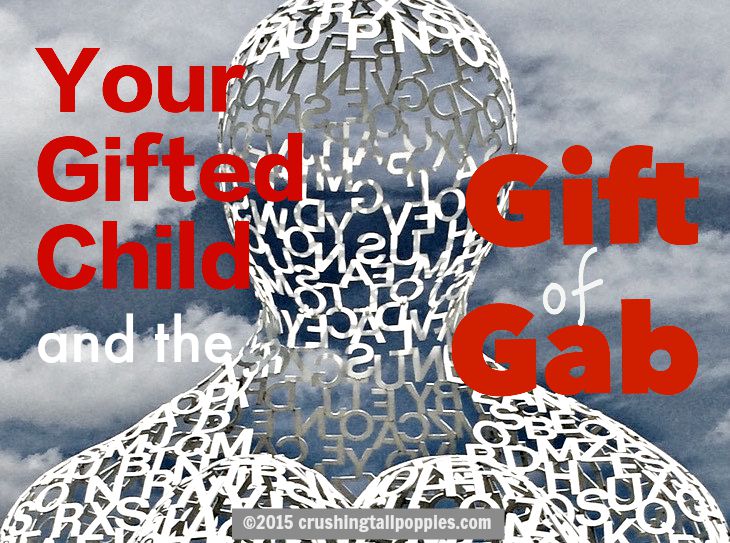 Loquacious   Storyteller   Chatty   Talkative   Garrulous   Motormouthed
Could a high-verbal output (a.k.a., talking a lot) be a sign of giftedness? Many professionals who study gifted children use the term verbally talented which also includes other advanced language skills such as above-average reading and writing abilities.1  The article, "Is Your Child Gifted? What to Look for and Why You Should Know…", by David Palmer, PhD in Psychology Today, lists above-average language skills to be aware of when trying to determine if your child is gifted.2  A few of these skills, which are quoted from the article, refer specifically to the hyper-articulateness of a gifted child:
The ability to understand and participate in adult conversations. Gifted children often pick up nuances or double meanings early on—so watch what you say!
Continually asking questions about what they see and hear, and wanting to receive thorough responses and explanations.
The tendency to speak quickly.
This propensity to be uncommonly verbally fluent is one of quite a few gifted characteristics which demonstrate the dichotomy of giftedness. (see more about this in my book, Educating Your Gifted Child: How One Public School Teacher Embraced Homeschooling). The dichotomy of giftedness—those gifted traits and attributes which can be a good thing and a bad thing, at the same time. While it is enjoyable and admired that your 5 year old loves to actively engage in deep conversations with adults at every chance, being hyper-articulate is not so entertaining to his or her first grade teacher as proven by my experience in, "It's a Funny Thing: A Gifted Child's Sense of Humor".
THE GOOD:  Advanced verbal communication skills are advantageous in interpersonal relationships and in the business world. Nurturing your child's verbal talent can help him develop strong communication skills which will benefit him throughout his life. To be able to quickly recall and use clear, concise language to effectively communicate is invaluable. It seems that strong verbal communication skills are more often valued before a child enters traditional school, and then after he leaves school.
THE NOT SO GOOD: No matter how valued good communication skills such as verbal acuity and the ability to easily engage in lively conversations are, talking at inappropriate times is unacceptable no matter one's age. We all know talking in class at inappropriate times is a huge no-no in traditional schools, and those inappropriate times seem to be nearly the entire school day. Easily, talking in class is probably the number one classroom management and discipline issue for teachers. When a gifted child who is verbally gifted and just loves to tell the world or anyone else who will listen, all about her many passionate topics, and you then place her into the traditional learning environment—the classroom—she is going to chatter. As a parent of a verbally gifted child, you don't want your gifted child's enthusiasm for learning and knowledge to be dampened when you need to reign in her enthusiastic verbal overflow on her current, most favorite topic. It becomes a tedious balancing act for a parent to manage this behavior.
Personally, in our family of relatively less-verbose individuals, having a talkative child was such an auditory treat—that is, at first. Being verbally gifted—talking a lot— was also a constant, flashing beacon of my youngest son's giftedness, and it was his trademark trait throughout his childhood, for good and for not so good.
I guess by the time my youngest conversationalist was 4 years old, I had already grown acclimatized to his continuous chattering, so when his new swim teacher made her half-joking—more like one-quarter-joking—comment at pick-up time after his first lesson, I was a bit startled. "He did great…when he wasn't talking, and the only time he wasn't talking was when he was underwater." Of course I completely understood the undeniable message in that one, brief, not-so-subtle comment—that I needed to help my son curb his poolside conversations so his swim instructor can teach. Very much flustered by the situation, I too quickly retorted to the swim teacher, half-joking, and three-quarters serious, "Do you have any duct tape?"
When I think back on my years of teaching, especially in the lower grades when proper school behavior had not yet been perfected by the younger students, the talkers I had in my class all seemed to have one behavior in common—their talking was mostly quelled when they were fully engaged in learning.
Being appropriately challenged and excited to learn usually averted the need for the talkers in my classroom to relieve their boredom by striking up ill-timed conversations. Has this been scientifically proven? Probably not, but most definitely one legendary classroom management strategy every teacher has been taught is to keep her students fully-engaged at all times in order to prevent any discipline problems from popping up. But, that is in the classroom. How can parents help verbally gifted children know when to converse and or not converse outside of the classroom—while on the soccer field during a game, during adult conversations which do not or should not include him, while you are in the bathroom trying to take a shower?
I have heard from many parents of gifted children that they have a gifted child who has a special way with words and can out-talk anyone else they know. I have one of those verbally talented talkers, too, and duct tape is not the answer. But, there seems to be little information about loquacious gifted children for parents to relate to and find wisdom in. If you have a verbally gifted child, you know how tricky this situation can be, right?
Do you have a verbally gifted child? What strategies have worked for you to help your child moderate his or her talking while not dampening their enthusiasm for social engagement and carrying on complex conversations? How do you teach them to respect those times talking is unacceptable, while encouraging their verbal giftedness and communication skills?
Please share what has worked for you!
"Nurturing Verbal Talent", Digest of Gifted Research, August 29,2006
"Is Your Child Gifted? What to Look for and Why You Should Know…" David Palmer, PhD., Psychology Today, May 1, 2011
This post is the second in "The Gifted Lagniappe Series." Be sure to read my first post in the series, "It's a Funny Thing: A Gifted Child's Sense of Humor."