Gifted Children: Too Smart for Their Own Good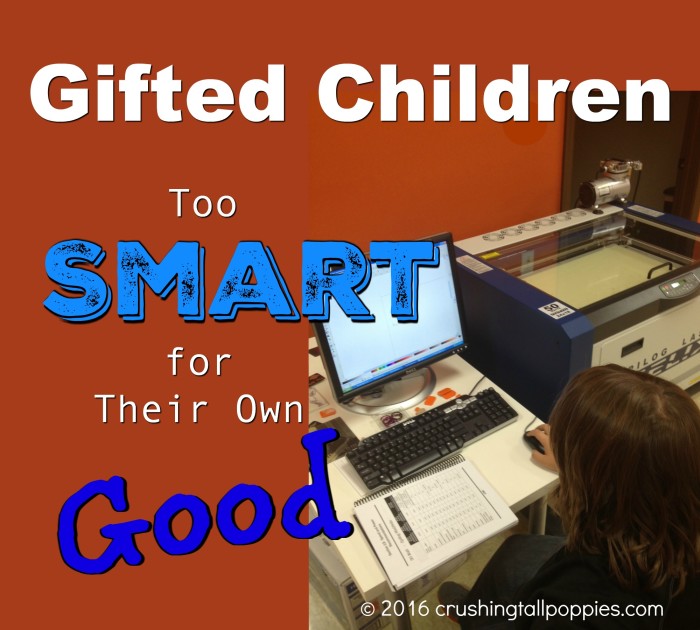 Too smart for your own good.
What does this familiar saying really mean? How can being smart undermine what should be good? And how does this relate to gifted children?
What does this familiar saying really mean?
A brief web search for the meaning of this saying turned up varying definitions, but the general consensus is that sometimes being highly intelligent can cause social repercussions which can lead to issues at work, at school, or with friends and family. Yet, the idea that superior intelligence can trump one's good is based on the belief that the intelligent person is somehow purposely using his above-average cognitive ability to show off or put others down. It seems when this happens, being highly intelligent can bring unwanted judgement—arrogant, pretentious and self-serving.
As an adult, common sense guides most of us to be considerate and respectful in our social interactions. Being overly proud, thoughtless or pompous is most always perceived negatively. An adult who understands that he is the most knowledgeable in a given social situation knows that using his intelligence in a way which offends others can result in negative repercussions—he may be seen as being too smart for his own good. As adults, we probably get this. But, what about children who may have less social experience or emotional maturity?
Are gifted children too smart for their own good?
Traditional schools divide students in grade levels based on age. This framework basically assumes every six year old can read on a first grade level and every child in eighth grade will be proficient in pre-algebra skills by the end of the school year. This age-based assumption is really just telling us that children of the same age will progress at the same pace and at the same level. Would you agree this is how children develop and learn, all at the same pace and level? Of course not. We know there will always be children who are below grade level; as well, there will be children who are above grade level.
Common sense and experience shows that some six year olds will be better at reading in first grade, and some eighth graders will not have sufficiently mastered pre-algebra skills by the end of the school year. Some students will be lagging behind their class in some areas and some students will be ahead of their class. There will be children who excel in school, are identified as being gifted, and are highly intelligent—they have exceptional cognitive abilities in varying degrees and in differing subject areas.
And many consider gifted children as the lucky ones.
So, back to two of the original questions above: How can being smart undermine what should be good? and How does this relate to gifted children?
I'll answer with a few examples:
Tyler, a gifted boy in sixth grade, was placed in the regular math class at his new school despite test scores provided by independent testing done by a child psychologist recommending he be placed in the advanced math class. Tyler easily and consistently made scores between 90% – 100% in math to the point where Tyler was certain he had been placed in remedial math, or that his new school had placed him in a lower grade level. He became frustrated and bored and was often scolded for not paying attention. Once Tyler told his mother that he was the only one in the class who understood what was being taught. During one lesson, Tyler well understood the concept the math teacher was teaching the class, and he also understood the various different strategies used to obtain the right answer. Seeing the confused looks on his classmates' faces, he raised his hand to offer his help to the teacher. Tyler sincerely thought that if the teacher would teach the other strategies, then maybe this could help his classmates understand. Offering to go to the chalkboard to help teach his classmates was not seen as a good thing. His teacher was offended. We can see how Tyler's advanced knowledge did him no favors. He  was too smart for his own good.
And another example:
Nate, a gifted teenager, is a member of a robotics team. His advanced understanding of the mechanical and technical skills needed on his team, as well as his ability to apply this knowledge caused Nate to disengage from his team. Nate knows that his exceptional intelligence needs to be reigned in so as not to offend his peers, but watching team members ignore his solutions and advice and proceed with a flawed design frustrates him. Unable to hide the fact that he has a workable solution, he sometimes unloads his thoughts and ideas in a less than respectful way. This alienated Nate from his team for two reasons: 1. Because of his advanced knowledge, Nate is held to a higher degree of work ethics. When he doesn't deliver on this exceptional behavior, he is shunned. 2. Because he is considered very intelligent, Nate is expected to be more mature and to be more accepting of others' failures and weaknesses which is difficult and unfair. Due to his above-average intelligence, Nate's behavior and outcomes are judged at a higher level than his peers—a level he emotionally can not handle. Nate is too smart for his own good.
Gifted children are often too smart for their own good
Nate and Tyler have been identified as gifted—a psychological and educational designation derived from IQ tests, academic achievements and other creative and advanced behaviors. Both have experienced many negative attitudes, repercussions and expectations because of their giftedness. They understand that it is often best to hide their intelligence, but doing so means hiding a significant part of who they are. Giftedness then becomes a source of shame, guilt and resentment which others find difficult to understand or believe.
How can being highly intelligent be anything but a good thing?
Nate and Tyler can easily explain the many ways being gifted is a bad thing. Both have experienced many times where their above-average intelligence, their giftedness, has been disadvantageous for them. They know that they are often too smart for their own good.
What can we do to change this?
Advocating for gifted children. Advocacy comes in many forms, but is essential on all levels—from the parent who is trying to convince their child's school to place him into the advanced math class, to the child psychologist who conducts research and produces professional publications about giftedness in children—all are critical to aiding in the understanding that giftedness in children is not a net-positive. Gifted children too often feel that they are too smart for their own good, and we need to work together to change that.
FURTHER READING:
Can You Be Too Intelligent?, Julian Baggini, The Guardian, December 28, 2013
Is Your Child Too Smart?, Smart Woman, Marc 8, 2016